There are more than 170,000 concrete military bunkers throughout Albania. Such military installations were built in all corners of the country – from mountain passes to ordinary city streets, and even on the grounds of Albania's best hotel. Such a "bunkerization" program came from then-President Enver Hoxha, who became notorious for his uncompromising Stalinist style.
During Hoxha's term as president, Albania made many enemies, including the nearest neighboring countries. For example, Albania did not cease hostilities with Greece after WWII until 1987. Furthermore, Hoxha was hostile to Yugoslavia, claiming that Josip Broz Tito's government intended to invade Albania.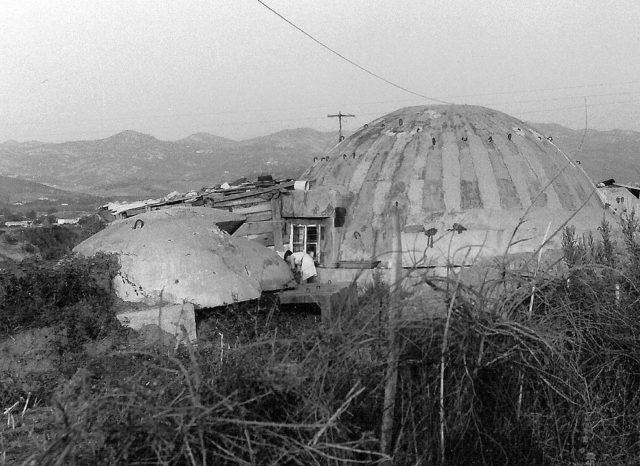 Such actions isolated Albania, cutting off the country from global trade and forcing it into a period of economic stagnation.
President Hoxha became convinced that Albania would be targeted in a joint attack by Yugoslavia, NATO, and the Warsaw Pact, from which Albania withdrew in 1968. Consequently, between 1967 and 1986, military bunkers were constructed across the country.
Military engineer Josif Zagali was hired to design the bunkers, and he chose ​​domed fortifications because artillery fire and bombs would ricochet off them.
The bunkers were constructed of concrete, steel, and iron. They ranged in size from pillboxes up to underground nuclear bomb shelters, but the most common type was the QZ bunker, a small concrete dome large enough for one or two people with a firing slit.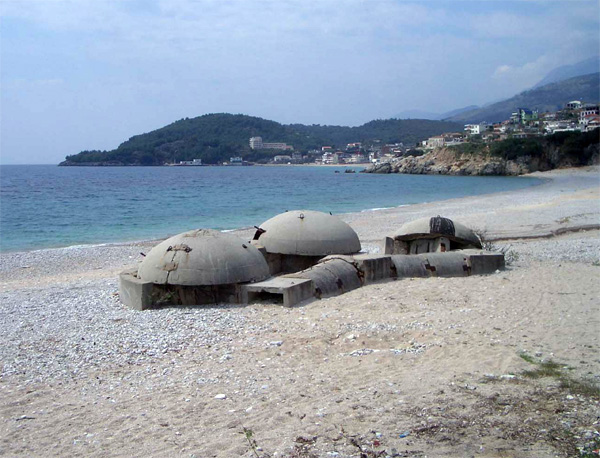 QZ bunkers were prefabricated and transported to their final location. They were occasionally arranged in groups of three, connected by a concrete tunnel. Sometimes there would several smaller bunkers radiating out from a central command bunker (a PZ bunker).
A PZ bunker was permanently manned and had radio communications, while the QZ bunkers used visual signals to communicate.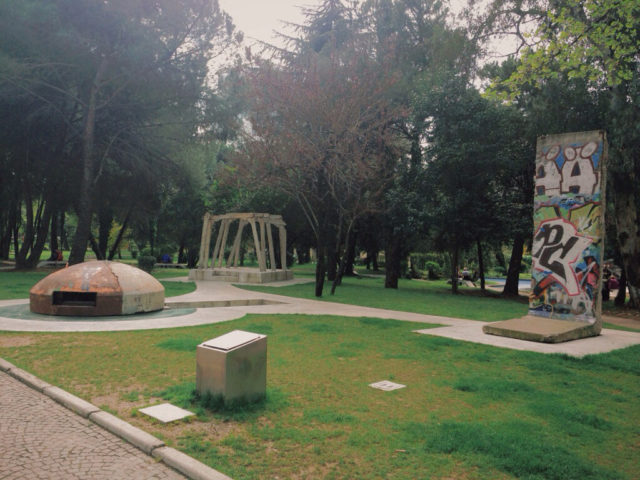 By 1983, there were approximately 173,000 bunkers across the country in every possible defensive location. This is an astounding number for a country that only measures 11,100 square miles.
Almost all the large factories in Albania were involved in the manufacture of bunker parts, and huge steelworks was built in 1974 to cope with the increased demand. Concrete domes were produced around the clock. Positions for anti-aircraft guns and artillery were also built, along with warehouses for the ammunition, trenches, tunnels, and command points.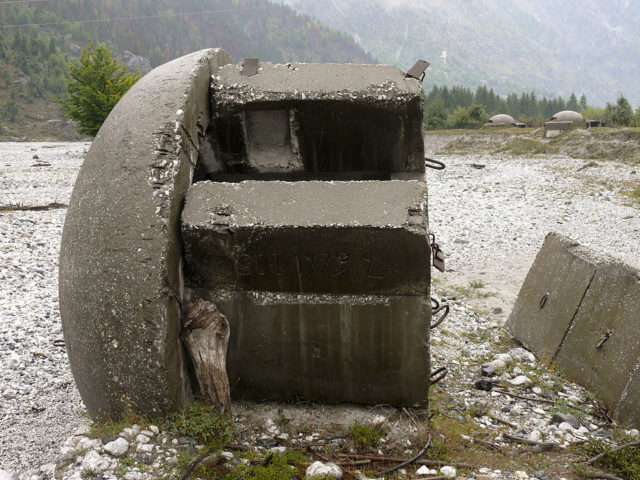 Construction work on the bunkers was carried out in any weather and could be dangerous. Some suggest that as many as 100 lives were lost every year to construction accidents. Funds were diverted away from housing and road projects to pay for the bunkers. It was calculated that each bunker was equal in cost to a two-room apartment, and building 20 bunkers cost the same as building one kilometer of road. In addition, the bunkers occupied a significant area of ​​arable land, further impacting on Albania's resources and economy.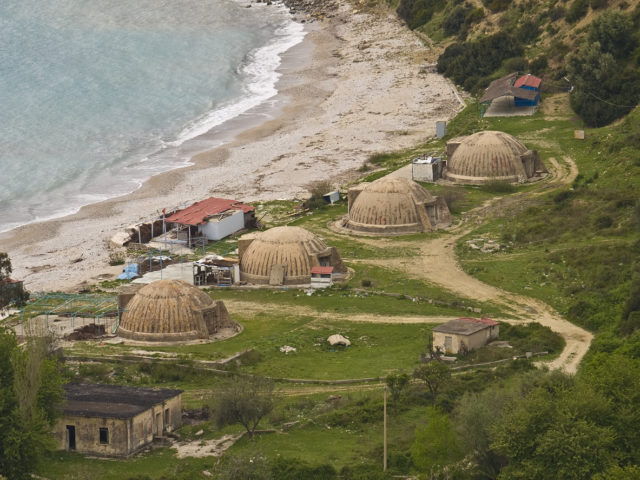 Another element of Hoxha's regime involved militarizing the civilian population. Out of a population of three million, about 800,000 became involved in state defense planning. Youth squads and armed students began to appear, and the Young Pioneers group would attach spikes to treetops to injure enemy parachutists.
Local Party cells cleaned and maintained the bunkers, and civil defense drills were held twice a month. There were propaganda slogans everywhere reminding the population to be vigilant, and from the age of three, children were taught to be vigilant "for the enemy within and without."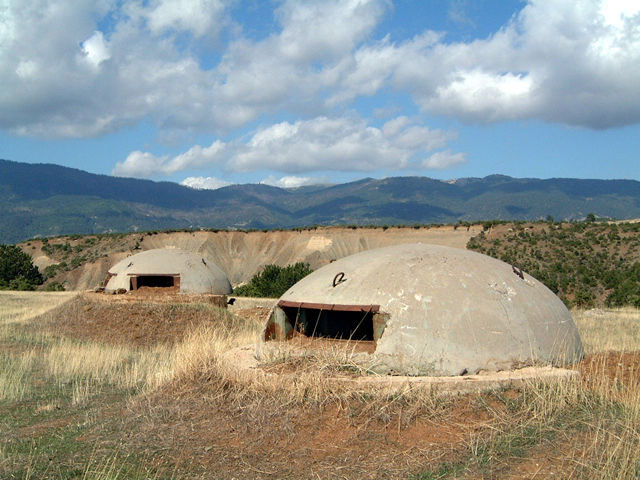 After Hoxha passed away in 1985, the program was stopped, and the country was left with a significant number of now-useless bunkers that had never been used for their intended purpose. All of these military installations were abandoned. However, they were used during the uprising in Albania in 1997 and the Kosovo War in 1999.
Years of communist isolation have made Albania one of the poorest countries in Europe. Consequently, the country does not have the financial capacity to remove the bunkers, as the demolition of just one costs about 800 euros.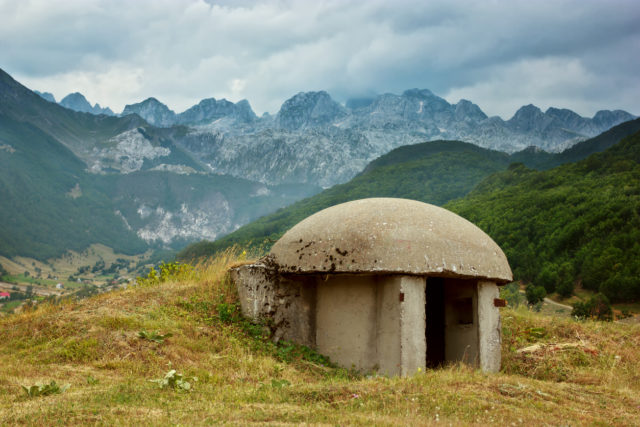 After they were abandoned, some bunkers have been repurposed. For example, an acute shortage of housing forced some residents to set up home in such structures in 1992. However, since many of them did not have running water or sewerage, they swiftly turned into unhygienic residences.
In other areas, bunkers have been turned into cafes, warehouses, and shelters for animals and the homeless. Some of them were brightly painted and turned into playgrounds. Other suggested uses for these structures include pizza ovens, beehives, solar heaters, and mushroom farms. A nuclear shelter that was built specifically for Hoxha was converted into a museum in 2014.
Some bunkers have proven to be quite dangerous. Albanian officials found 16 tons of mustard gas in one bunker near Tirana, while other bunkers, submerged in the sea, have caused lethal whirlpools leading to tourist fatalities.
Today, these bunkers are considered a symbol of the country. Calculations suggest that there is one bunker for every four residents of Albania, equating to about five bunkers per square kilometer. The government made the decision to turn these structures into a tourist destination, and there are many bunker-related souvenirs available.
Another Article From Us: Royal Naval Armaments Depot Milford Haven
Elton Caushi, who owns an Albanian tour company, told the BBC that his fellow Albanians "[paid] with so much sacrifice for their construction."
He hopes that the bunkers will now be used to "satirize" their original purpose – to keep the enemy away. "Let's try to attract the 'enemy' into them," he adds, saying tourists should come and explore them and have fun.