The McCune Home is one of several mansions that stand on Capitol Hill, Salt Lake City. It was built, with no expense spared, between 1898 and 1901 by one of Utah's first millionaires, railroad magnate Alfred William McCune. In 1920, after his children had grown up, the house was donated to the Church of Jesus Christ of Latter-day Saints.
McCune thought his house would make the perfect residence for the church president, Herber J. Grant, but instead Grant set up the McCune School of Music which occupied the mansion until 1957. It was later used as a satellite campus of the Mormon Brigham Young University, and the ballroom was used by the Virginia Tanner Dance School.
Alfred and Elizabeth McCune loved to entertain; she was well known for her parties and women's rights work within the Church, and he for hosting important political and church figures, so it is fitting that the property is today used as a wedding and conference venue. It reputedly also hosts at least two spirits, who seem to be quite friendly but like to turn lights on and off, lock or unlock doors, and playfully move things around.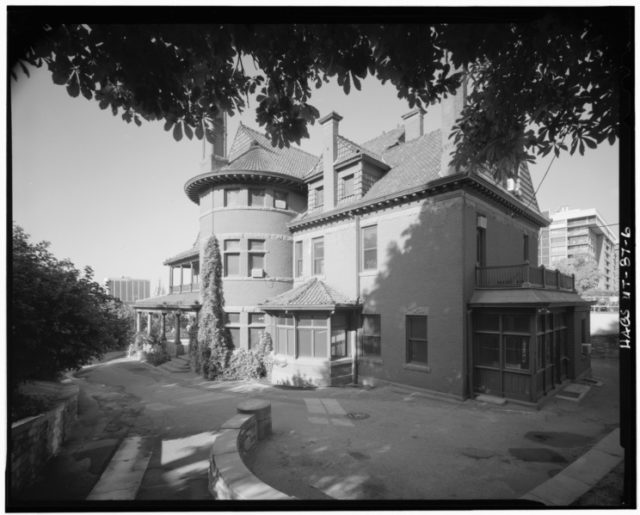 Alfred W. McCune was born on June 11, 1849 at Fort William in Calcutta, India, where his father was stationed with the British Army. Captain Matthew McCune and his wife, Sarah, who were members of the Plymouth Brethren Christian Church, converted to the Church of Jesus Christ of Latter-day Saints while he was stationed in India.
Matthew McCune was posted to Burma in 1854, where he spent his spare time working as a Mormon missionary. He quit the British Army two years later in order to join Brigham Young's Mormon pioneers in the New World, and the family embarked on a three month voyage to New York, arriving on March 3, 1857. Alfred McCune is recorded in Orson Ferguson Whitney's History of Utah as recalling that "I had never seen snow before: I took it for salt, while my brother Ed thought it was sugar."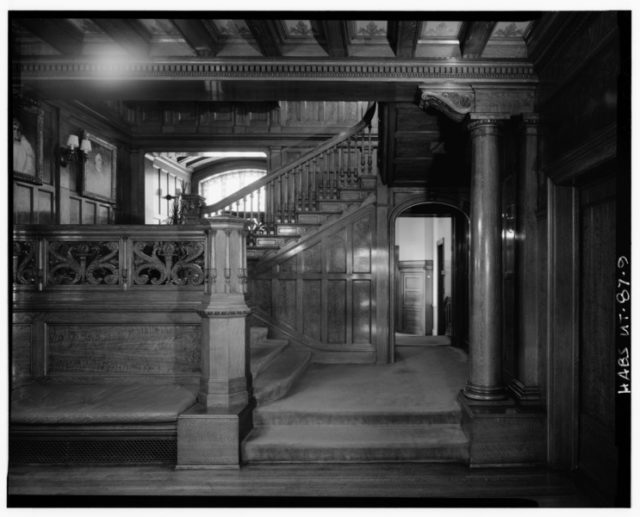 They stayed three months in New York before taking the next perilous leg of their journey, by wagon across the Rockies. With support from families within the Mormon community, they finally settled in Nephi, Utah.
In his youth McCune found employment herding sheep and raising stock, and at age 19 he worked as a laborer for the Union Pacific Railroad. After a brief foray into cattle herding with his brother, McCune turned his attention back to the railroad industry, but this time with bigger ideas. At 21-years-old, he started building his fortune supplying the railroad workers with provisions, later part-owning a general store in Milford, as well as a 6,000 acre horse and cattle ranch. By now McCune had become well connected with other well-known millionaires of the era, such as J. P. Morgan and William Randolph Hearst.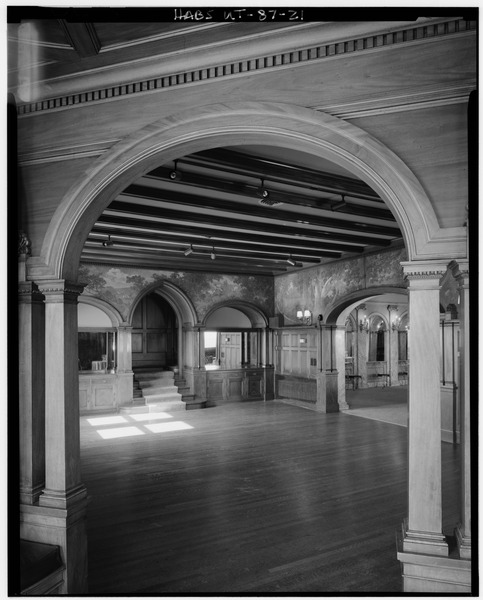 He joined with two business partners in 1878 to build the Utah Southern Railroad Extension from Milford to Frisco, and followed this up over his future years with investing in various railroad, mining, lumber supply, and other business ventures. McCune helped to build sections of the Rio Grande Railroad; the Denver and South Park, and the Denver and New Orleans lines; as well as a particularly tough section of the Oregon Short Line.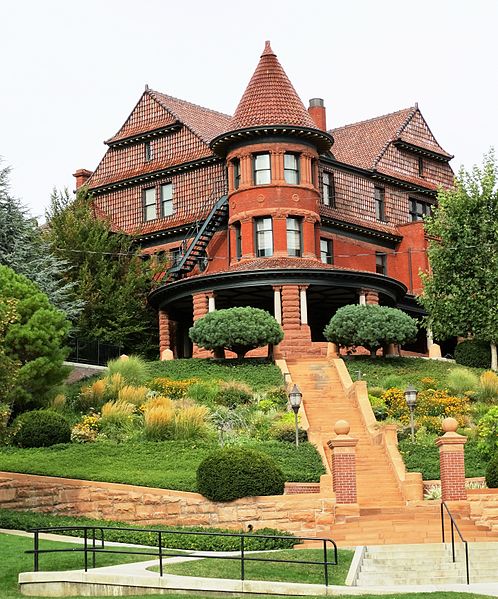 He married his childhood sweetheart, Elizabeth, in 1872. While out on a road-trip one day, the couple spotted a house on Riverside Drive, New York City, which would be the inspiration for their own future home.
But they wanted to make their house something that the world had never witnessed before. Elizabeth chose prominent architect S. C. Dallas to oversee the work, and the McCune's sent him around Europe and America for two whole years to study different styles and building techniques. The final design used a fusion of Gothic Revival and East Asian architecture.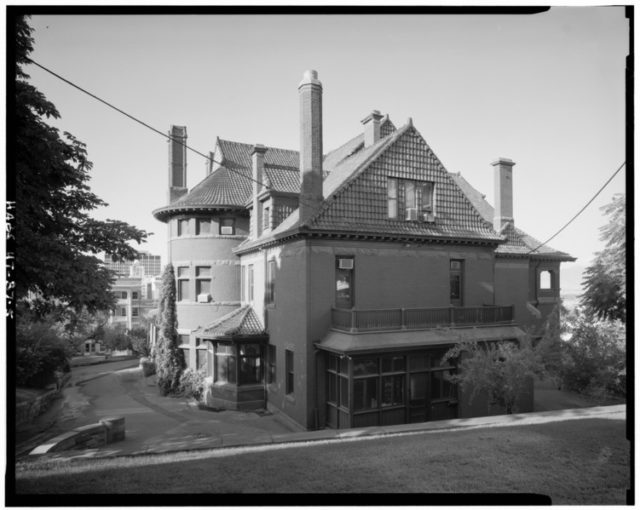 To realize the grand vision, materials were shipped in from different parts of the world. For instance, mahogany was brought from the Caribbean and South Africa, while oak was ordered from England. The red roofing tiles came from the Netherlands, and a mammoth wall mirror was ordered from Germany. The mirror was so big that a special railroad car had to be made, which wasn't a problem for McCune, given his connections and powerful friends.
Parts of the interior walls were luxuriously decorated with leather transported all the way from Russia, and from Nubia came the marble used for the fireplaces. For the exterior, they used a high-quality local sandstone.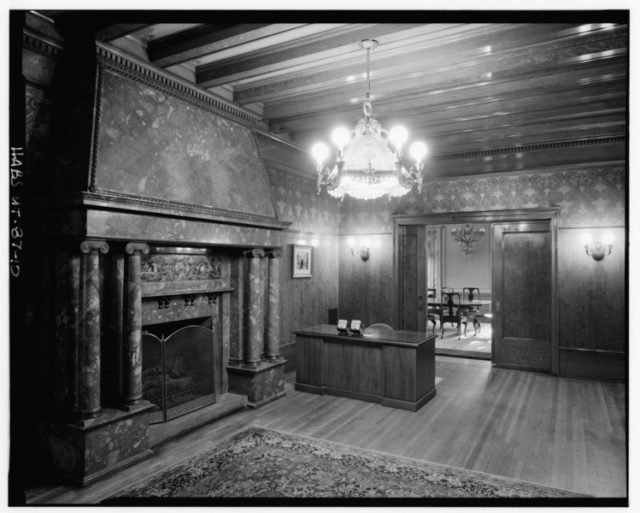 It cost in total a staggering $1 million — roughly $28 million inflation adjusted for 2018; that is as much as Taylor Swift's mansion located on Beverly Hills, or as much as Celine Dion's home in Florida.
The McCune's themselves added marble statues to the interior decor, which they had bought while holidaying in Italy. They also devised a clever musical trick for their guests: underneath the stairs was hidden a tiny room into which musicians could enter in secret. The sound would carry throughout the building and the guests could not guess where it came from. It would seem that the spirit of the music itself has stayed with the house as one the reported hauntings is the sound of music coming from nowhere!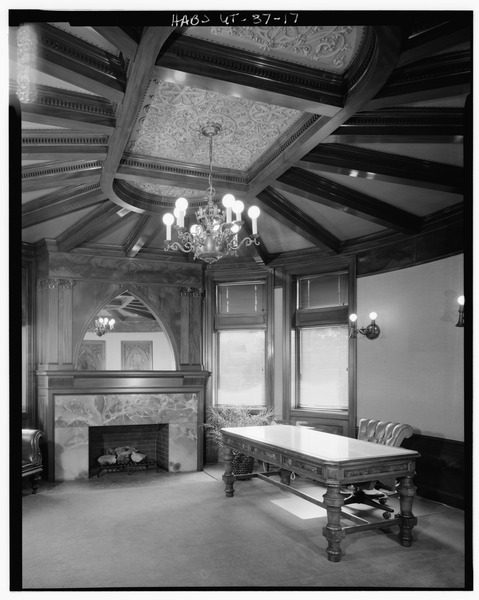 The Church sold the McCune Home in 1972 to a community group, who failed to turn it into a cultural center as planned, however the ballroom was busy with Elizabeth Tanner's dance classes for several years. There was a period of quiet for the house after the dance school left — until it was shaken by a tornado on August 11, 1999.
The damage caused to the McCune Home shook businessman Philip McCarthey into action to save the place from deteriorating further. He swiftly purchased and set about renovating the whole place, and thus preserved it for future generations. Today this 21-room mansion is listed on the National Register of Historic Places.