The Bungarribee Homestead Complex in New South Wales, Australia, located fairly close to the suburb of Sydney known as Eastern Creek, is today considered an important archaeological and heritage site. The main house was constructed between 1822 and 1828 for the pleasure of a Scottish-born settler named John Campbell.
But the reason why this early colonial mansion is renowned has little to do with the interest of academics; it involves spooks and ghosts and unnerving apparitions. Bungarribee Homestead has earned the reputation of being one of the most haunted locations in Australia. Repeated tales of ghosts on the stairs, a reappearing bloodstain, and ice cold hands touching innocent sleepers are allegedly the reason for many former inhabitants to move far away.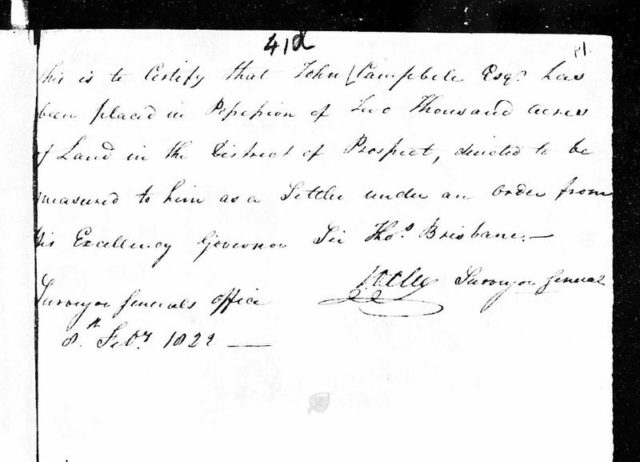 The indigenous inhabitants of this land were a clan of the Darug people, called Warrawarry. They were resilient hunters, and may have engaged in fire-stick farming as a form of land management. But by the 1840s, the number of these Aboriginal people fell to no more than 300.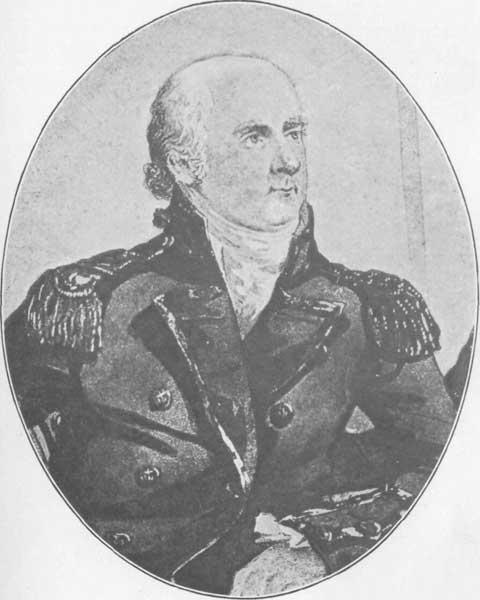 At the start of the 19th century, the site where this home was to be built was part of Rooty Hill Government Farm. This area, spread across 60 square miles, was established by Governor Philip Gidley King so that large enough pastures could be formed to ensure a constant supply of food for the colonists. Then, in 1810, Governor Lachlan Macquarie split this area into smaller chunks of land suitable for newcomers and settlers.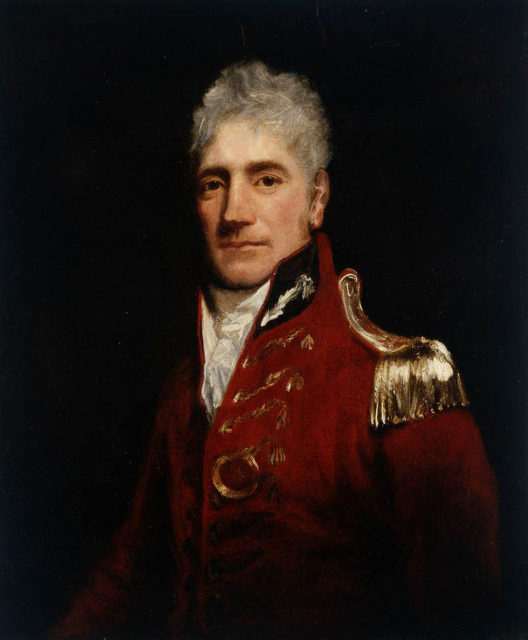 One of these newcomers was Major John Campbell of the British Army, who travelled all the way from Argylshire in Scotland, together with his wife, Annabella, and their nine children. They arrived in Sydney on the ship Lusitania on November 30, 1821.
Campbell wasted no time in purchasing a parcel of land for his family. According to both the records of the Chief Secretary of New South Wales and the Land and Stock Muster, by the end of 1822, he owned 2,000 acres of land in the Prospect district, of which at least 22 were planted with crops.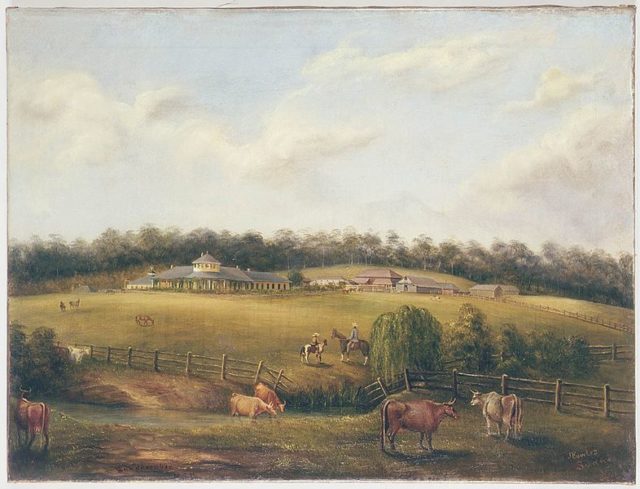 Mr Campbell, together with his new neighbour, Mr Crawford, set forth to remove all of the cattle that roamed up and down their property.
To do this they published a notice in the Sydney Gazette, letting the people know that this land was now their property. After further legal matters were sorted out, Campbell renamed his land Bungarribbe – at the time, this name was thought to mean Aboriginal king's burial ground. Contemporary researchers now believe that this name, in reality, is a combination of two Darug words that mean "creek with a campsite."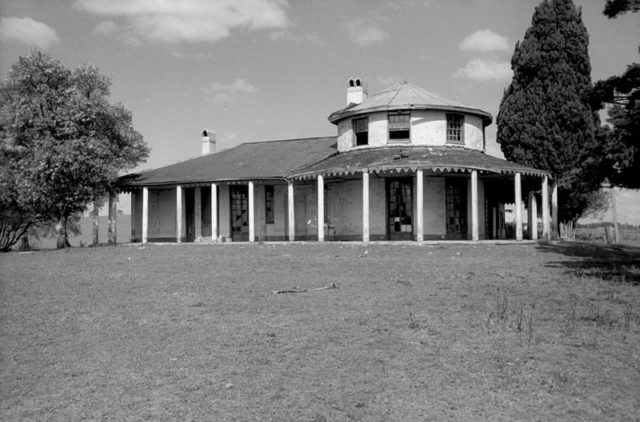 And so the Campbell family settled into their home. Sadly, Annabella died in November 1826, shortly before the house was completed. The cause of her death, according to the Sydney Gazette and New South Wales Advertiser dated Wed 15 November 1826, was "…a severe indisposition." Not long after, on October 10 that same year, Mr Campbell also left this world after a scratch on his leg became infected.
Upon his death, the estate was advertised as an unfinished house with a total of five bedrooms, four other less spacious rooms and a dining room. Over the years this property would pass through several owners, including the likes of the British East India Company and Benjamin Boyd. With time, rumors of this place being haunted started to appear.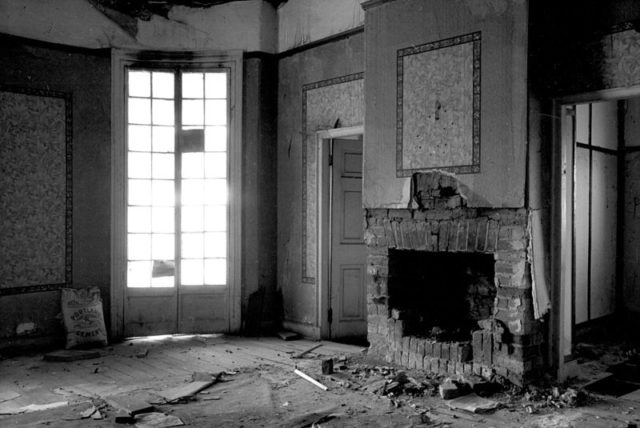 Among the first is the story about Frederick Hovenen, who was found dead with a message left on his hat "Died of Hunger." Possibly connected to this story are the tales of a military officer who committed suicide in the tower bedroom, and a teenage boy who was woken from his sleep by cold hands grabbing at his throat.
Throughout the years every occupant of this place has reported some form of presence in the house. Most of it's owners seem to have fallen foul of some personal tragedy or natural disaster while residing there. And then there are the number of mysterious deaths at Bungarribee, such as that of the brother of Charles Smith, one of the many owners. This strong man, for no particular reason, simply fell dead at the homestead gates.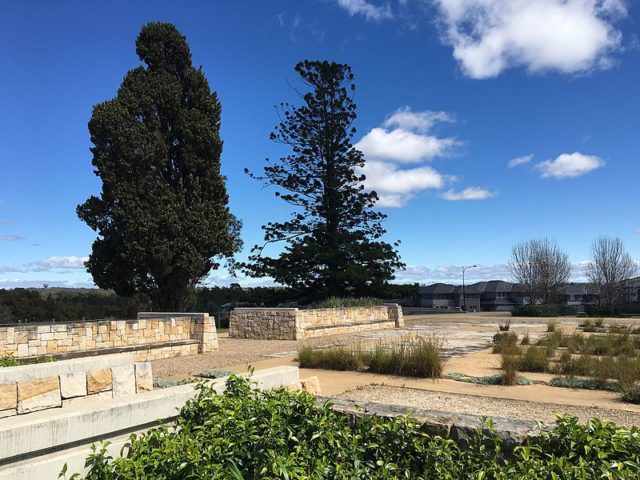 There are several reports of a bloodstain appearing on the floor in one of the bedrooms that could be scrubbed clean but would be back again the next day. Other families say they could hear odd noises like subdued cries or rattling chains. One young boy was discovered as if in a trance, moaning "don't let him touch me," in the very same room where at least two women say they felt a cold grip around their arm or neck. Other strange happenings include the apparition of a woman in a white dress on the veranda, and horses refusing to pass through the gates to the property.
However, nothing remains of this house since it was demolished in 1957 except for an Italian Cypress that somehow managed to survive–and the countless stories that keep the memory of Bungarribee Homestead alive.