Listen up, die-hard Elvis Presley fans: one of you could soon become the owner of a private jet once owned by the King of Rock and Roll himself! The Lockheed 1329 JetStar purchased by Presley less than a year before his death is set to hit the auction block, and if you're lucky, you could be the one to own a piece of music history.
History of the Lockheed JetStar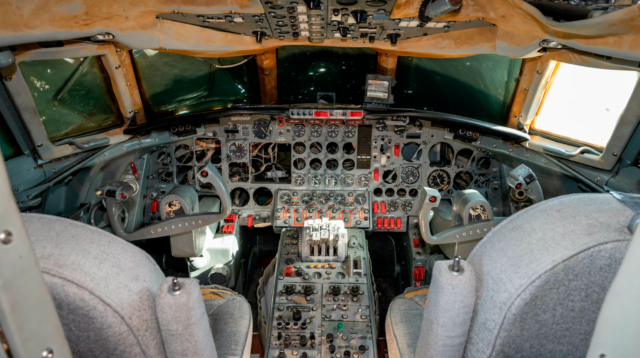 The first dedicated business jet to hit the market, the Lockheed JetStar entered production in 1961, four years after its first test flight. It was a favored aircraft by Hollywood A-listers, and even made cameos in a handful of films, including the 1964 James Bond film, Goldfinger.
The JetStar differed from similar aircraft. It featured four engines, paired together in dual pods on each side, which allowed it to travel up to 2,500 miles and reach a maximum speed of 565 MPH. Between 202 and 204 units were manufactured at Lockheed's facility in Marietta, Georgia, and while the majority have since been retired, a number remain in service as private and corporate jets.
Elvis Presley's private jet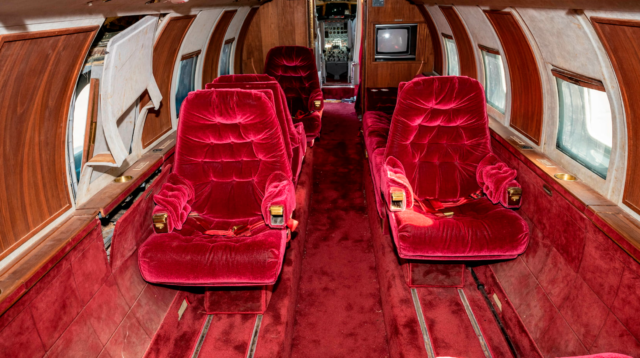 The Lockheed 1329 JetStar set to hit the auction block was purchased by Elvis Presley on December 22, 1976 for $840,000 USD – equivalent to over $4.6 million USD today. Purchased from OMNI Aircraft Sales Inc., it's believed to have been a gift for the King of Rock and Roll's father, Vernon.
Just like Presley, the aircraft was extravagant (by the standards of the time). The outside features metallic red paint with silver accents, which is matched on the inside by custom red upholstery with a gold hardware finish. It has seating for six passengers, in the form of plush reclining chairs, with room for an onboard crew of three: two pilots and one cabin attendant.
Along with featuring wood cabinet paneling, the aircraft also includes an onboard microwave, ample storage and a lavatory. The custom entertainment system features not just a cassette player with headphone ports, but a television with an RCA VCR – it was the mid-1970s, after all.
Elvis Presley owned a number of private jets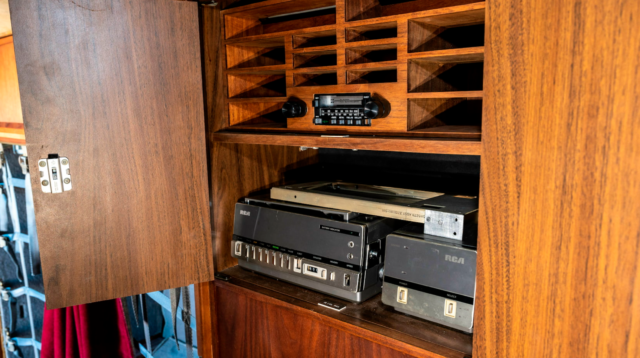 The Lockheed JetStar wasn't the only private jet in Elvis Presley's fleet – he owned three. Given his touring schedule, he needed to ensure he always had aircraft on hand, so he, his family, his bandmates and his manager, Col. Tom Parker, could travel at not just a moment's notice, but in style. He also kept a number of pilots on retainer.
The other two jets in Presley's collection were a second JetStar, known as Hound Dog 2, and a custom Convair 880, named the Lisa Marie, after his daughter. The latter was purchased in 1975 for $250,000 after leaving service with Delta Airlines, and the King of Rock and Roll spent another $800,000 turning it into an aircraft fit for a celebrity. Among the additions were a master bedroom, two half-baths and a conference room.
Both Hound Dog 2 and the Lisa Marie are on display at Graceland, the former mansion owned by Presley that's since become a popular tourist attraction. The musician, his parents, his grandmother and his grandson are all buried on the property.
Changing hands throughout the decades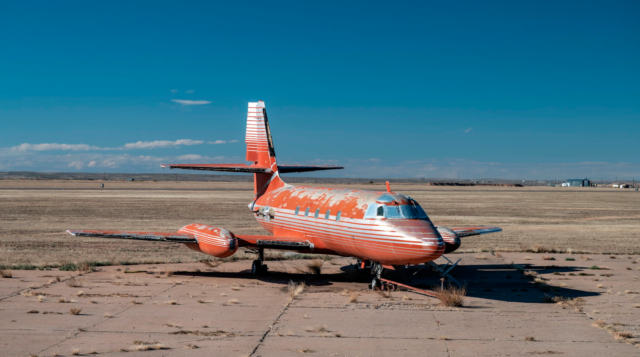 Following Elvis Presley's death on August 16, 1977, the Lockheed JetStar was sold and later wound up being owned by a company based out of Saudi Arabia. It was then transported to Roswell International Air Center in Roswell, New Mexico, where it's been stored for decades.
It's been up for auction a number of times over the years, selling for $430,000 USD in 2017. It was up for sale this past August by GWS Auctions, prompting one news source to dub it the "plane that no one seems to want." The reason it's been up for sale so often throughout the decades has never been revealed.
You could own Elvis Presley's private jet… For a price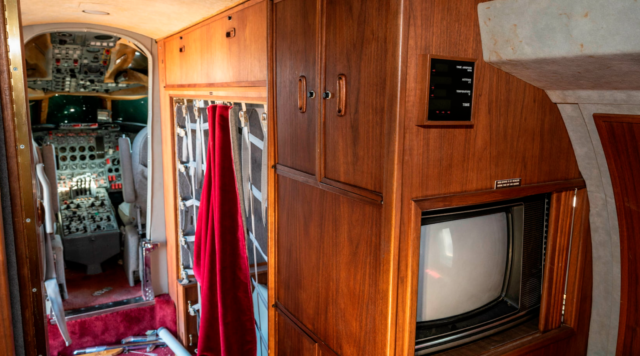 The red and silver Lockheed 1329 JetStar will be hitting the auction block through Mecum Auctions on January 4, 2023, with the sale running until January 15. While the starting price hasn't yet been announced, details regarding what the buyer will receive have been shared.
Along with the jet, the winner of the auction will receive a copy of the Aircraft Security Agreement, signed by Elvis Presley, as well as the official Federal Aviation Administration (FAA) Blue Ribbon documents and a copy of the Bill of Sale.
What won't be included, however, are the Pratt & Whitney (P&W) engines and a number of cockpit components, which have been removed. There are also no replacement parts being offered with the sale.
Mecum says, "Elvis and his effect on the music industry are known the world-over, and this opportunity for a new owner to acquire an extravagant piece of his aviation past is a momentous occasion with untold room for flights of rock 'n' roll fancy."
More from us: Kelburn Castle: Why is This 13th Century Castle Covered in Graffiti?
The winner of the auction will need to disassemble the aircraft prior to shipping, and will receive help from Mecum to coordinate the effort. Hopefully, they have someone on the other end to help them reassemble and restore the private jet.