Paulava Republic – Merkiné Manor, about 30 kilometers (18 miles) southeast of Vilnius in Lithuania, is well known to the locals. Despite only covering just over six square miles, this nobleman's estate actually became its own republic in 1769.

In 1760, Paweł Ksawery Brzostowski arrived in Vilnius, Lithuania after he was given the Bzhostovsky Palace. As well as being a close friend of the king Stanislaus August Poniatowski of the Polish-Lithuanian Commonwealth, he was also an accountant, politician, writer, and Catholic priest. He was appointed the Canon of Vilnius from 1755 to 1773.
In 1767, Brzostowski sold the palace and bought some land, more than 3,000 hectares (7,431 acres) near the village of Merkiné just outside of Vilnius. He instructed Carlo Spampani, a Classical architect of the day, to build him Merkiné Manor in 1770.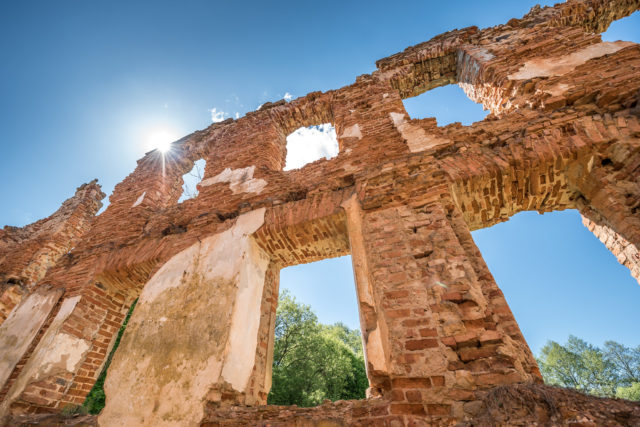 Once settled in his new home, Brzostowski decided he needed some drastic reforms to improve the lives of the peasants living on his land. In a very progressive move, he abolished the serfdom that was commonplace at that time and gave the citizens their personal freedom.
He created the Republic of Paulava (named after himself, of course) which incorporated a capital city called Pavlov and villages named Brzostow, Ksawerov, Zamojscė, and Pavlov.
Citizens of the new Republic of Paulava could pass on their property (once their debts had been paid off) and they could engage in any craft or trade that they wished. Instead of being slaves to their feudal lord, the people of Paulava paid taxes. Every four years, each citizen could attend an assembly where a population census and discussion took place.
Paulava had its own parliament and constitution, with Brzostowski acting as president. In addition, the state had its own flag and currency, healthcare, and an army. The republic's money became a rare and expensive collectible for European numismatics at the time, although no examples seem to have survived.
The seat of parliament was Merkiné Manor. Along with a city hall, churches, and a bank, Brzostowski also established a school where basic writing and calculation were taught alongside agricultural studies and crafts such as millinery and basket weaving. Even women were allowed to study – something unheard of at that time.
In 1791, both the Seimas and the king of the Polish-Lithuanian Commonwealth officially accepted the existence of this microstate, an extraordinary outcome for a state that only had 800 inhabitants in it.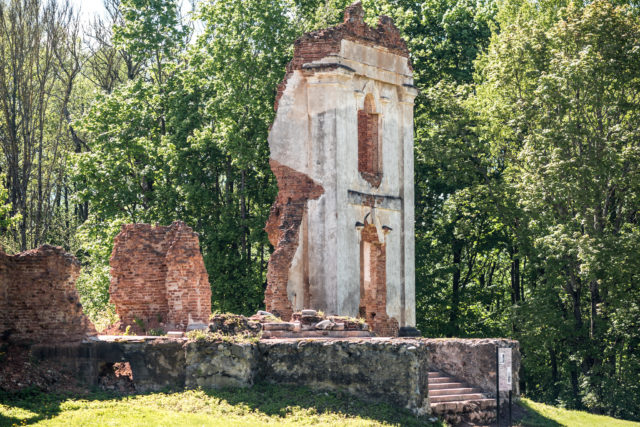 However, the Republic of Paulava was doomed when the Polish-Lithuanian Commonwealth collapsed and the country was taken over by Russia in 1795. Brzostowski fled to Saxony. Serfdom was reintroduced and the Republic of Paulava, which had lasted less than 30 years, became a footnote in history.
Unfortunately, the manor house itself was destroyed in World War II, leaving only the ruins that are still evident today. After the war, all the land in that area belonged to the Soviet Union. Consequently, there was a Soviet farm here for some time. Residents also used the ruins of the estate to store their grain.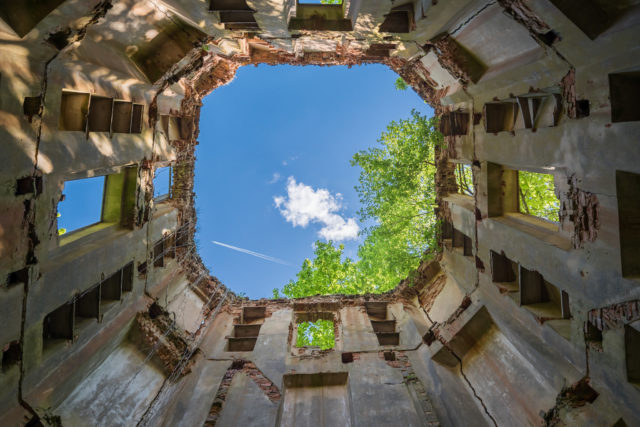 Currently, the estate is a tourist attraction. The area was cleaned up and fragments of the former structures have been partially preserved. Paths were created so that visitors could walk freely and safely around the site. Merkiné Manor can be found by leaving Vilnius and heading towards the Šalčininkai region.
In 1798, Brzostowski actually returned to occupied Lithuania, but he kept away from his former manor and instead became a priest in Rukainiai. A memorial plaque to him was placed on the wall of Rukainiai Church.
Except where indicated otherwise, the photos provided here are taken by Andrius Aleksandravičius who is a freelance photographer based in Kaunas, Lithuania. You can follow his work either on his website via this link or on his Facebook page here.
A big thank you to Andrius for allowing us to use such amazing photographs of this interesting Lithuanian location with a rich and unusual history.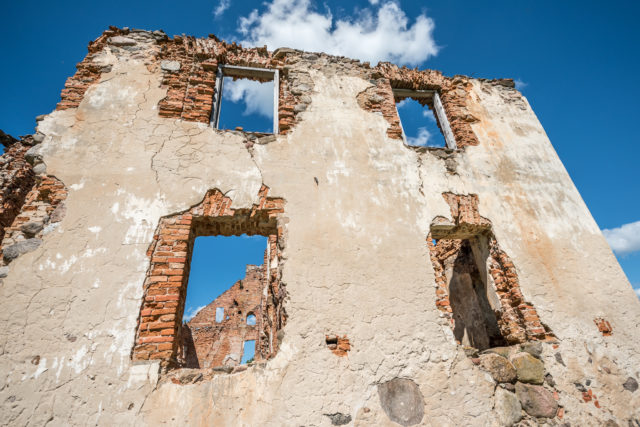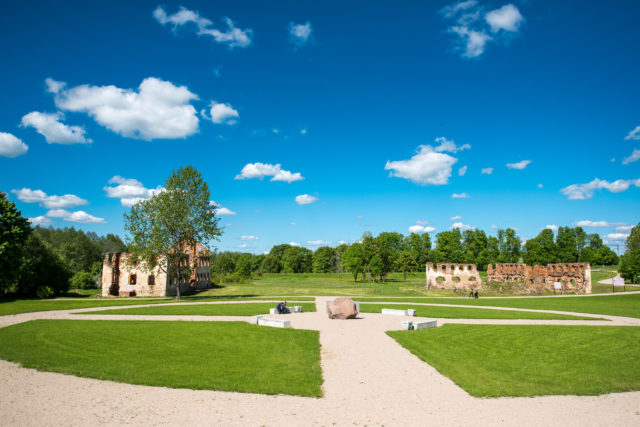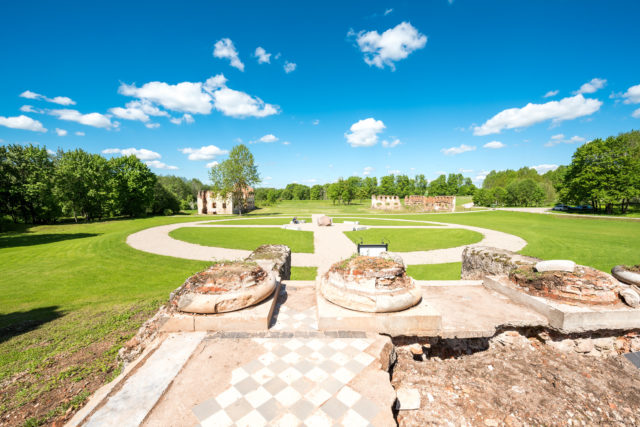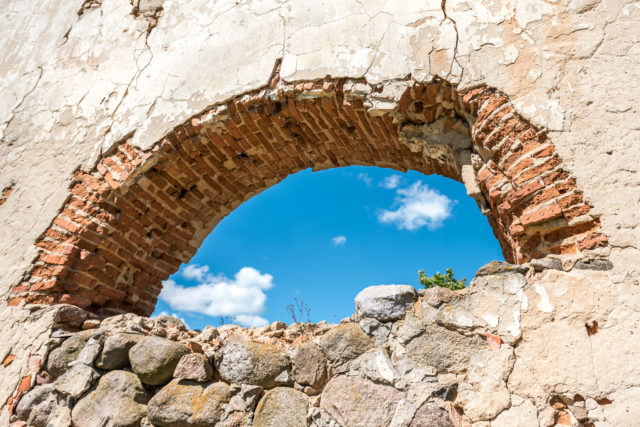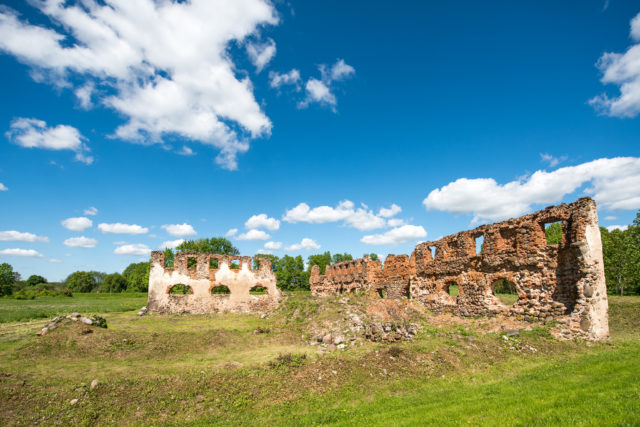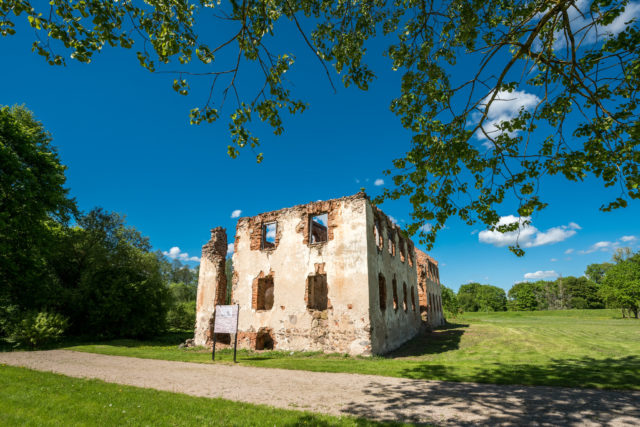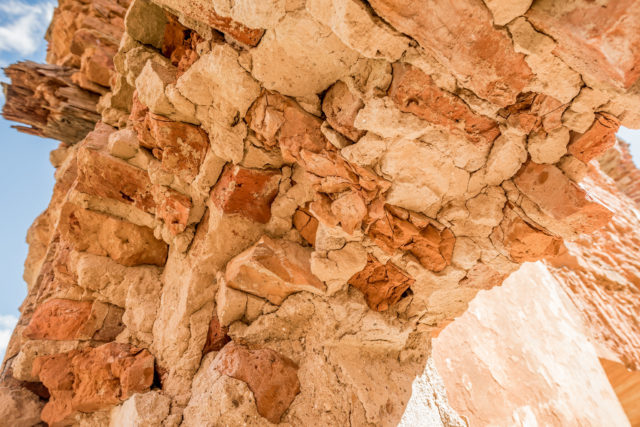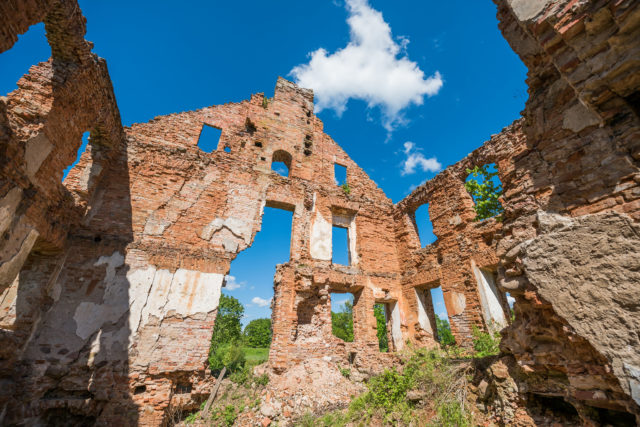 The Derelict Castle of Tremblestown Now Used to House Farm Animals