Hollywood maybe has the biggest number of film studios in the world, but to see the largest film studio you gotta go all the way to Morocco, in the city of Ouarzazate.
David Lean was the first who saw the potential of Ouarzazate as a film location for the making of his 1962 epic masterpiece Lawrence of Arabia. The vast Sahara desert landscape, the exotic scenery of the town and its authentic locals convinced Lean that it is the right place to shoot his film.
But the film studio wasn't officially built until 1983. Moroccan entrepreneur Mohamed Belghmi recognized the need for a permanent studio in the area.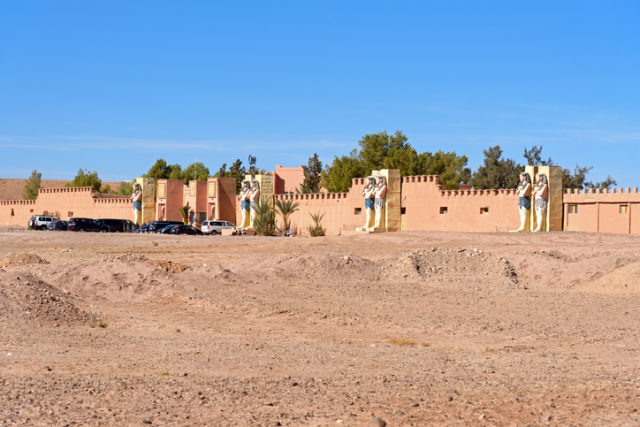 He constructed the Atlas Film Studios at the outskirts of the town and named it Atlas for its proximity to the Atlas Mountains.
Located just five miles outside of Ouarzazate, on the road to Marrakech, it covers over 322,000 square feet of the desert, which easily makes it the largest film studio in the world.
Over the years, the site has been used by a number of Hollywood productions to shoot their films. Jewel of the Nile, Patton, The Mummy, Gladiator and Kingdom of Heaven are some of the most famous ones. Because of the area reliable climate and weather conditions, the studios could mimic the natural environments of many countries very well. And Atlas Film Studio just kept expanding.
Today, the studio is an extremely popular visiting destination for tourists and film buffs. Organized guided tours provide the visitors with the chance to see and wander through many of the old constructed film sets used and made specifically from the filming of various movies, who remain in place and untouched.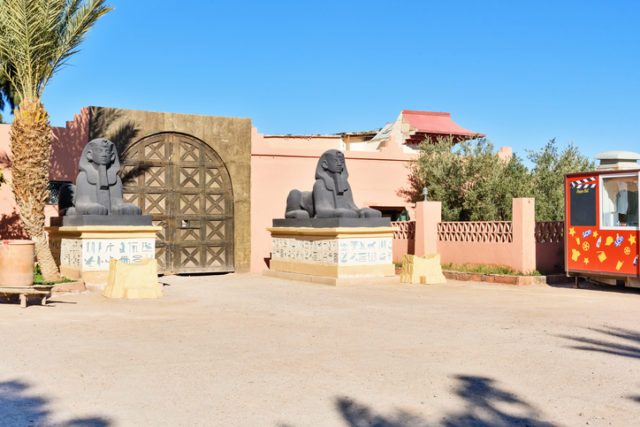 The first thing to encounter is the massive prop jet plane that was used in 1985's Jewel of the Nile. Possibly the most popular tourist attraction is the Colosseum where Crowe fought in Gladiator. Then is another area of the studio is the 12 feet Egyptian Tomb statue guarding the entrance and exit and a specially made Tibetan monastery for the filming of Martin Scorsese's Kundun.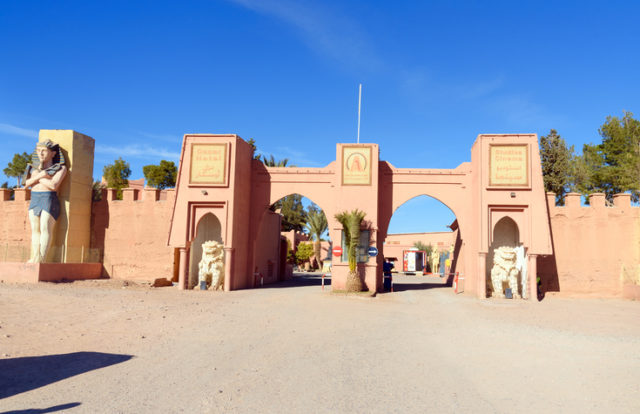 Altogether the tour and overall experience are really fun and well worth the money, nevertheless, the passing years and the desert's harsh environment has left the sets in a state of decay and despair and are in a dire need of maintenance.
Films are a big business here, and seventy-five percent of productions made in Morocco are filmed in Ouarzazate. That's why the studio should consider repairing the damaged film sets.