Lying on the white sands of the open bay of Zakynthos, the abandoned shipwreck known as Navagio attracts thousands of tourists each year and seems to be one of the most visited and admired sights of the island.
Abandoned since 1980's the ship has an interesting background of its wreck. Apparently, the Scottish ship built in 1937 carried smuggled cigarettes and was chased by a Greek Navy.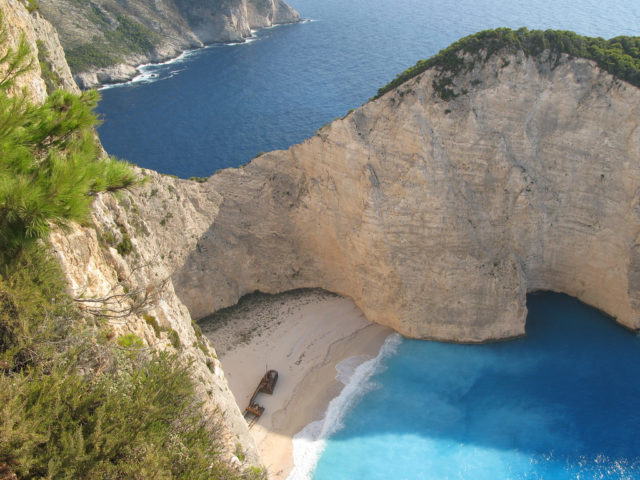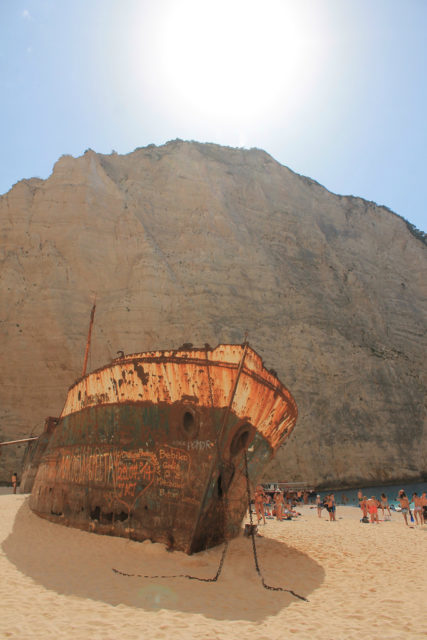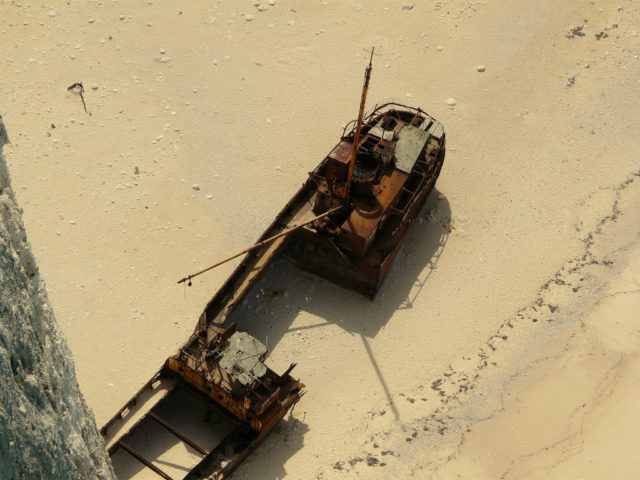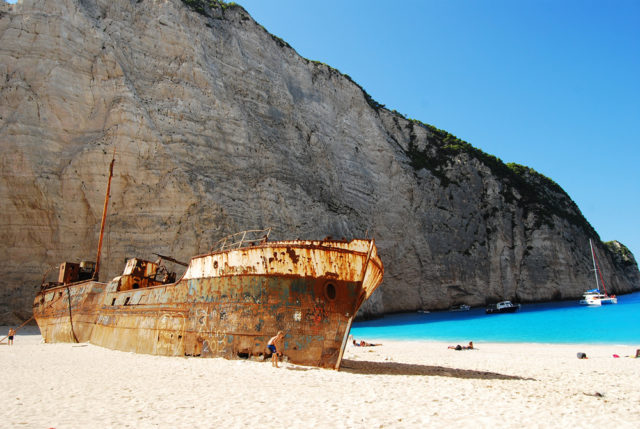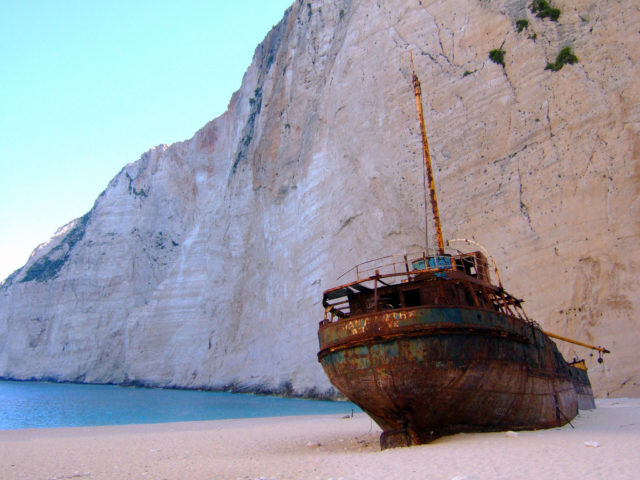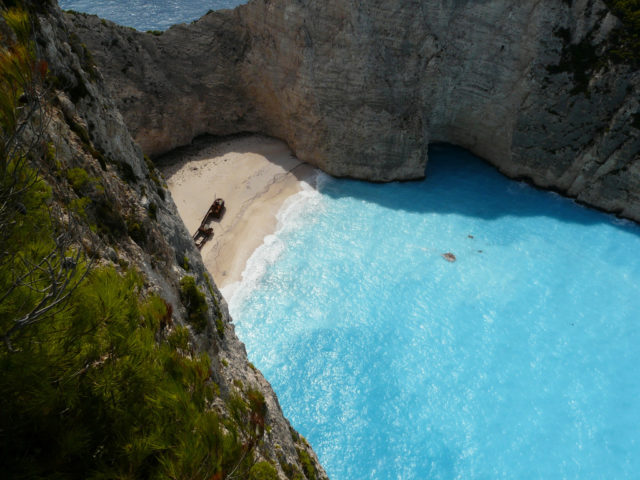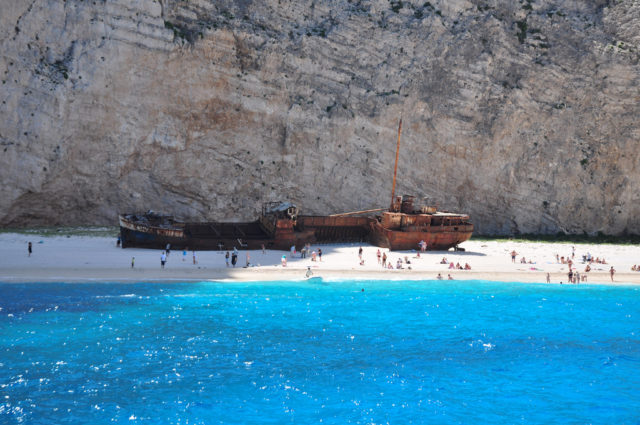 Because of the stormy weather, the ship w buried in a shallow cove on the west coast of the island where the crew ran out to escape the Navy. It's supposed that local sailors stole the cigarettes and hid them in their homes across the island before selling them off.
Navagio was then known as Saint Bedan. However, the ship changed many names over the years after its construction at Bowling on the River Clyde as Yard 341. It was built by Scott and Sons and fitted with a 500bhp diesel engine. Saint Bedan is163 feet long, 26 feet wide and weighs 452 tons.
Saint Beden was sold to Greek owners in 1964 and renamed Meropi. Two years after, a person named N. S. Kalfas bought the ship and renamed it into Chairs. The ship's name Panagiotis was given by P. Lisikatos and Company of Piraeus in 1975 and abandoned five years after.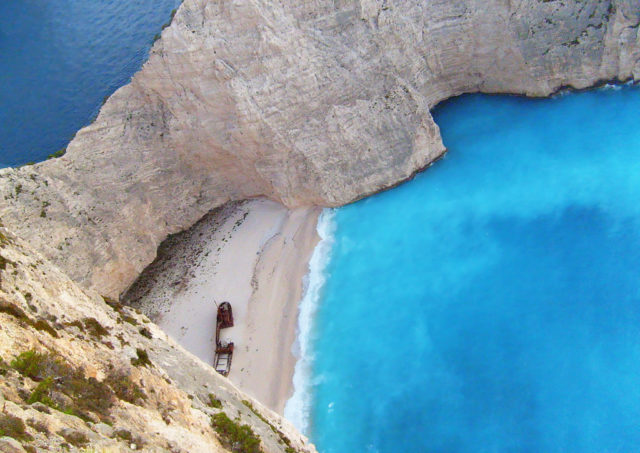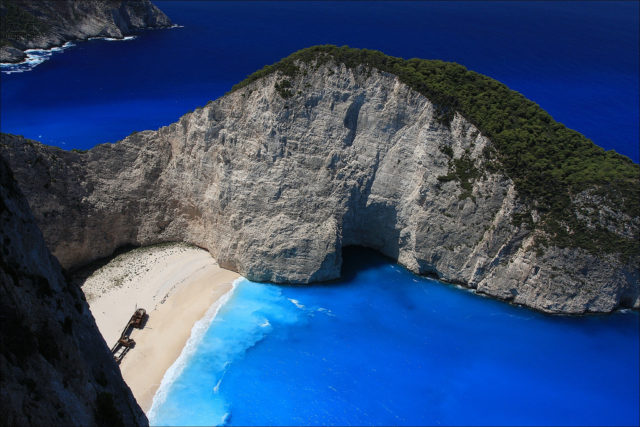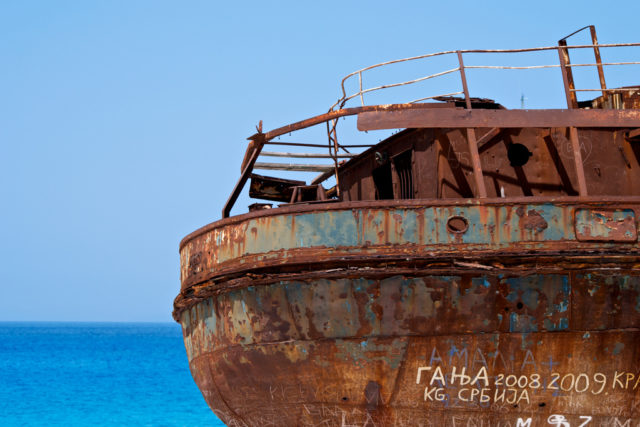 As one of the legends about the wreck of this beautiful ship says, Panagiotis spent the later part of her life as a smuggling ship for transporting illegal stuff, such as wine, woman, and cigarettes. According to its greek name, the beach nearby the picturesque mountain village of Volimes where this rooting beauty rests is named after her.
Navagio beach is only accessible by boat and was originally known as Agios Georgios. However, the abandoned ship changed the ordinary nature of the island and made it the most popular attraction among tourists in Greece.
Navagio beach is also often referred as 'Shipwreck beach' or Smuggling beach. She's one of the most photographed beaches of Zakynthos thanks to the shipwreck beauty and the crystal clear blue water that keeps attracting tourists from all over the world.