Her name is Mamie S. Barrett, and her story began almost a hundred years ago in a place known as Howard Brothers' shipyard. Her birthplace was in Jeffersonville, Indiana and the cost of building this structure almost reached $145,000 (equivalent to $2 million in modern money).
The Howard Brothers' shipyard was founded in 1834 by James Howard. They operated for a full century, for they were among if not the most influential shipbuilders of their age. Throughout their career, the Howard Brothers' shipyard constructed around 2,000 vessels, among which was the Mamie S. Barrett.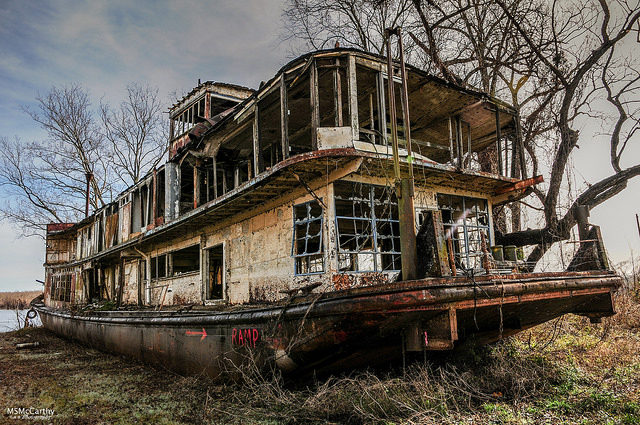 She was a steel river towboat built from a wide-beamed sailing dinghy and a steam engine. She measures roughly 38 meters in length, with a width of 9 meters and weight of around 430 tons. All these specifications mean that back in her day, she was among the top-notch towboats.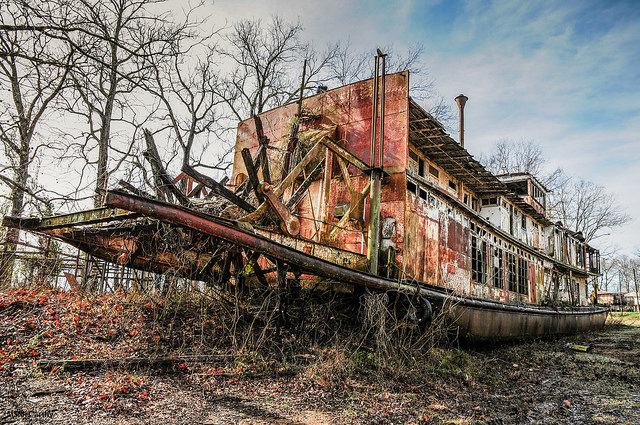 Mamie S. Barrett made her maiden voyage on 11 August 1921 to Cincinnati. During the nineteenth century, paddleboats were a rather common sight. There were two types of paddleboats: sidewheelers and sternwheelers. They were easy to produce and the power that they offered made them popular.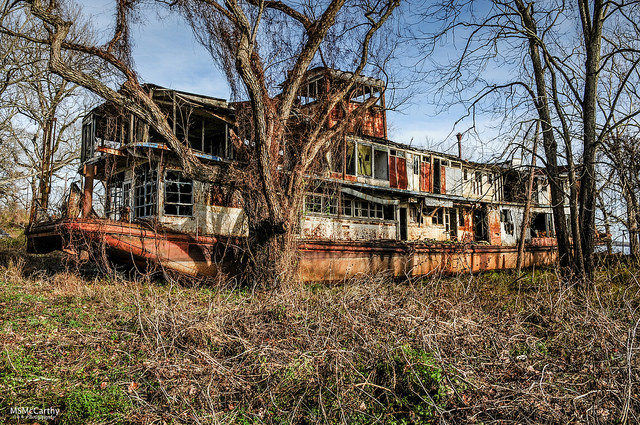 The same goes for Mamie S. Barrett. Given her size, she was capable of accommodating a crew of 38 people (11 officers and 27 men). But according to documentation from the period she never housed a crew of this size; on the contrary, it was a rather smaller figure.
Throughout the years, her career was marked by modifications and redesigns to the original 1921 structure, which was required by the challenges of running up and down the river system. Historical photographs of the towboat reveal that, for example, some of the compartments were extended all the way to the rear of the boat.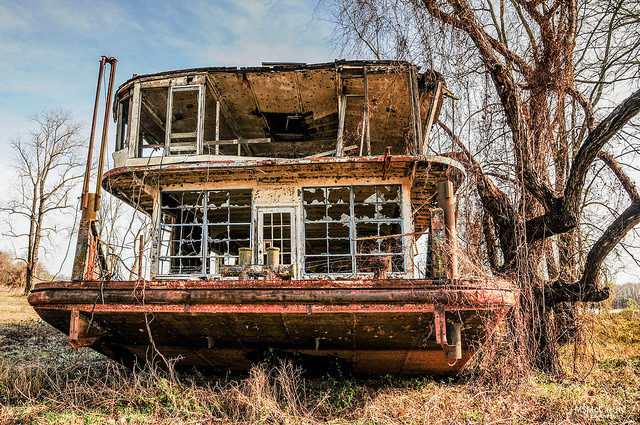 According to researchers, it remains a possibility that even the cabin deck and the pilothouse were also extended during this period (1921-1947). The timeline of her life is filled with adventures. In 1935, she became part of the US Army, meaning she subsequently had her name changed. She was renamed Penniman in honor of William H. Penniman, who was employed at St. Louis Office.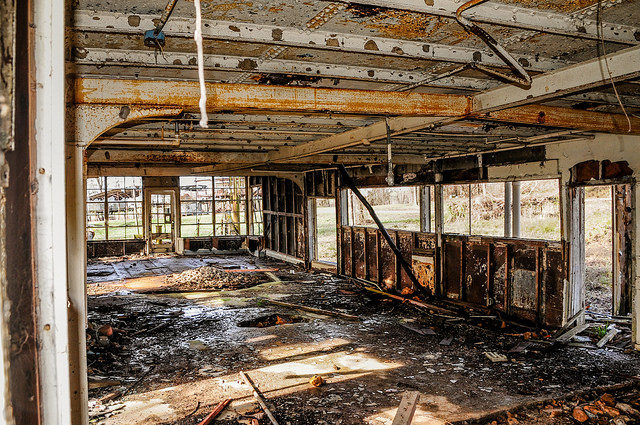 Once in the army, her main purpose was to inspect the river and the channels, as well as other duties. For example, she was used as a towboat carrying rock and lumber. Once the Second World War was over, Mamie S. Barrett was retired from the army in 1947.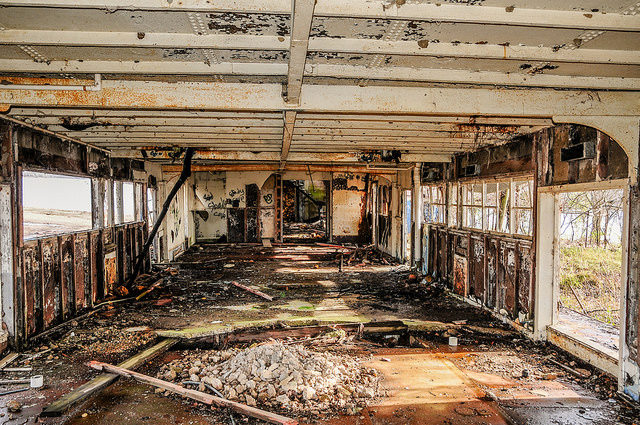 During this period, she was purchased by Vollmer Brothers Construction Company. She remained in their possession until 1949, when she was once more sold, this time to Lela and Spence Marshall.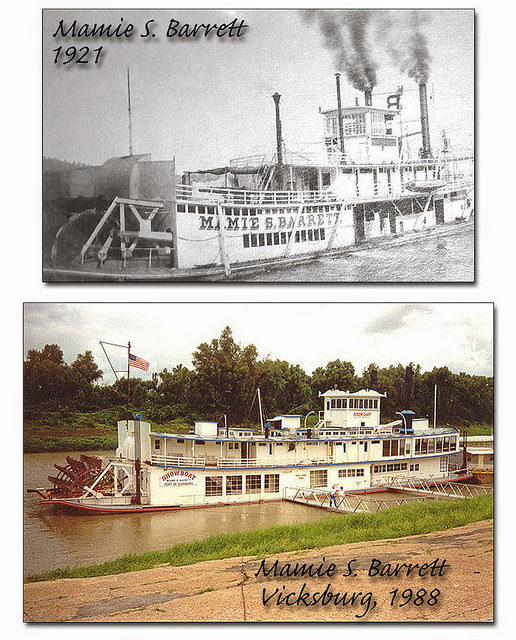 It was during this period when she was renamed Piasa. Upon receiving this new name she was moved to Harbor Point Yacht Club in Missouri. Once there, she began her career as a floating clubhouse, keeping this position for 30 years.
Then on 20 October 1981, Mamie S. Barrett, or Piasa as she was then known, was taken to Lake Barkley in Kentucky. Given her rich history, she became part of the National Register of Historic Places.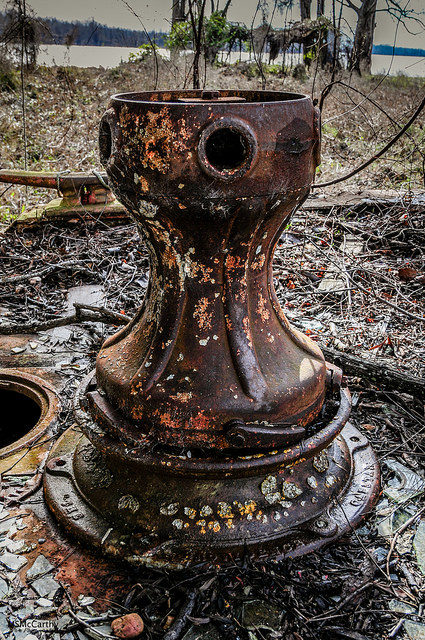 Ten years before the turn of the century she changed owners once more in order to be used as a casino boat. These plans never came to anything. In 1997 there was a flood that further demonstrated the quality of the craftsmanship that went into building her, for she was still floating. Her current location is Deer Park, Louisiana, some 16 kilometers from the Mississippi River.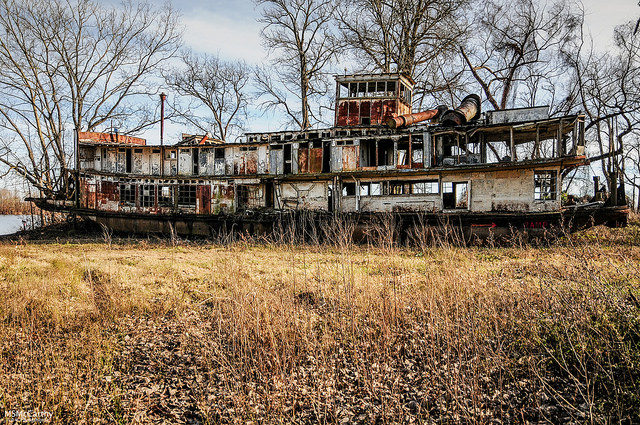 The current plan for this boat is to be preserved in a museum; since 1994, the Howard Steamboat Museum of Jeffersonville has expressed interest in purchasing her.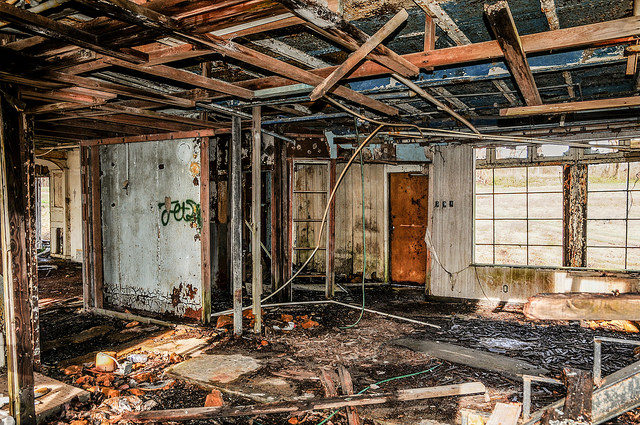 Until a private buyer or an organization step up to purchase her, she remains totally abandoned and in a desperate state of deterioration. Given her surroundings, it is a wonder that she is still able to continue to withstand the forces of nature battering her where she lies.