There is an abandoned military airbase located under the Plješevica mountain in eastern Croatia on the border with Bosnia-Herzegovina. At one time, it was the largest underground airports in all of Yugoslavia and even in Europe.
Many airbases, known as "Objekat" airbases, were built in the territory of the former Yugoslavia, often in remote but strategic areas. The one located in the mountains near the city of Bihać was given the military code name of Objekat 505, although it is often referred to as Željava airbase.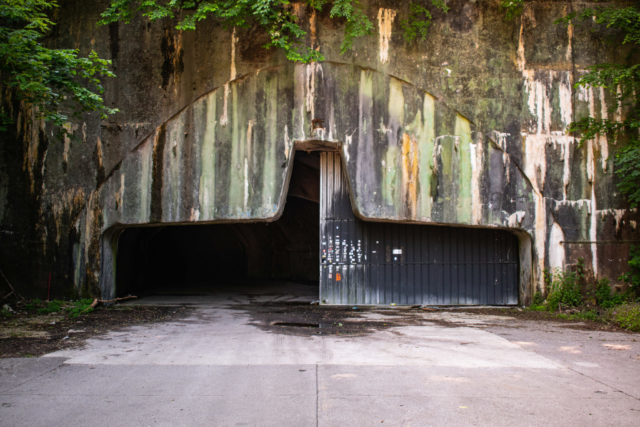 The construction of Željava airbase took place somewhere between 1948 and 1965, and was conducted in complete secrecy, making it difficult to pinpoint the exact date of construction. What is known is that the airbase was completed and had begun to function in 1968.
Yugoslavia's construction costs totaled $6 billion. Consequently, this military facility was not only one of the largest airbases in Europe but also one of the most expensive.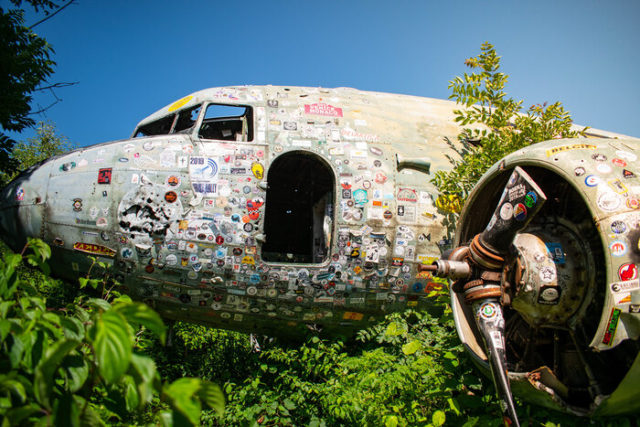 Objekat 505 was intended to protect the country from foreign aggression in wartime. A long-range early warning radar system was installed to assist in the country's defense. The military complex was designed to withstand a direct hit from a nuclear bomb equivalent to the Nagasaki bomb.
Above ground, the base had five runways, tracking radars, and surface-to-air missiles. There were also military police stations and a hunting lodge, used for recreational purposes by both military and civilian leaders who might be guests at the base.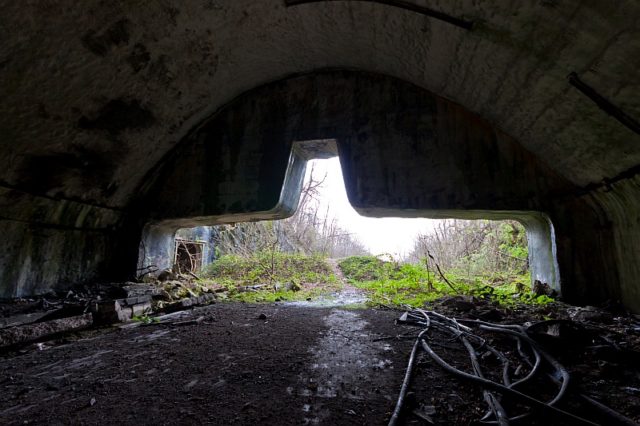 But the most impressive feature of this airbase was its underground facilities. There were four exits, all sealed with 100-ton pressurized doors. Three of the exits were large enough and designed to make it possible to launch jets out of them. Some of the planes are still there today: an old C-47 and two F-48s, all in a sorry state.
The underground complex of Objekat 505 housed two full fighter squadrons as well as reconnaissance planes and associated facilities. The tunnels connecting all these areas ran to a total length of 3.5 kilometers (about two miles).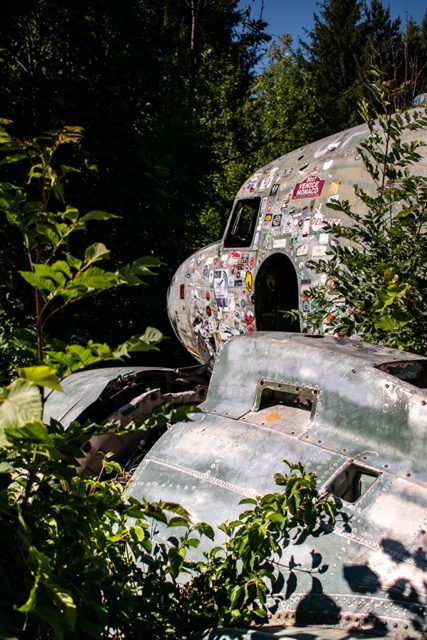 The facility was lined with semi-circular concrete shields underground, located every ten meters (33 feet). It also boasted electricity generators, an underground water source, crew rooms, and a dining room that could accommodate 1,000 people.
The generator received its fuel via underground pipes which were connected to an underground warehouse in nearby Bihać. The base was also stocked with enough food and weapons to ensure its inhabitants could be cut off up to 30 days if necessary.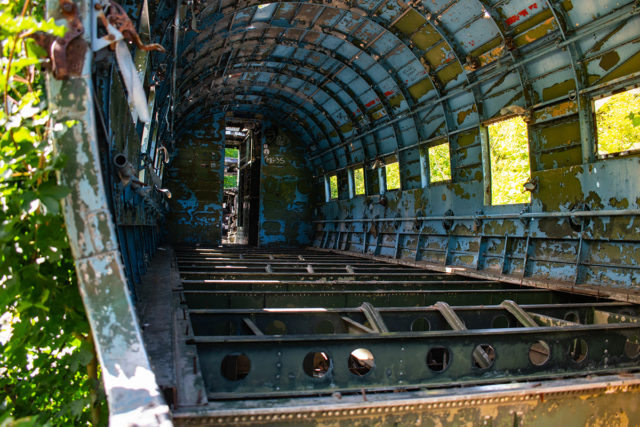 When the Yugoslav People's Army withdrew from the base in 1991/2, they detonated explosives that had been placed in compartments running the length of the runways. These compartments had been included in the runway's design especially for this purpose.
Although the runways were obliterated, the rest of the base was still standing. A year later, it was fully destroyed by the Military of Serbian Krajina, who used 56 tons of explosives to render the base utterly unsuitable for military use. It is rumored that the vibrations of the explosion were felt in Bihać itself.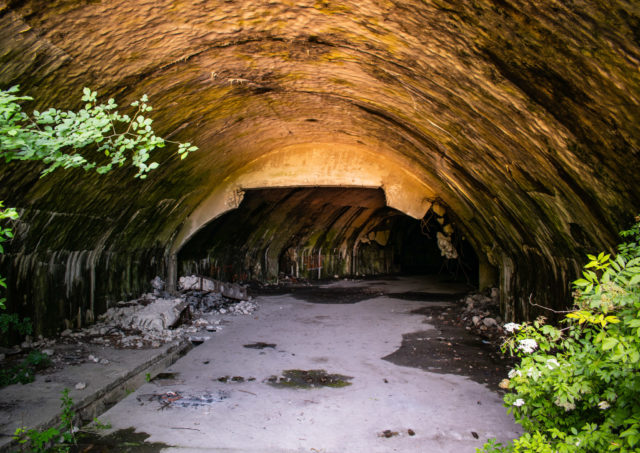 After its abandonment, the airbase naturally attracted urban researchers. However, visitors need to be extremely cautious due to the risk of unexploded landmines and other hazards. There was a fatality in November 2000 when a man searching for mushrooms set off an anti-personnel mine.
Venturing into the tunnels carries its own risks as well due to two hazardous outcomes of the explosions. Firstly, some harmful gases have been trapped down there and any kind of spark might ignite them. Secondly, the concrete structures have been weakened so collapsing walls and landslides are more than possible.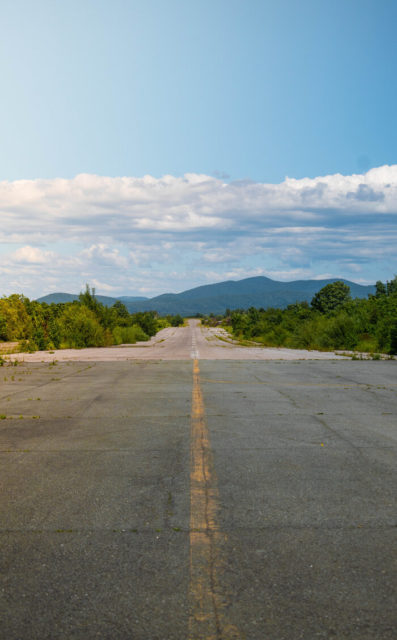 The local police use this area when training their dogs to find explosives. Due to the presence of mines and the amount of environmental damage that was done by the deliberate explosions, it would cost far too much to renovate this abandoned airbase into something else.
It also cannot be used for any kind of military training or testing since an agreement between various countries forbids having any active military bases within 15 kilometers (just over nine miles) of the border. Željava airbase is unique in that the boundary line between Croatia and Bosnia-Herzegovina actually runs through it.
As such, it looks like Objekat 505 is doomed to remain abandoned and dilapidated for the foreseeable future.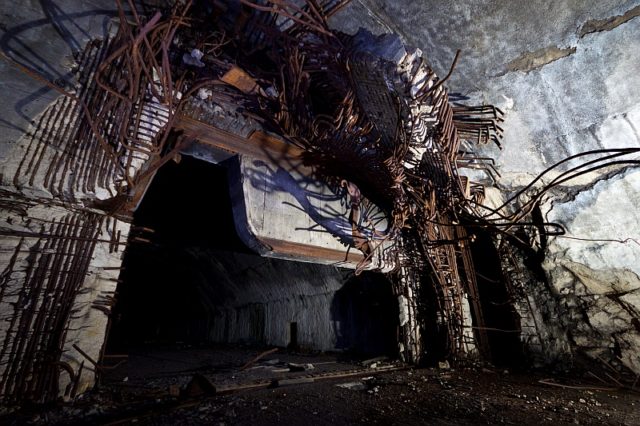 Matej Pribanić took many of these beautiful and colorful photos of the abandoned plane and airbase. A big thank you to him for allowing us to share his work with our readers. Matej has been a digital freelancer and designer for some years. You can follow his work on his Behance account or Instagram page.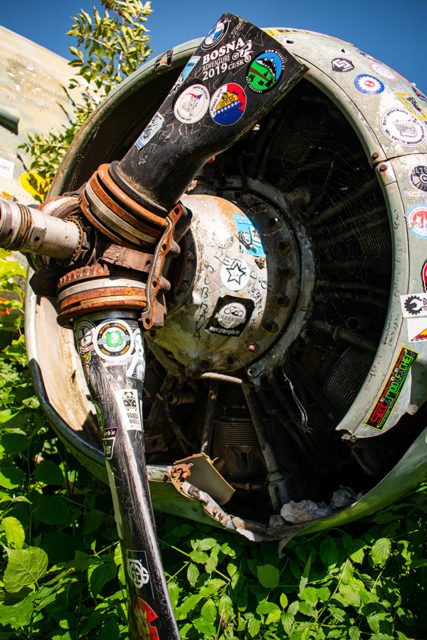 Germany: Instead of Clothing, the Factory was Filled with Soviet Tanks