Those taking a stroll along part of the beach at Cape May Point State Park in New Jersey might come across a reinforced concrete structure dating back to World War II. This dilapidated building was once a bunker called Battery 223.
The 244-acre park of Cape May Point was actually Cape May Military Reservation during WWI and WWII. There are remnants of the war scattered around that remind visitors of the hostilities that took place decades ago.
A few years before the United States entered World War II, a decision was made to improve America's coastal defenses. This led to the introduction of a new coastal defense program in 1940.
On the east and west coasts, mass production of fortifications began. Battery 223 was created as part of 200 miles' worth of additional fortifications for Fort Miles, which was headquartered at Cape Henlopen, Delaware.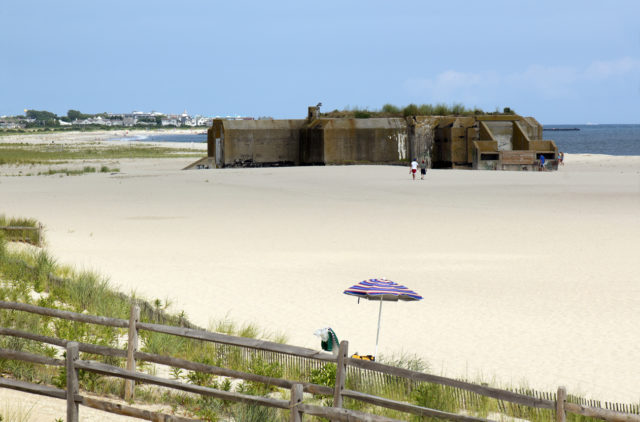 Construction on Battery 223 began in September 1942 and took until June 1943 to be completed. The site chosen was one that had previously held a Coast Guard post in WWI. It was transferred to the Coastal Artillery in April 1944 at a cost of about $500,000.
The design of the new building was for a concrete structure with seven-foot-thick walls and a thick, explosion-proof roof to protect it from both air and sea attacks. It also had an ammunition storage facility and two 6-inch guns with a range of nine miles.
The bunker was in a T shape and consisted of 20 rooms. These included storage rooms for shells, a plotting room to triangulate readings, a switchboard to connect the bunker to nearby external fire control towers, and a latrine.
There were also rooms for servicing chemical weapons and an airlock to protect those people inside in the event of a chemical attack.
Electricity was provided by three diesel generators. At the time of construction, the building was supported by wooden pilings, but these have been exposed over the years due to beach erosion.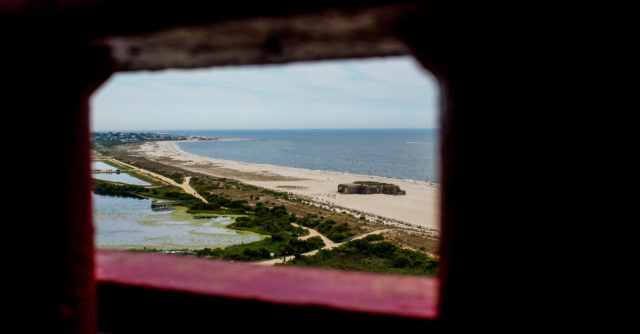 The bunker was specially covered with sod so that it merged with its surroundings because, at the time of construction, the structure was actually on high ground. The distance from the bunker to the ocean was 900 feet. However, since then the tide has changed, and now the sea often invades the bunker.
Battery 223 never saw active service and the guns never engaged an enemy. The only shots fired were those in military exercises and live test firings.
The end of the war reduced the need for coastal defenses. In addition, stationary defensive systems as Bunker 223 had become obsolete due to the advanced techniques of warfare.
Battery 223 was deactivated in 1947. A year later, in 1948, all army coastal defense guns were decommissioned.
The former battery's inactivity was broken sometime around 1958 when it was used as a radio transmitting station by the US Navy for the Atlantic Fleet during the Korean War. In addition, the roof was reinforced with concrete so that a Quonset hut made of corrugated steel could be fitted on top.
In 1962, this structure became part of Cape May Point State Park. A year later, it was officially decommissioned.
On June 25, 2008, Battery 223 was listed on the National Register of Historic Places. Today, the remains of the military building stand in plain sight, lacking the gun mountings or Quonset hut it once possessed.
Another Article From Us: Rays Hill Tunnel – Abandoned Pennsylvania Turnpike