A team of archaeologists with the Sapienza University of Rome have unearthed a rare figurine during a recent dig in central Italy. The enigmatic statue was discovered during an excavation of Battifratta Cave in Poggio Nativo and is believed to be around 7,000 years old.
News from the Neolithic cave deposit of Battifratta (Central Latium, IT). More at https://t.co/YdRTmyLM2J pic.twitter.com/agI1AApq4x

— Daniele Moscone (@mosdann) May 17, 2023
According to a press release from the university, Battifratta Cave opens onto a ridge that sits along the tributary to the Farfa. "The current entrance to the cave corresponds to the outlet of an ancient spring, probably with a seasonal regime, which was a point of attraction for the human communities of the past," the release reads.
Along with serving as a supply of water, the cave served a ritual purpose as well, as shown by the set of remains that were found with the figurine.
Currently, it's unknown what or who the figurine depicts, other than it's based on a female. It dates back to Neolithic times, when the area was inhabited by the region's first agricultural communities, and its face is "outlined in a schematic way." Great care was noticeably taken with the statue's hair and the decorations that adorn its body.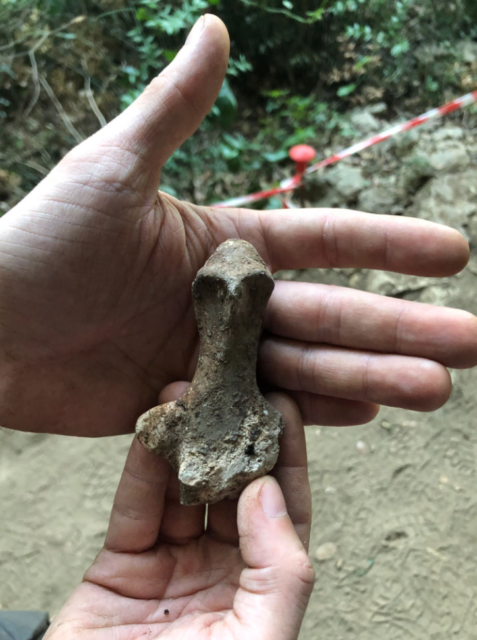 The archaeologists are hoping to learn more, and it's been delivered to the Department of Ancient Sciences at Sapienza for further study. The hope is that it'll allow the team to learn more about how it was made and its relation to the cultures and traditions of the ancient people who used to reside in the area.
More from us: 7,000-Year-Old Road Discovered Off the Coast of Croatia
The research at Battifratta Cave is being conducted as part of a larger initiative about the prehistoric residents of the Farfa Valley and neighboring territories. It's financed by the Grandi Scavi Sapienza Fund, and continues to be carried out with the concession of the Ministry of Culture, the province of Rieti and Superintendence ABAP Rome Metropolitan.