The rise of pickleball in America and the decline of malls have surprisingly become intertwined. This is because while pickleball gains more and more followers, malls in America have become more and more empty. Where one needs more space, the other has too much. Now, pickleball courts are popping up across the country inside these increasingly-abandoned malls. One might even be coming to a mall near you soon.
Malls aren't what they used to be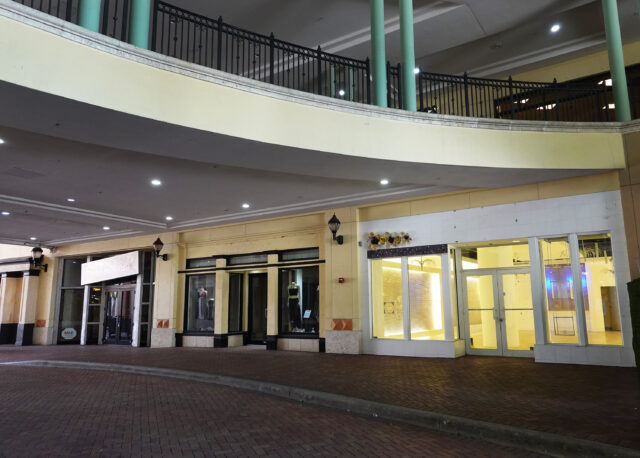 There once was a time when shopping malls were the ultimate place to spend time. Anchored by the massive department stores that offered consumers a little bit of everything, malls were an ideal social space where people could go to walk around, purchase products, and grab a bite to eat. However, as consumer preferences have moved on from department stores to online shopping and outlet-style shopping centers, malls are struggling to entice vendors to take up residence in their retail spaces.
If convincing retailers to stay in the malls wasn't hard enough, malls are also struggling to get people back in as well. Even if stores remain, consumers don't really bother going to malls as much. As such, many retailers are forced to close their doors, and malls become more and more vacant.
In an attempt to keep malls thriving, landlords have opened up tenant applications beyond retailers and are now inviting more experience-driven establishments into their spaces. These include indoor skydiving, virtual golf, and arcade businesses.
Pickleball is growing rapidly in America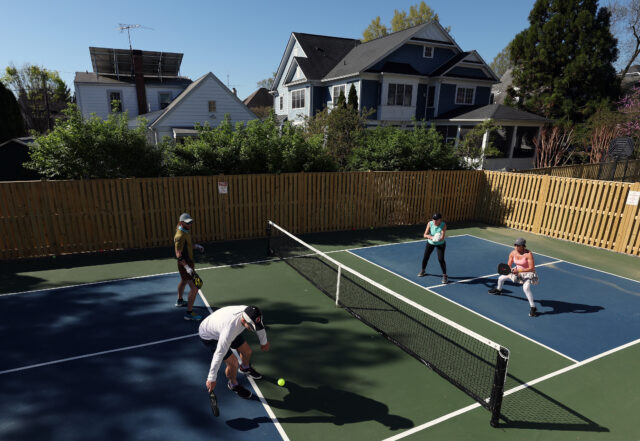 Pickleball was first invented in the Pacific Northwest in 1965 and has been growing ever since. It is a combination of tennis, badminton, and ping pong, where players rally a perforated hollow plastic ball over a 36-inch high net using solid paddles slightly bigger than a ping pong paddle. The sport is much easier on the body than tennis and badminton and is quicker to pick up, not requiring years of practice or lessons to master.
The allure of the sport has drawn many Americans into picking up a paddle, turning pickleball into America's fastest-growing sport. In a report by the Sports & Fitness Industry Association, it was noted that pickleball has increased by almost 159 percent over three years, reaching 8.9 million players as of 2022. With such a rapid growth rate, infrastructure for the sport has struggled to keep up, leading to a lack of pickleball courts for people to play on.
Pickleball courts are turning up in empty storefronts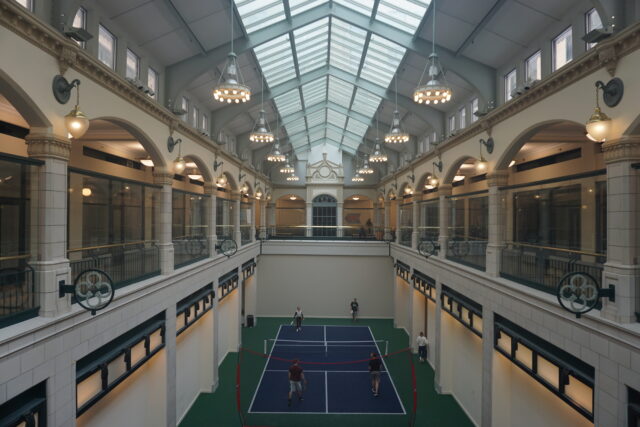 Not only are new pickleball court buildings expensive and time-consuming to construct, there also seems to be no end to the demand for more courts. Players struggle to find spaces in public parks and recreational facilities to play, competing with other sports for court space. Additionally, a lot of tennis players have a distaste for pickleball, especially the sound of the ball impacting the paddle, and so they have gone out of their way to block the development of pickleball courts near their tennis courts.
This is where the vacant malls come into play. Landlords have opened their doors for the pickleball community to set up courts in empty retail storefronts. Outlets like Burlington stores, Old Navy, and Bed Bath & Beyond, which couldn't stay afloat as consumer preferences changed, have now been taken over by pickleball courts. A former two-story Saks Off Fifth in Connecticut was taken over by a group called Pickleball America, making it one of the largest pickleball venues in the US.
More from us: Raccoons and Rodents Have Taken Over Phil Donahue's Former Mansion
The hope is that not only will people be drawn into malls again to play some pickleball, but maybe they'll stay to do some shopping and some eating while they're at it. Pickleball might be exactly what malls need to breathe life back into the once-thriving American pastime.