In the vast expanse of the Namib Desert, a ghostly reminder of a once-thriving diamond mining town lies silently buried under the shifting sands. Kolmanskop, a forgotten settlement in southern Namibia, once buzzed with life and prosperity during the early 20th century. Today, as nature reclaims its territory, Kolmanskop stands abandoned, inviting intrepid adventurers and curious souls to explore its crumbling ruins.
What's in a name?
Kolmanskop was named after a man called Johnny Coleman who lived in the nearby settlement of Aus. He drove an ox wagon, transporting supplies between the German-settled towns of Keetmanshoop and Lüderitz.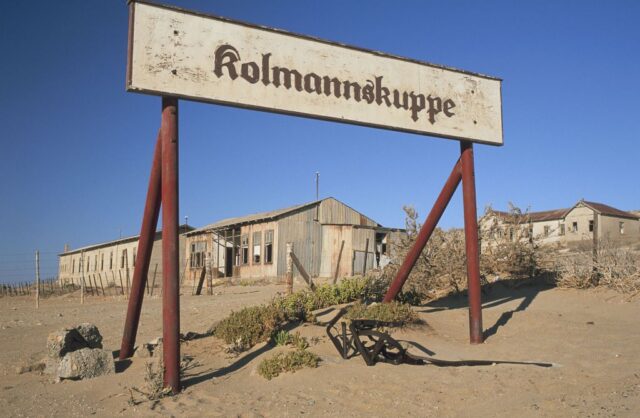 On one such trip, he was caught in a sandstorm which forced him to abandon his wagon on a hill just across from where Kolmanskop would be built. The wagon remained there for some time, and the site was given a name.
Founding Kolmanskop
The place was first called Colemanshuegel, but was eventually named Kolmanskop. While it had a name, it wasn't until April 1908 that the location became something special. Zacharias Lewala, a Namibian railway worker, found stones while digging near a railway line in the region.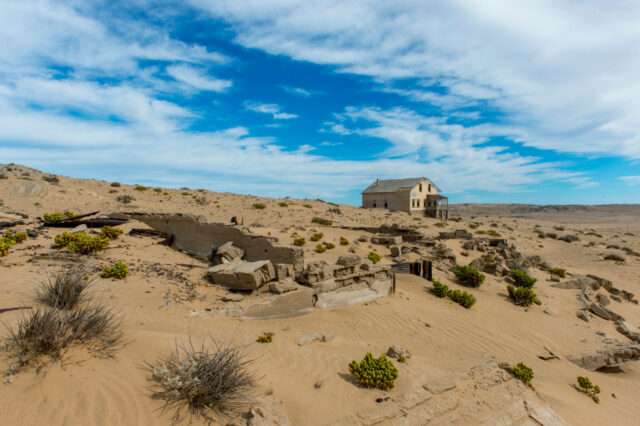 He brought them to his boss, German August Stauch, who identified them as diamonds. Stauch didn't give Lewala any form of reward for his find. News of this discovery spread quickly throughout the area, prompting many to try their luck as well.
Diamond rush
Those who hoped to make their own fortune quickly flocked to Kolmanskop, abandoning the large settlement of Lüderitz. They traveled however they could, with wagons, animals, or even on foot. By 1912, the town was finding roughly one million carats of diamonds yearly.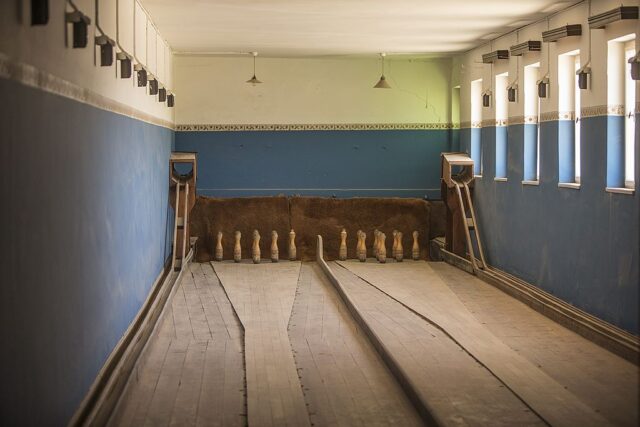 The wealth of diamonds soon led to Kolmanskop becoming a bustling town with many different businesses and amenities. There was a butcher, a gymnasium with a bowling alley, a swimming pool, a playground, numerous factories, and even a hospital.
A true community
There was also a police station that opened only a year after Kolmanskop was established. Perhaps the most interesting part of their work was that they patrolled the diamond-rich town by riding on camels.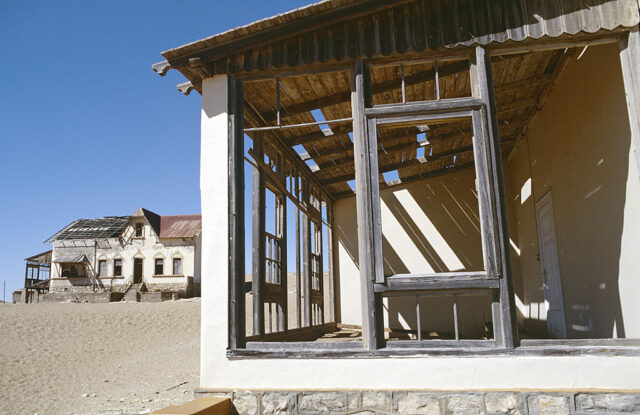 The town had many cultural elements. One of the most important was the recreation center which was used for everything from over-the-top parties to opera, orchestra, and theater performances.
A German town
The area even boasted the first tram in Africa, as well as a direct rail link to Lüderitz. These businesses and amenities were created for and by the flourishing community that lived in Kolmanskop.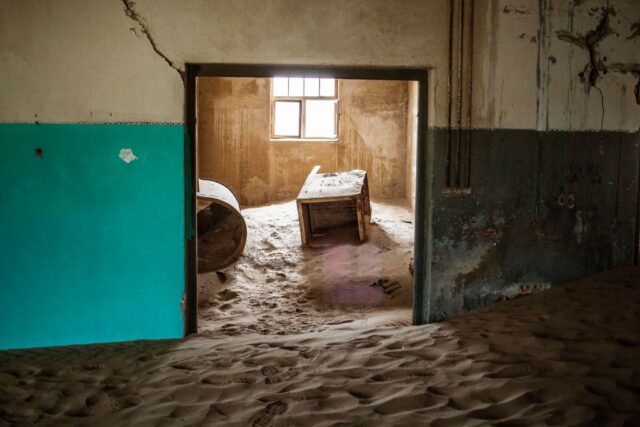 Many of the people who lived there were German colonists profiting from the diamond mines. They built a town that was a slice of Germany placed in the middle of the dessert.
The true locals
This is why Kolmanskop was designed in a very German architectural style, something that could really be seen in the elaborate houses built by those who profited from the mines. There were also, however, far more people living there who weren't German.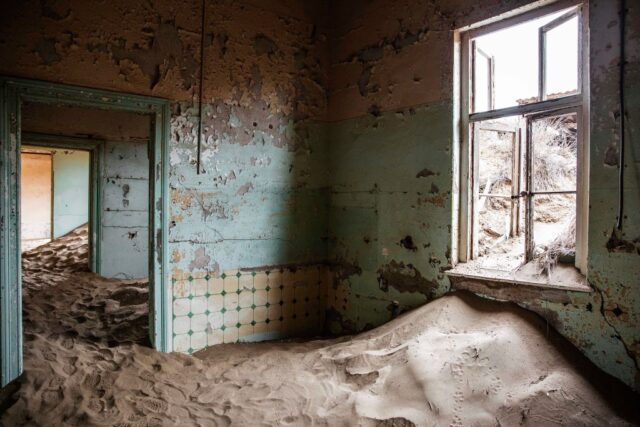 While the mines were owned and operated by colonists, it was the Owambo people who were paid to work in them. At the town's peak, they outnumbered the Germans two to one.
Beginning of the end
As with nearly all towns created during diamond or gold rushes, Kolmanskop eventually came to an end. Surprisingly, it wasn't the closure of the mines during the First World War that marked trouble for the town.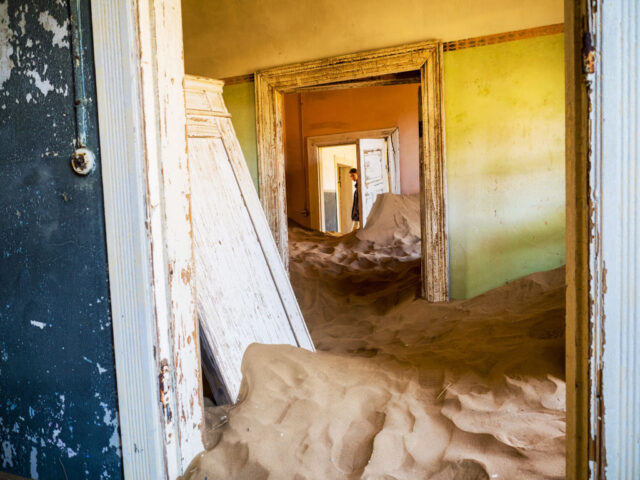 When they re-opened, the colonists in the area continued to prosper. In fact, by the early 1920s, it was one of the richest towns in the entire continent.
Better diamonds elsewhere
The first sign of trouble came in the 1930s when the mines' diamond supplies started to dwindle. They had been mined so intensely that there simply weren't as many stones to find as there had once been.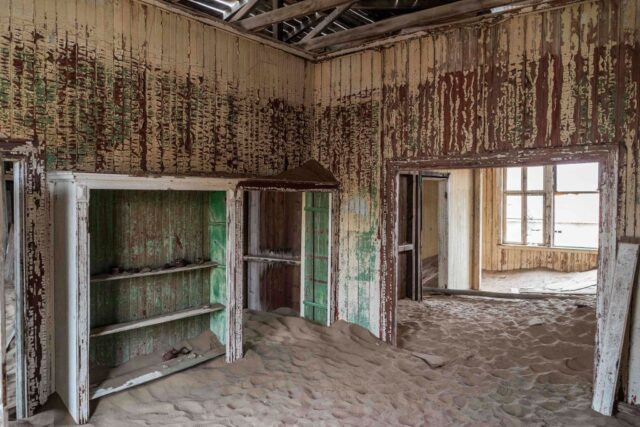 In contrast, there were many other locations in Africa identified in the following years that were still flush with the stones. Many people who lived in the settlement picked up and moved on to these operations.
Mining ceases
Not only were these areas, near the Orange River, far richer in diamonds, but they also required far less work. Instead of having to mine underground for them like in Kolmanskop, people only had to walk along the beaches to find stones washed up.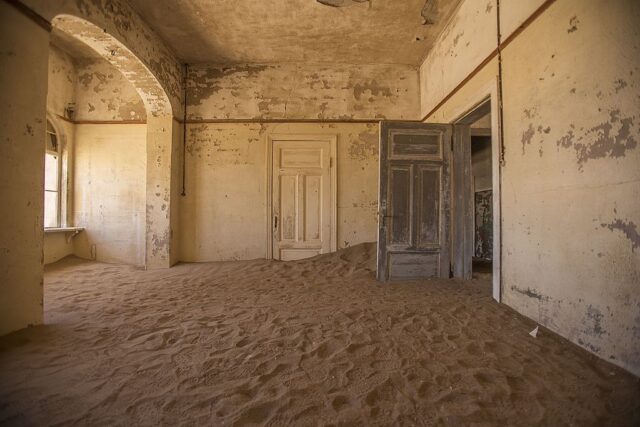 While many moved on, there were some who remained in the once-great settlement. The owner of the mines left Kolmanskop in 1943, but operations continued until 1950, although on a much smaller scale than in the past.
Reclaimed by nature
It wasn't until 1956 that Kolmanskop was officially abandoned. Without people living there, it didn't take long for the desert town to be reclaimed by the sand.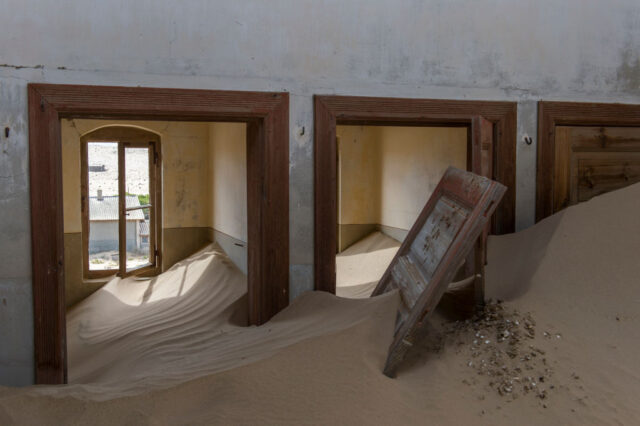 Blowing sand has entered many of the buildings, gathering over time into large piles that almost completely cover the interior floors and doors. It's this sight that has made Kolmanskop a fascinating tourist destination.
Tourist town
Popular with avid travelers and photographers alike, Kolmanskop requires a permit to visit. It is located in the Tsau ǁKhaeb (Sperrgebiet) National Park, an area of the Namib desert where visitation is restricted.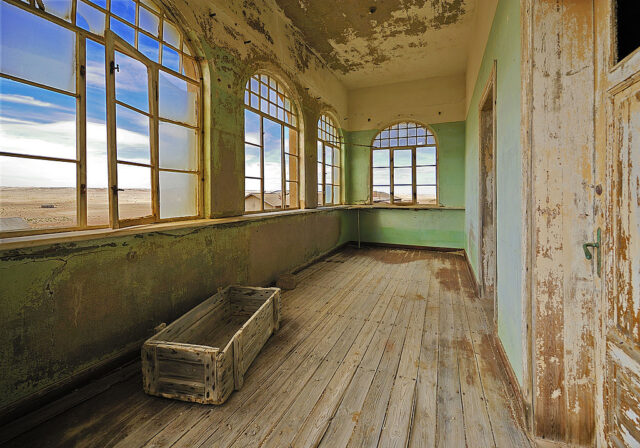 More from us: Fort Ross: The Southernmost Russian Settlement in North America
Although the town is technically abandoned, there are now a number of businesses that have opened once more to serve any visitors.