Dogpatch USA is an abandoned theme park, located in the northwest of Arkansas in an area known as Marble Falls. Previously there was a trout farm there, but the family who owned the farm decided to sell the land. The family engaged OJ Snow, a real estate developer, to sell the site in 1966.
However, OJ Snow took an interest in the land himself. He realized that this place would make a pretty good location for an amusement park with pioneer themes – something he'd been considering developing for some years. The Marble Falls site attracted him because it looked similar to the setting of the Li'l Abner comics, a town called Dogpatch.
Furthermore, a nearby show cave known as Mystic Caverns (owned by the same family who owned the trout farm) resembled Dogpatch Cave from the comics.
OJ Snow and his partners created Recreation Enterprises Inc (REI) in order to purchase and develop the land.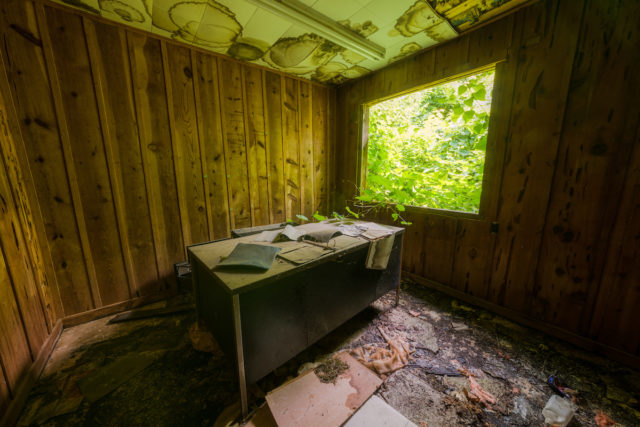 Snow wrote to comic creator Al Capp asking for permission to build a park based on his work. He took video footage of the land and talked through how he would turn it into the world that Capp had created.
As part of his pitch, Snow assured Capp that there would be no "thrill rides" like roller coasters (which would not fit in with Li'l Abner's world), but that the park would offer more sedate attractions like horseback riding, paddle boats, arts and crafts, and botanical gardens.
Historically, Al Capp had not given permission to use his characters for a theme park when previously requested, but Snow managed to convince him that the Arkansas park would be worthy of his creations.
In January 1967, Capp's lawyers finalized an agreement to grant REI the right to use the comic book characters. Capp was also made a partner of REI.
Although Capp and the investors were excited about the project, Arkansas residents and officials were worried that the park would reinforce negative hillbilly stereotypes as well as cause property prices in the area to drop. Some critics cited the failure of other theme parks that had tried and failed to recreate the success of Disney World.
However, before building commenced, the Publicity and Parks Commission inspected the territory and approved the project to create an 825-acre park, as did the Harrison Chamber of Commerce.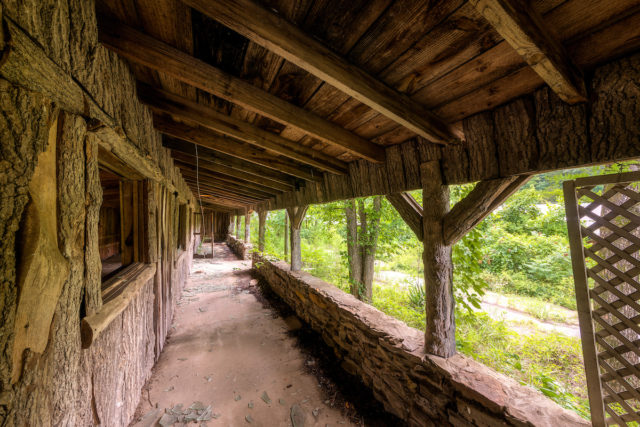 Construction began on October 3, 1967, when Al Capp and his wife attended a groundbreaking ceremony. The construction was divided into two phases. The first phase included the construction of both buildings and rides at a total cost of $1.3 million.
During the second phase, a railway was built to transport visitors from Dogpatch to Marble Falls, and a tram was constructed to take people from the parking lot to the entrance. There were also plans to build a motel and a golf course, all amounting to $2 million.
Log cabins from the Ozark mountains were dismantled and reconstructed at the park, and an 1834 watermill that was already on the site was repaired to full working order.
In May 1968, the official opening took place when Dogpatch welcomed about 8,000 visitors. That same year, the Post Office and local community changed its name from Marble Falls to Dogpatch.
As well as the other attractions listed above, there was a petting zoo and the trout pool was preserved; visitors could fish in it and the Dogpatch restaurant would cook the fish for them afterward.
The arts and crafts that Snow had mentioned included candlemaking, glassblowing, and woodcarving. The opening year's profit was about $100,000.
Already in the summer of 1968, plans were being drawn up to expand the park.
However, these plans were based on a projected attendance of the park of 400,000 people, rising to around one million over the course of the next decade. But in reality, the attendance for 1968 amounted to only 300,000 people.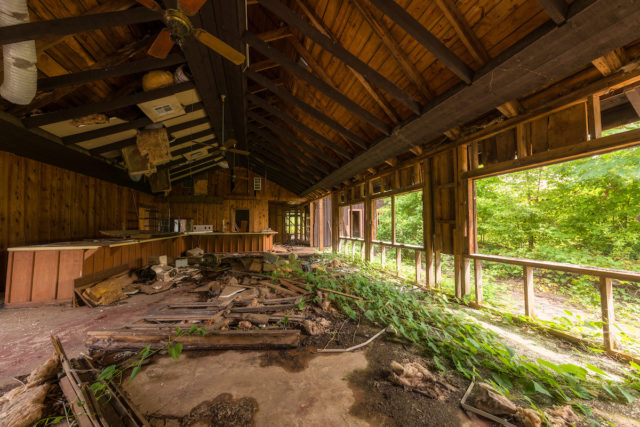 Jim Schermerhorn, a member of REI and also an experienced caver, was employed to renovate the Mystic Caverns and turn it into Dogpatch Caverns. He not only addressed hazards and safety concerns, but he also supervised the installation of new lighting and a walkway.
During the repair works to Mystic Caverns, a second cave was discovered. It was completely untouched and the decision was made to preserve it and not open it to the public. It was named Old Man Moses Cave and plans to renovate it were added to phase two of the project.
A disagreement arose among the shareholders as to what should be done with the first year's profits. While Snow wanted to reinvest them, other shareholders wanted a cut. In the end, several shareholders sold their shares to businessman Jess Odom in 1971. For $750,000, Odom acquired a controlling interest.
One of Odom's first acts was to get Capp to sign an agreement that Dogpatch USA could use all characters, jargon, names, and other elements from the comic until 1998.
From 1968 onwards, Li'l Abner and other "hillbilly" culture shows were very popular. The comic strip was in 700 American newspapers and Capp also signed a deal for a series of themed restaurants. With a TV show also a growing possibility, it was hoped that the Dogpatch USA theme park would also benefit from Capp's successes.
With this in mind, Odom expanded the park further, so that by 1970, a 60-unit mobile home motel and a campsite had been built as well as a funicular to transport guests from the parking lot to the park entrance.
At the opening of the 1972 season, several new attractions were added such as a sea lion exhibit, exotic birds, and a children's water ride.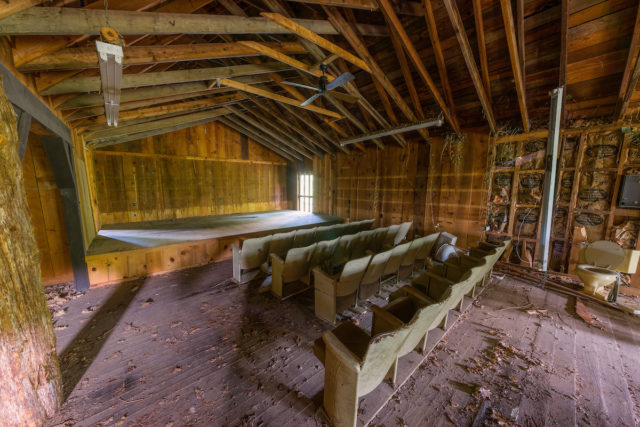 By now, Odom had bought most of the shares and was practically the owner. Buoyed by the early success of Dogpatch, he also announced in 1972 that he would be constructing a ski-resort and conference center nearby. When built, this resort was known as the Marble Falls Resort and Convention Center, and it opened after Christmas 1972.
Dogpatch USA was expanded again in 1972 and 1973 with new rides. However, that decade brought financial problems on a national level with high interest rates and an oil crisis that kept people from traveling too far.
The proposed Li'l Abner TV show never reached the screens and other rural shows were canceled. The Li'l Abner themed restaurant plan was also scrapped. In addition, mild winter weather meant that the Marble Falls ski resort also struggled.
Since Dogpatch was not generating enough profit to support both these attractions, Odom was forced, in the midst of high interest rates, to borrow another $1.5 million which would be added to his earlier debt of $2 million.
In 1976, Union Planters Bank began a $3.5 million debt collection process. If this wasn't bad enough, a year later, the First National Bank of Little Rock called in a debt of $600,000.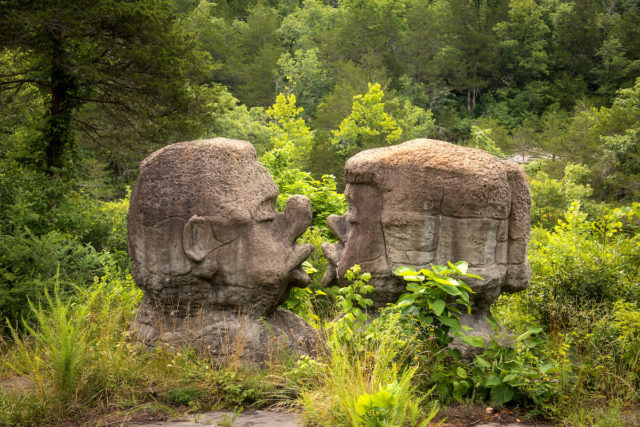 Perhaps the greatest blow came in 1977 when Al Capp retired and ceased producing his comic strip in national newspapers. No comic strip meant that Dogpatch wasn't in the public eye anymore and the theme park's major source of advertising was gone.
In September, Odom made a statement that the Marble Falls resort had suffered annual losses of up to $100,000 since opening and so he was not able to continue running it.
During the Seventies, Odom made several attempts to revitalize the park's business and keep it open, but by 1979, he had begun negotiations to sell the park to a private non-profit group called God Patch, which put forward a proposal to transform the park with a biblical theme. Such negotiations continued for a long time, but ultimately no money exchanged hands.
The summer of 1980 suffered a terrible heatwave, the worst in the state's history. As tourists stayed at home, the park suffered a loss that season for the second year in a row.
In October of that year, Union Planters Bank took over Dogpatch USA and Marble Falls. A month later, Dogpatch filed for bankruptcy and the land was put up for sale with the aim of paying off a $7 million loan.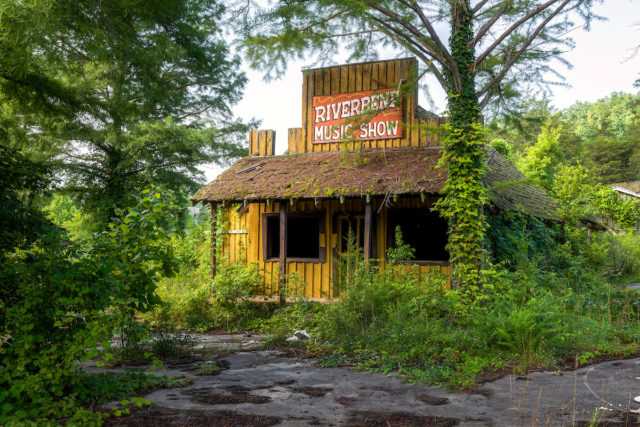 Ozarks Entertainment Inc (OEI) acquired Dogpatch USA and owned it for the next five years. While the park staff was reduced by half, money was spent on adding rides and attractions. Concerts were hosted in the amphitheater for musicians such as Tina Turner and Reba McEntire.
Denver Pyle, an actor famous for The Dukes of Hazzard, became a spokesman for the park and corporate sponsorship was secured from Coca Cola, Dr. Pepper, and Tyson Foods. The cost of entry to Dogpatch USA was only $34 for a family, making it a much cheaper alternative to Disney World which charged $84 for a family ticket.
In 1981, the caves were sold to Bruce Raney, the grandson of the original owner, and he changed the name back to Mystic Caverns while Old Man Moses cave was rechristened Crystal Dome.
In 1987, 90% of OEI shares were sold to Telcor (The Entertainment and Leisure Corporation) which managed theme parks. In the 1990s, Dogpatch faced stiff competition from Silver Dollar City and the Ozark Folk Center. However, Dogpatch also faced the disadvantage that Li'l Abner had been out of print for ten years, so most youngsters had never read the comic strip.
The popularity of the park was also diminishing among locals. In 1997, the Post Office reverted to its former name of Marble Falls after a petition was received from residents.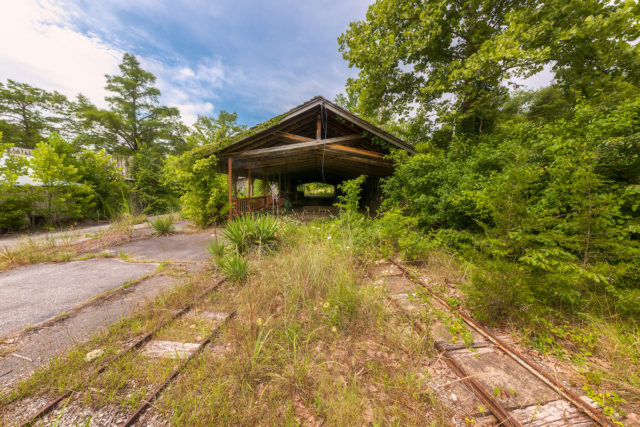 In 1991, there were concerns that the park would not open at all that year; instead, it opened as a park offering arts and crafts only with visitors paying per activity rather than a general entrance fee. At this time, Telcor decided to cut costs by abandoning the Li'l Abner theme since the company paid money for the use of the name and characters.
After several different owners and numerous failures, Dogpatch USA final closed on October 14, 1993. The property was left without any control and supervision, and it quickly fell into an abandoned state.
In 2002, a 141-acre section of the site was put up for sale on eBay at a rate of $1 million. By 2005, all of the property was on offer for $5 million but the price was listed as negotiable.
This is where the history of ownership takes a bit of a strange turn. In 2005, 16-year-old Pruett Nance often rode around the abandoned park in his ATV with the owners' permission. However, during one trip, he hit a wire that had been strung up between two trees and was lucky not to be decapitated. Instead, he suffered serious, life-threatening injuries to his neck and trachea.
Nance pulled through, after which he and his father took the owners to court, stating that they'd put up the wire with malicious intent. The case went all the way to the Supreme Court of Arkansas which ruled in Nance's favor. When the owners did not pay the $764,582 damages awarded against them, Nance was given the deeds to Dogpatch instead.
However, Nance was only 23 years old at the time and had no idea how to restore or run such a property, so he eventually decided to sell it.
In 2014, Bud Pelsor (who invented a non-spill dog bowl) and a business partner purchased the park for $2 million. The two investors had plans to renovate the park as an ecovillage which would involve replenishing the trout farm and building a restaurant and museum.
By the end of that year, the park was opened and 5,000 people looked around the property in anticipation of a grand opening day in the future. The new attraction would be called the Village at Dogpatch.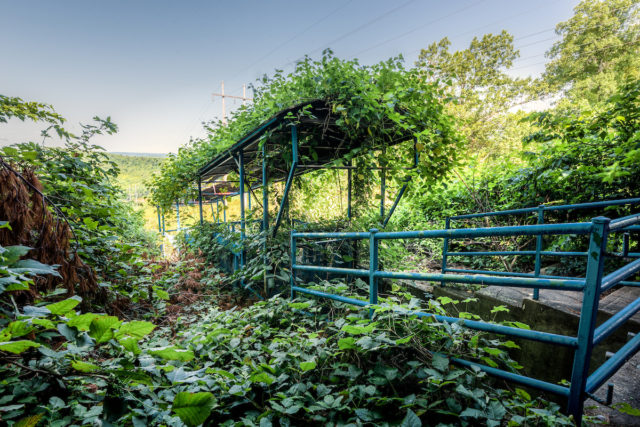 Despite a fire in February 2015 which resulted in the destruction of three buildings, the site opened in May that year for a music, arts, and crafts festival.
Unfortunately, the site was put up for auction again in March 2016 because Pelsor's partner wanted to leave and Pelsor couldn't buy him out. The property wasn't sold but was leased to Heritage USA operated by David Hare. Heritage even leased some of the old Marble Falls resort which was now owned by a local called Deborah Nielsen.
Hare seemed excited about the project and posted videos on YouTube describing his plans. However, he turned out to be all talk and no action. Heritage defaulted on loan payments to Nielsen who issued an eviction order. Both Hare and Heritage USA vanished, becoming untraceable.
With that, ownership reverted to Pelsor again, but the stress and cost of the project were too much for him. It is currently expected that in March 2020, Dogpatch USA will be auctioned again with a starting bid of $1 million.
For those who want to visit this wonderful area, the Dogpatch campsite is still operational, Nielsen runs a tourist establishment called the Marble Falls Resort and Restaurant, and the Mystic Cavern is still operational.
A big thank you to Walter Arnold for allowing us to share such stunning photographs of this abandoned theme park with such interesting history. Please check his website for more work and his amazing project Art of Abandonment.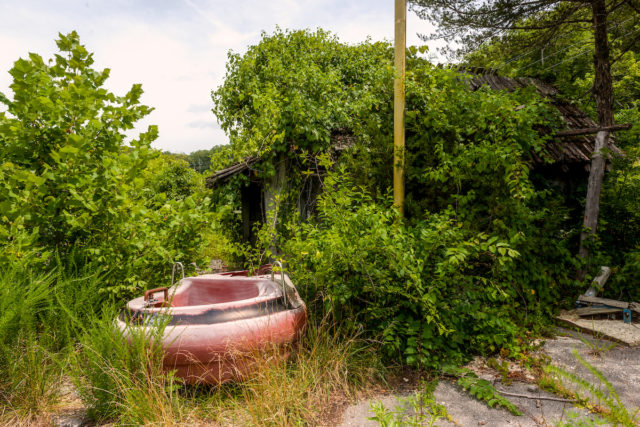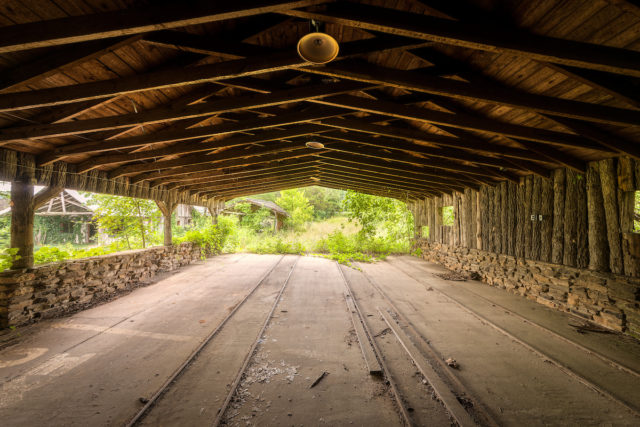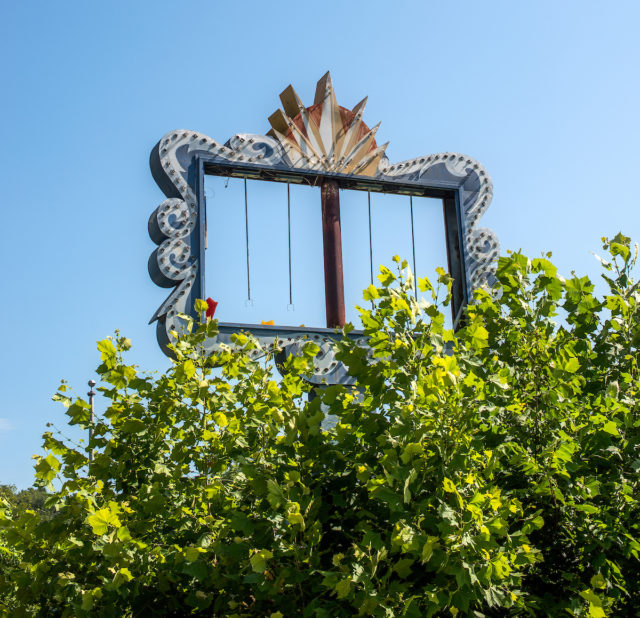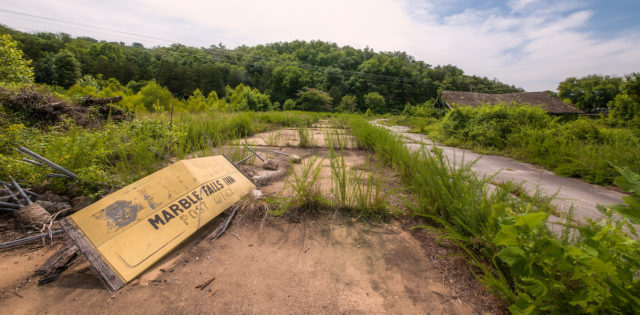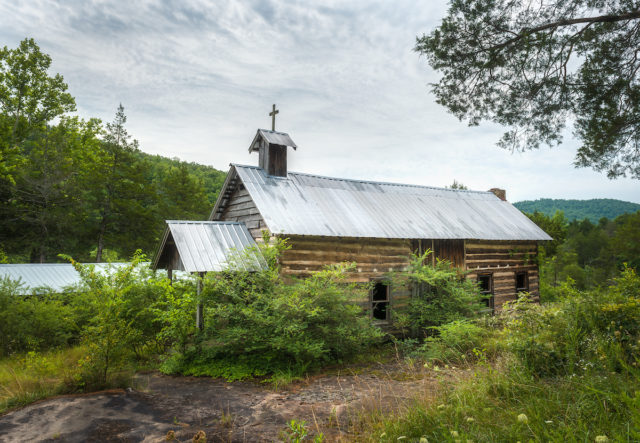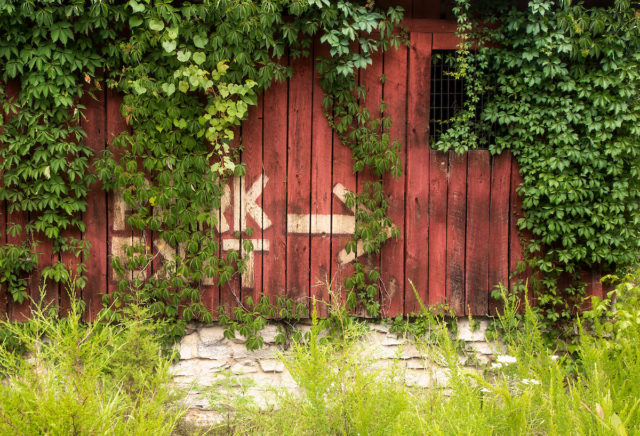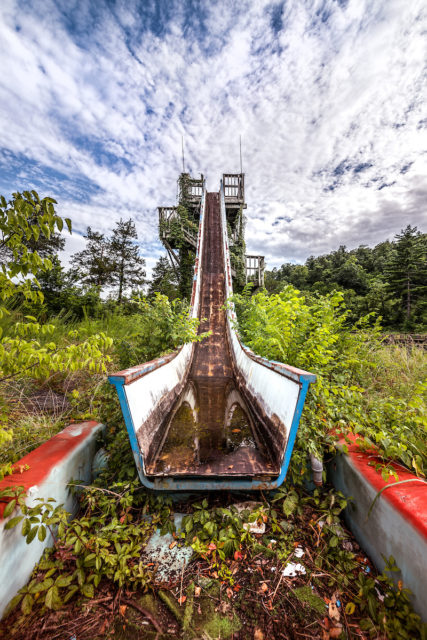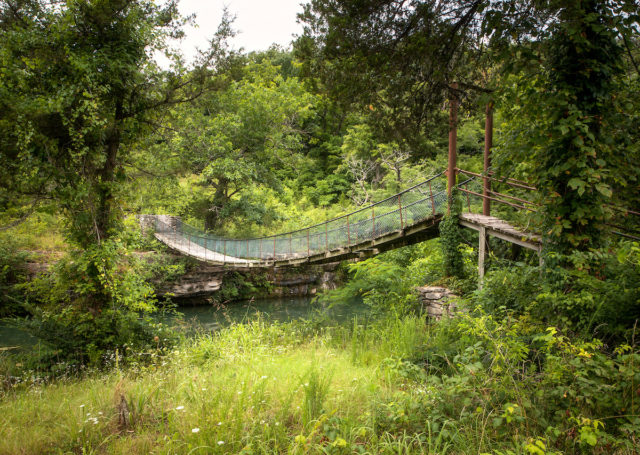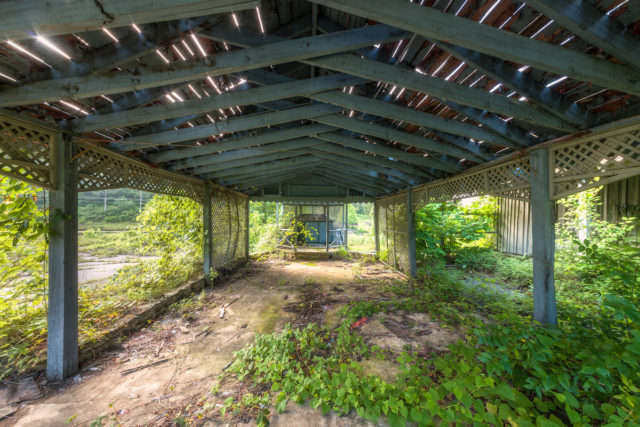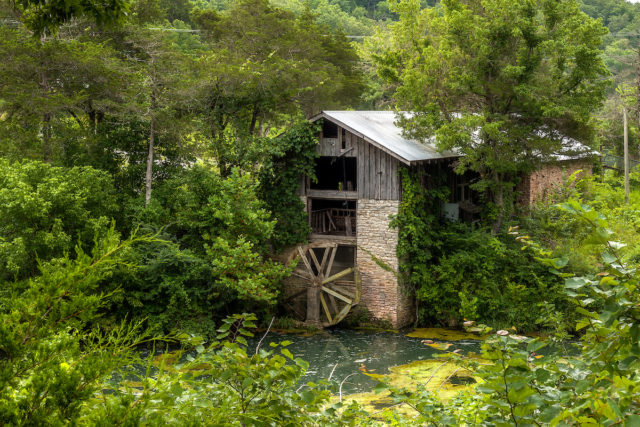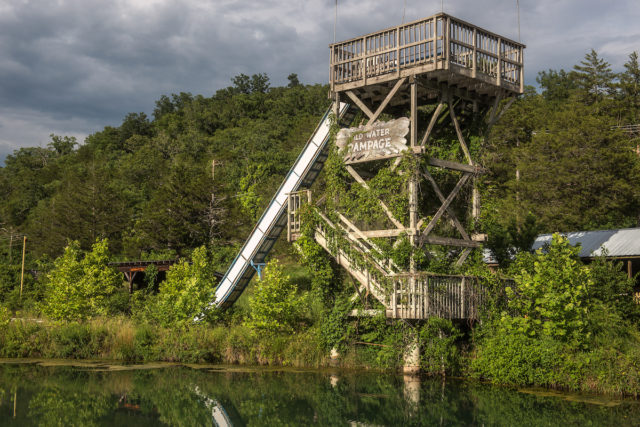 The Amazing Abandoned Space Shuttles in 57 Images