The island of Spinaloga is located in a gulf in north-eastern Crete, next to the town of Plaka. Officially known as Kalydon, it is a very small island near to the Spinaloga peninsula – which often causes confusion, as the name Spinaloga is used for both. The name Spinaloga was given to it by the Venetians for its looks, derived from the words spina (thorn) and longa (long).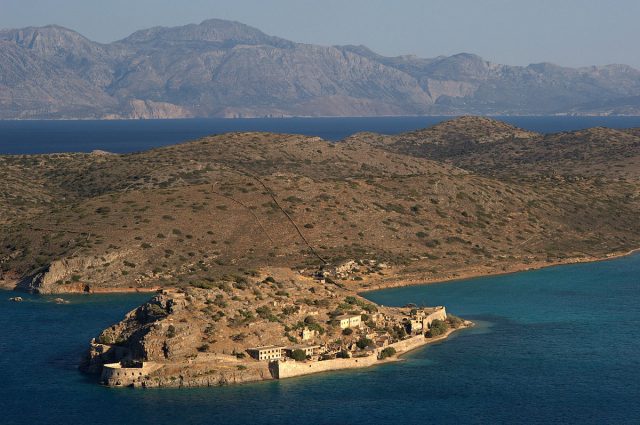 Spinaloga fortification
The Venetian cartographer Vincenzo Coronelli reports that Spinaloga was not always an island, but was once part of the peninsula. In his writings, he mentions that in 1526, the Venetians cut down a chunk of the peninsula in order to make Spinaloga an island. Admiring its tactical position, they created the island and fortified it to serve as a lookout and protect the bay.
The original plan for the island fortifications was drawn up by engineer Genese Bressani, who created blockhouses at the highest points of the island. In 1579, the general of Crete, Luca Michiel, put the foundation stone of the fortifications all along the coastline.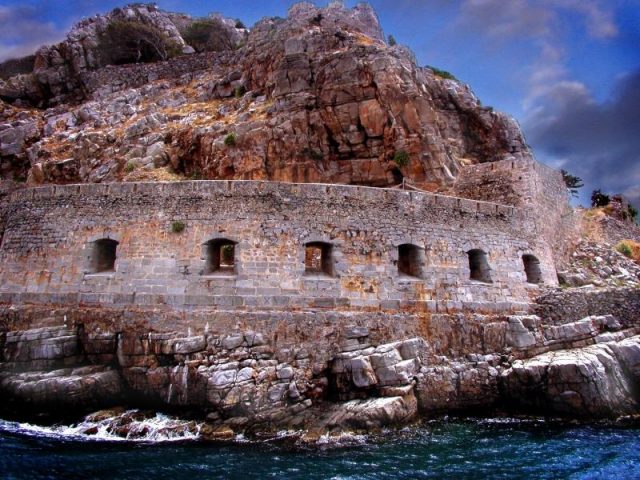 This island, along with Gramvousa and Souda, was one of three to remain in Venetian hands long after the rest of Crete fell under the rule of the Ottoman Empire. These three forts were used as a safe heaven for Venetian ships and to control the trade routes in the Mediterranean. In 1715, the Ottomans captured Spinaloga, taking full control and thus removing any Venetian presence on the island of Crete.

Leper colony
At the beginning of the 20th century, the island was used as a leper colony, from 1903 until 1957. It was one of the last active leper colonies in Europe. At this time, there were two entrances into Spinaloga, one of them being the lepers' entrance, a tunnel knows as "Dante's Gate". The popular name came from the uncertainty of knowing what would happen to the lepers after they passed through the tunnel. But once they were inside, all of them were surprised to receive food, water, and medical attention. The last person living on Spinaloga, an Orthodox priest, left the island in 1962.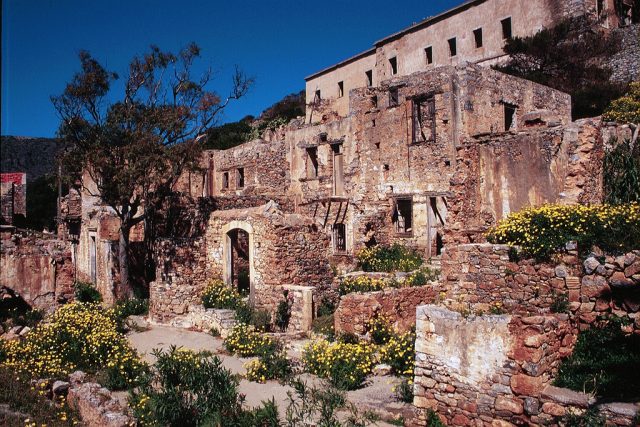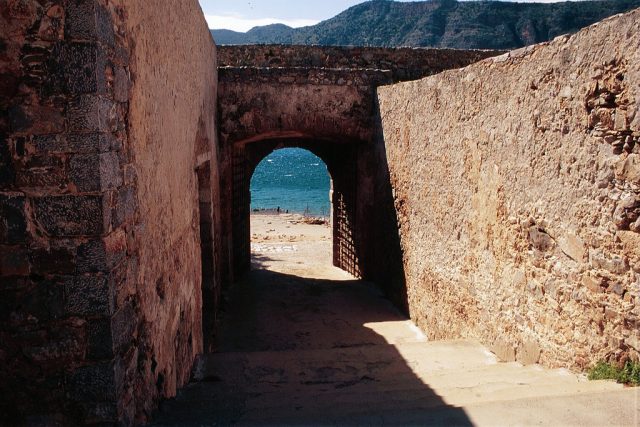 Spinaloga today
Today, the island is uninhabited but remains a popular tourist attraction in Crete. People want to see the leper colony and the fortress, but Spinaloga also has nice shallow pebble beaches. The island can be easily accessed and tourist boats leave every 30 minutes from the towns nearby. There is no accommodation on the island, so all tourists visit can last only a couple of hours.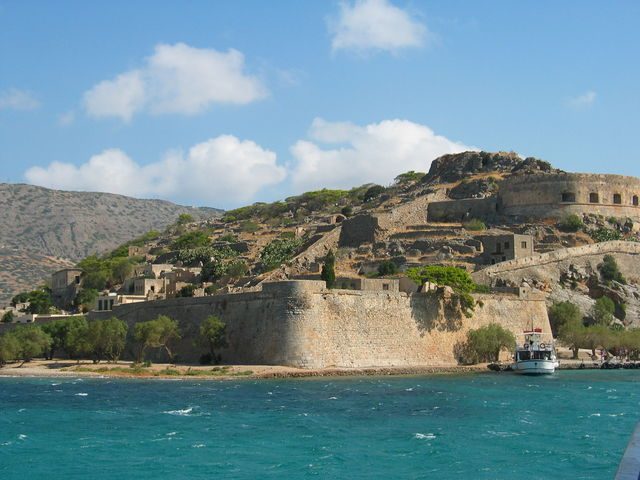 Spinaloga has been featured in the British television series Who Pays the Ferryman? and Werner Herzog's experimental short film Last Words. It is a setting for the novel The Island by Victoria Hislop, a story about a family's ties to a leper colony. The book was later adapted for television under the name To Nisi.