Waterloo Greyhound Park was once a race track for greyhounds located in Iowa, USA. Now this place is owned by another company — as we shall see.
Thanks a lot to Nathanial Brown for the photos of this place before its demolition. Go to his Facebook page, there you can find video from this location.
History
In Iowa, USA, the National Cattle Congress was founded in 1910; it held annual agricultural events. In the 1980s, the nonprofit organization faced serious financial problems. It was decided that they urgently needed to think up a new profitable event.
In 1984, the NCC President suggested that a greyhound racecourse using the parimutuel betting system would help increase revenues for its annual events. In the same year, Congress was able to obtain a license from the state to build and operate a race track for this purpose.
Construction took two years and was completed on October 15, 1986. Then Waterloo Greyhound Park was open to the public. In its first year, the park made a profit of $600,000, and the Cattle Congress made a net gain of $519,000.
In 1989, the NCC admitted that if the track was not profitable, then the bank would take over not only the track but also the NCC. In 1991, although the track itself made a profit of $240,000, the NCC actually made a loss of $371,000.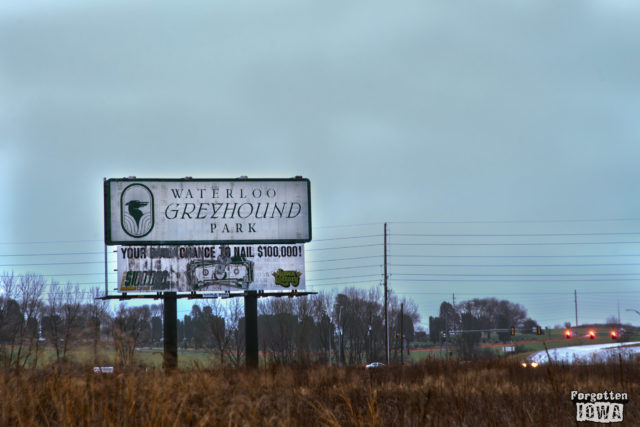 In 1992, the Mesqaukie Casino opened in Tama, Iowa, only a 30-minute drive from Waterloo. The casino was designed in the style of Las Vegas, and people were attracted more to the glamorous gambling it offered than to the park.
Waterloo Greyhound Park wanted to place slot machines at the park to enable it to compete with the casino, so it pursued a law that would allow them to do this. In 1994, a law authorizing the expansion of gambling into such venues was passed.
Closure
However, the introduction of slot machines was too little too late, and the racetrack finally closed in July 1996. Throughout its lifetime, the business on 64 acres of land had faced financial constraints. The NCC also filed for bankruptcy.
Once the site was shut down, vandalism occurred. Windows were broken in the abandoned buildings, and graffiti artists left their marks on the walls. The site became completely overgrown with weeds. The National Cattle Congress sold the 64-acre site to Harold Youngblut, president of Deer Creek Development.
Deer Creek Development is a local company that has expressed a desire to free up land for new developments. With this purpose in mind, on July 25, 2018, the former Waterloo Greyhound Park was demolished.