A huge whaling ship has been grounded in Iceland for 39 years at a place called Skapadalur Valley.
The picturesque valley has become notable in part due to this ghost ship, which adds more charm and interest to its surroundings.
This place has become an Icelandic landmark, visited by tourists, photographers, and urban explorers.
In 1912, a large whaling ship was built in Norway and named the Globe IV. It was equipped with both sails and a steam engine. Throughout its life, the ship was owned by different countries, as it was constantly being put up for sale.
Over time, the hull of the Globe IV was strengthened. This decision was made because it mainly traversed icy seas and frequently had to break through the surface ice.
As well as sails, the ship boasted a powerful steam engine that could keep it moving even in calm waters.
After World War II, the Globe IV passed into the hands of an Icelandic owner with whom it remained until its end.
In 1963, the ship's name was changed to Garðar BA 64, the name by which it's known today. After severe restrictions on whaling were imposed in the second half of the 20th century, the owner of Garðar BA 64 decided to use the ship to catch herring off the coast of Iceland instead.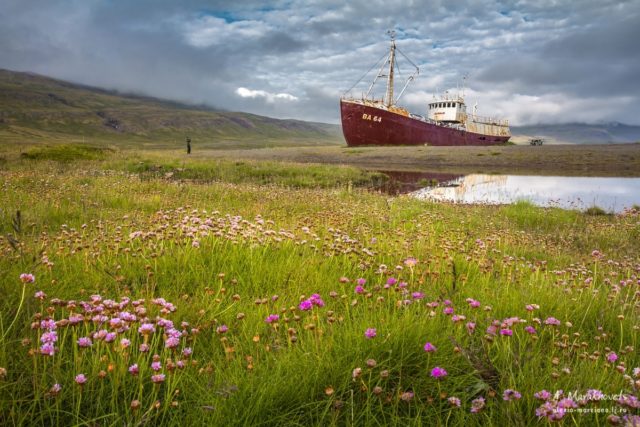 Garðar BA 64 continued to operate for another 18 years until its Icelandic owner decided that the ship was no longer suitable for further use.
In 1981, the vessel was declared unsafe but the owner did not want to scuttle the ship. Instead, he ran it aground in the Skápadalur Valley in Patreksfjördur, Iceland.
Since 1981, the ship Garðar BA 64 has been gradually falling apart, creating an interesting attraction for tourists. It is possible to climb onto the vessel and explore it from the inside, making this ghost ship a popular destination for photographers and tourists.
The setting is a wonderful combination of Icelandic nature alongside industrial ruins.
The ship has grown so famous that local Icelandic companies conduct tours to the valley. Visitors can choose between a tour that lasts for several hours or one that involves a hike over several days.
However, you don't need to book a tour to see this ship. Tourists can visit independently, by themselves or with friends, by following highway number 612.
These fantastic photographs of an abandoned ship in Iceland belong to Marakhovets Alexey. A big thank you to him for giving us permission to use his photos in this article.
Alexey is a traveler and photographer with a dream to visit every country around the world. So far, he has already visited 40 countries.
Alexey runs his own blog about the information he collects during his trips, adding impressive photos taken by himself. You should definitely check his LiveJournal account via this link.