If there's one thing the Mojave Desert is known for, it's hot and arid weather. As such, it's no surprise someone would build a waterpark to allow travelers a break from the scorching heat. While a solid concept, the Rock-A-Hoola Waterpark – also known as Lake Dolores and Discovery Waterpark – suffered huge financial hardships, leading to its closure.
Creation of a private waterpark
In the 1950s, local businessman Bob Byers decided to build a private waterpark for his immediate and extended family. An expanse of desert, some 100 yards from Interstate 15, was purchased, as it contained an underground spring fed by the Mojave Aquifer. The spring allowed for the creation of a manmade lake, named Lake Dolores after Byers' wife.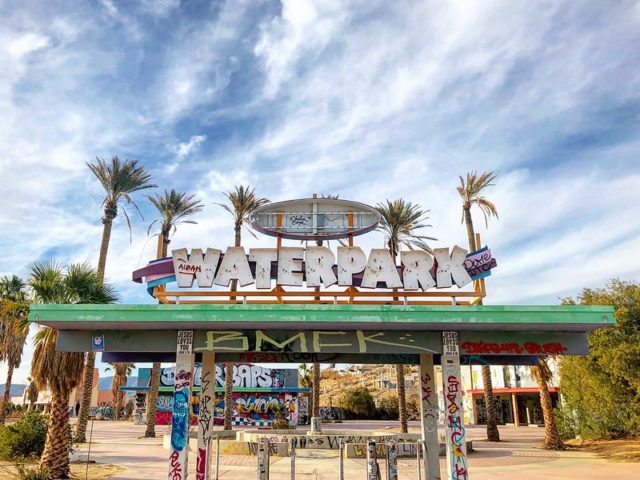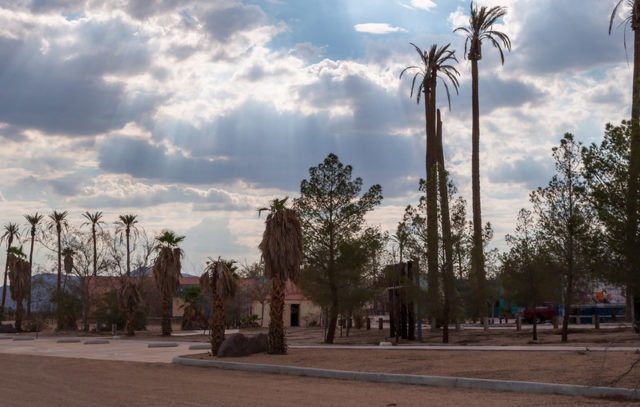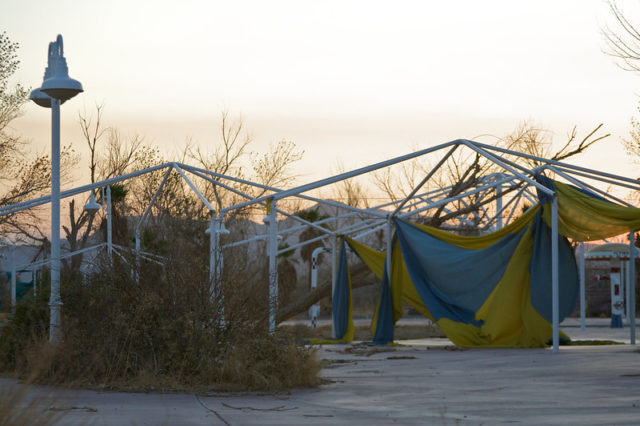 Construction took place throughout the late 1950s and early 1960s. Once it was finished, the park consisted of a series of identical steel waterslides that visitors could ride down toward Lake Dolores. They did so on plastic "floaties," which skimmed 40 to 50 yards across the water at the bottom of the slides.
Lake Dolores opens to the public
The private waterpark opened to the public as Lake Dolores in May 1962, following the construction of a small campground. This was widely used by motocross enthusiasts and people traveling between Los Angeles and Las Vegas.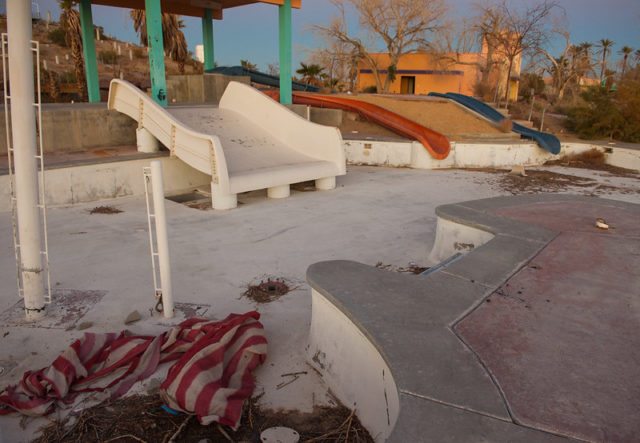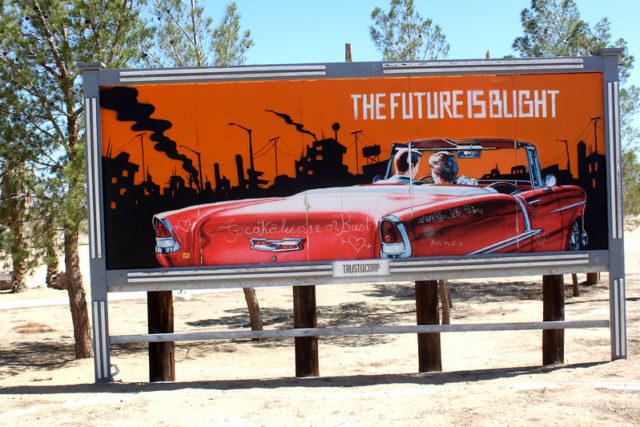 Over the next two decades, Lake Dolores was relatively popular. Advertised as "The Fun Spot Of The Desert," it featured the original steel waterslides, as well as two V-shaped ones, ridden standing up; a "Zip-Cord" ride, which thrust visitors into the lake; a Lazy River; bumper boats; a JetSki racetrack; the "Big Booper," a group raft ride; a swimming pool; three diving boards; and three trapeze-like swings from which visitors could launch themselves.
Lake Dolores becomes Rock-A-Hoola Waterpark
Due to dwindling attendance in the late 1980s, Lake Dolores closed down in 1990. That same year, Byers sold it to Lake Dolores Group LLC, after which the waterpark underwent a renovation costing millions of dollars. The original waterslides were replaced with newer, fiberglass ones painted in the colors of the American flag, and more modern attractions were added, including a river ride on inflated tubes.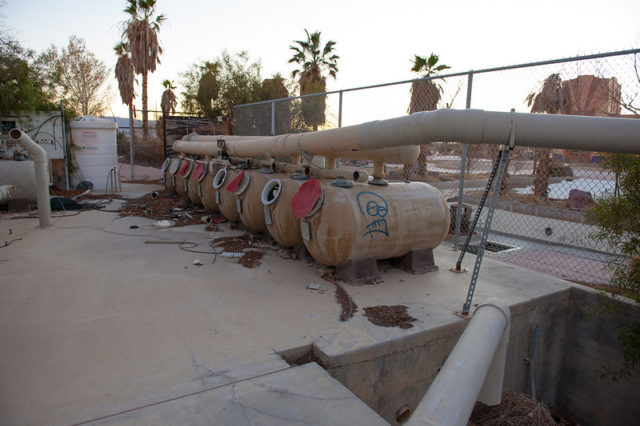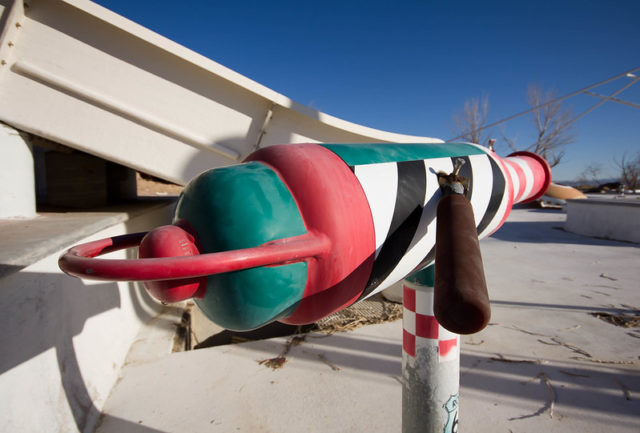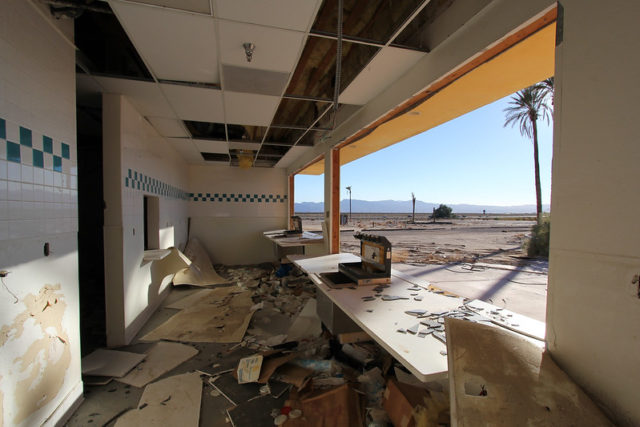 When it reopened as Rock-A-Hoola Waterpark on July 4, 1998, it marketed itself under a 1950s theme. Visitors were treated to '50s and '60s rock and roll music with associated graphics. The rides also embodied this theme, with names like "Grease Lightning." A year later, it hosted the annual Electric Daisy Carnival, an all-night rave by Insomniac Events.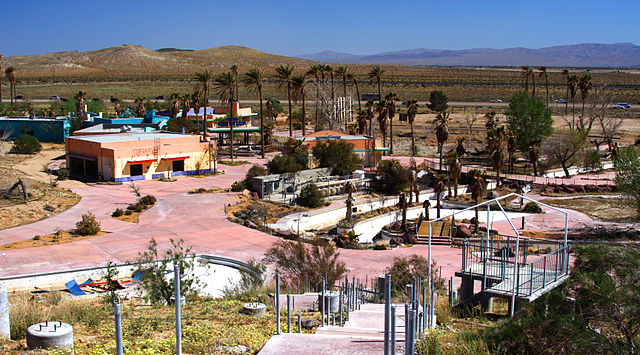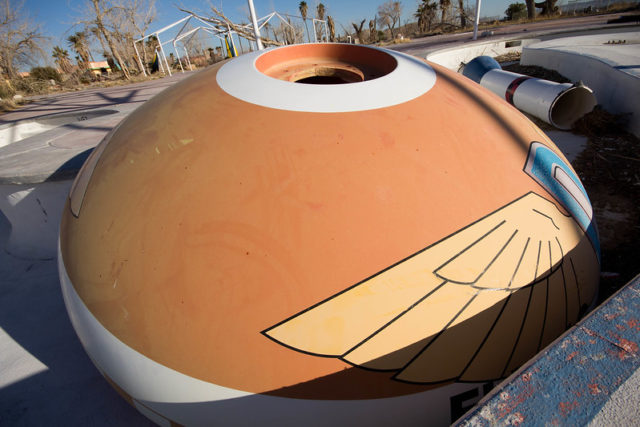 Despite all the work that went into the park, it amassed a debt of three million dollars during its first few seasons. Its money troubles didn't get better, as a lawsuit was brought about following an employee suffering severe injuries going down a waterslide. A settlement of $4.4 million was reached, crippling the park.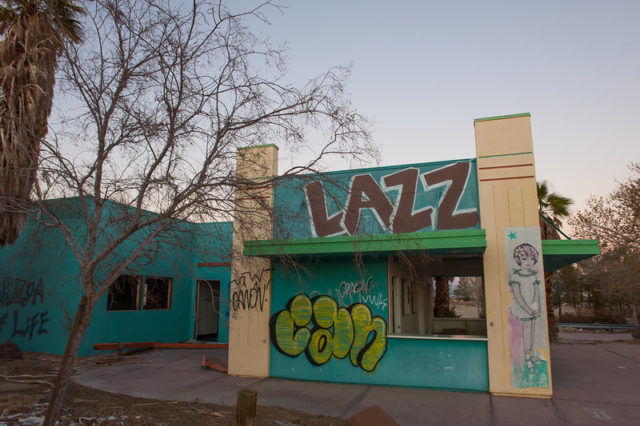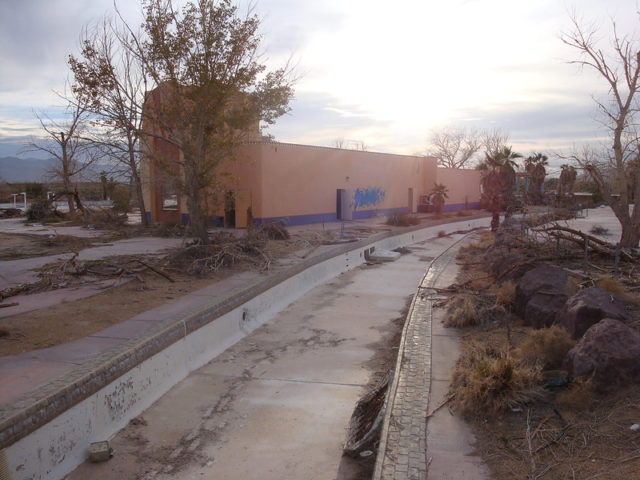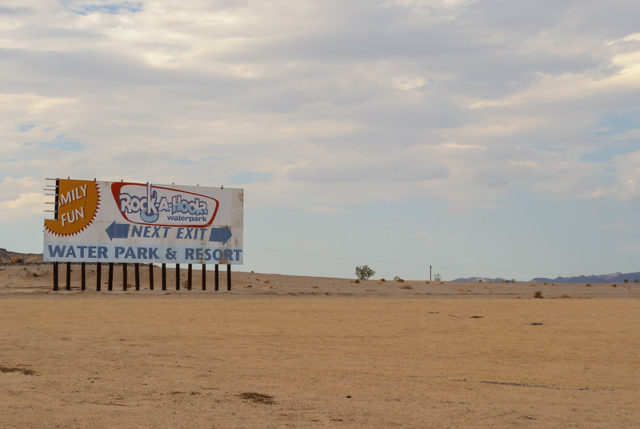 In February 2000, the park filed for Chapter 11 bankruptcy, but when a court-appointed trustee failed to find a buyer, this was changed to Chapter 7 liquidation. The judge overseeing the case returned it to the Byers family, and Dolores sold it to SL Investment Group LLC in September 2001. She died a month later, five years after her husband.
Third time wasn't the charm – but is the fourth?
In May 2002, Rock-A-Hoola Waterpark opened under a new name: Discovery Waterpark. Throughout 2002 and 2003, it was open on weekends, but by the summer of 2004, it officially closed.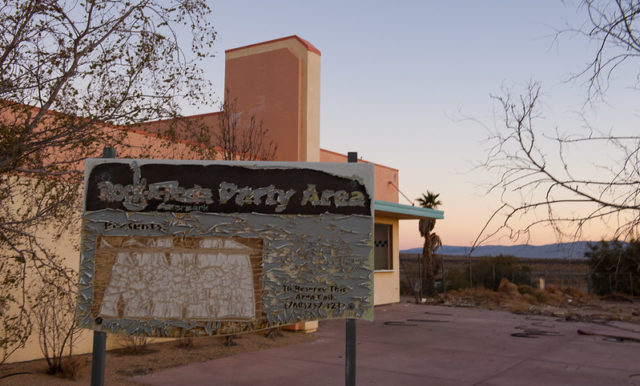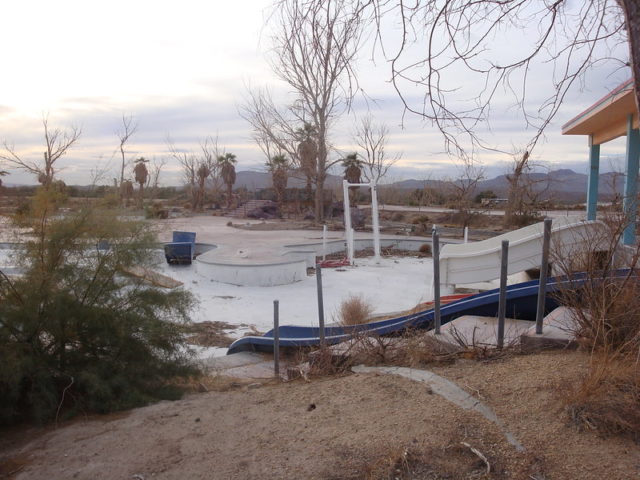 Following its closure, Discovery Waterpark was largely left abandoned, with its structures fading and becoming rusted beneath the Mojave Desert's sun. It fast become a favorite place for urban explorers, with TrustoCorp transforming it into "TrustoLand" in 2013, an artistic statement represented through the repainting of signs and buildings on the property.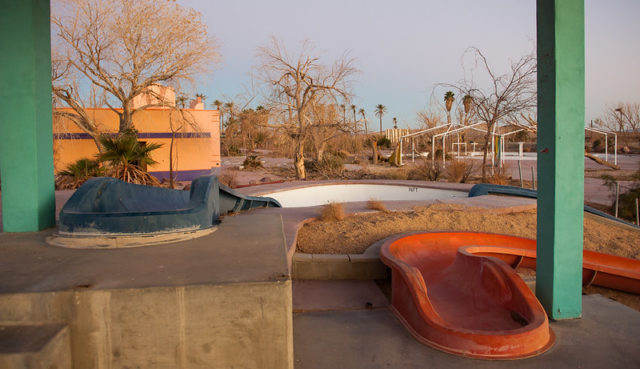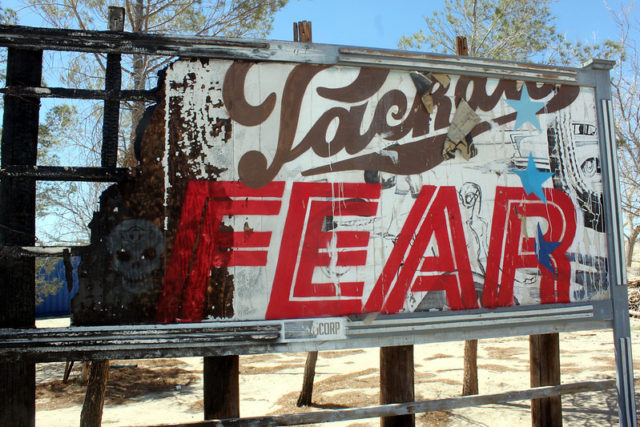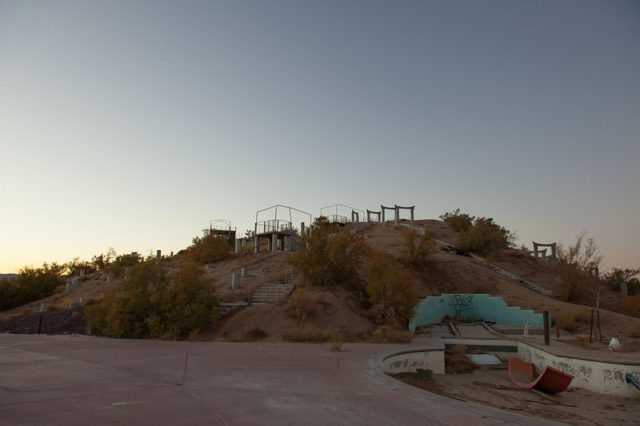 In 2003, Olympic Gold Medalist Ron Brown and other pro athletes created a proposal to turn the park into a camp for disadvantaged youths. However, this ultimately failed, as did an attempt by Oasis Themepark to renovate and reopen the park in 2011. Just a few years earlier, a large portion of the park's installations was sold off, with the Big Bopper and another waterslide being sent to Cultus Lake Water Park in British Columbia.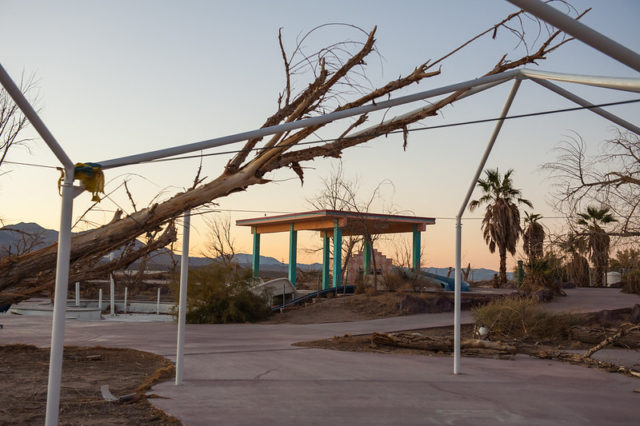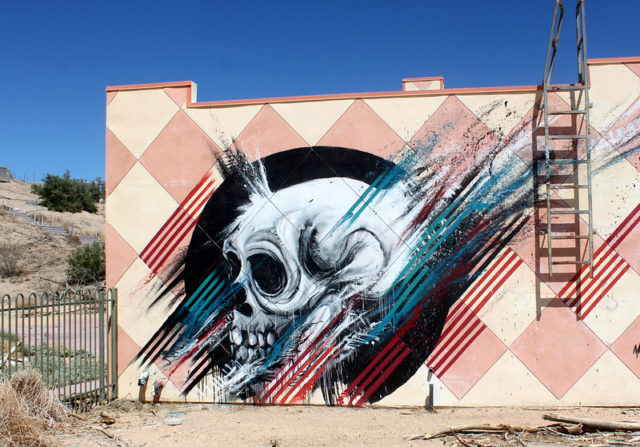 In mid-October 2018, Discovery Waterpark was the victim of arson. Many of its remaining buildings, including the Lazy River Café and Arcade, burned down. This led to the installment of security personnel on the property, as well as "No Trespassing" signs.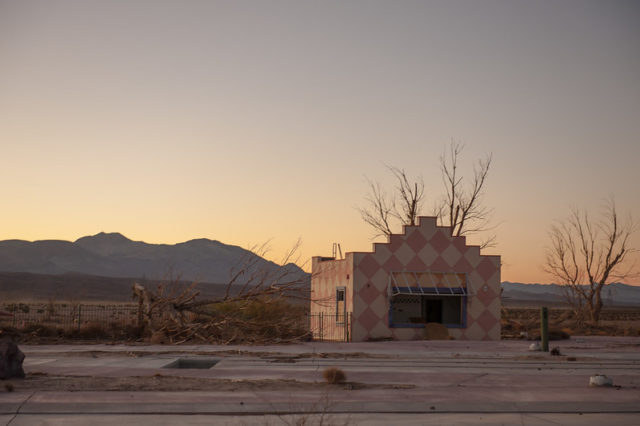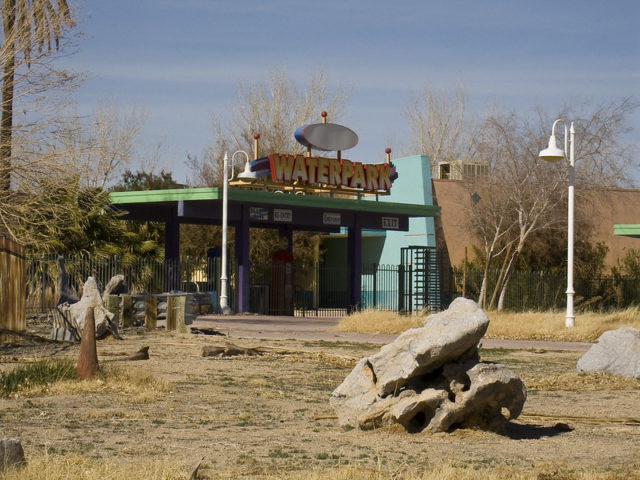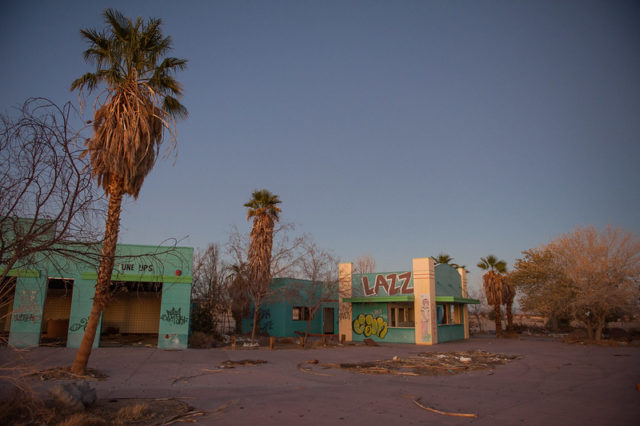 More from us: Yangon Amusement Park in Myanmar
As of March 2020, private firm G&GF Enterprise had received approval from San Bernardino County to revitalize the land making up Discovery Waterpark, following their acquisition of the property in 2013. The company plans to turn the park into a "roadside playground."