Earth can sure be a beautiful place to live, but what does it look like from the "outside"? Satellites circling our planet have been able to capture many spectacular images of different things that are not only fascinating from the ground but also from above. Capturing phenomena both natural and man-made, these photos show viewpoints we'd have never been able to see without satellite imaging.
Grid lines in Barcelona, Spain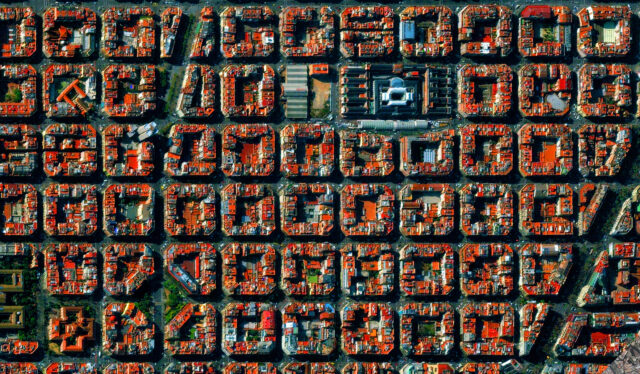 These rigid grid-patterned roads and buildings in Barcelona, Spain are part of the Eixample district. This was an extension of the old city that was once walled and had become extremely overpopulated during the mid-19th century. City planner Ildefons Cerdà designed this region to ease traffic problems while also allowing for breezes to flow through the busy city.
The Burning Man Festival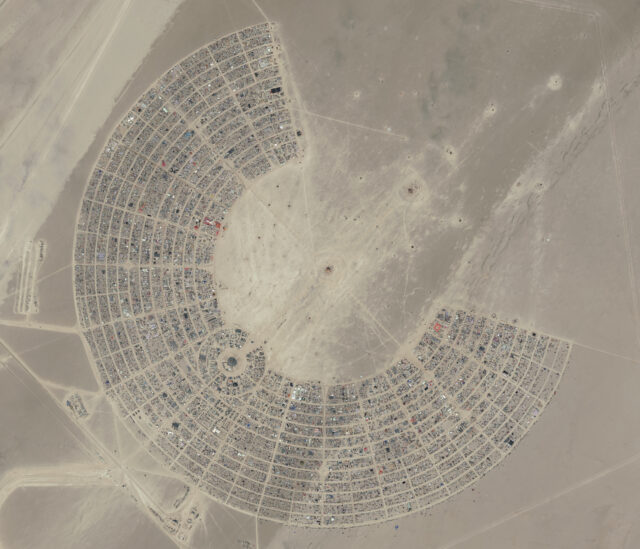 The Burning Man Festival is an annual event that is held in Nevada's Black Rock Desert. For anywhere between a week and ten days, tens of thousands of people gather together to create a self-sufficient community that promotes art and self-expression. The setup of the community appears to be a result of artistic expression given its geometric design as seen from satellite imaging.
One of many California wildfires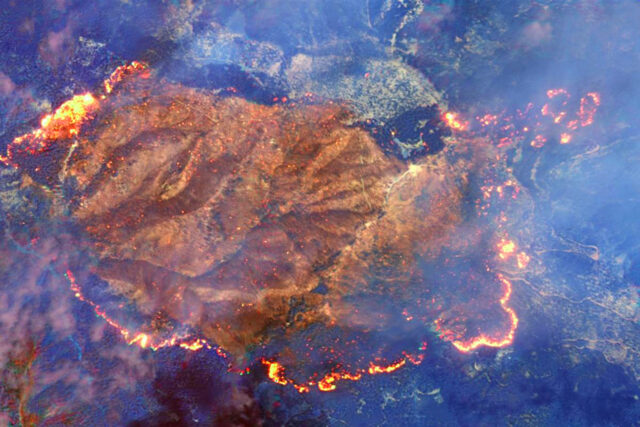 Due to California's dry and windy weather conditions, the state is prone to wildfires. Wildfires have become more frequent and more dangerous with every passing year. Once a wildfire has started, the Diablo winds of Northern California fan them and cause them to become more intense. This makes extinguishing them all the more difficult.
Ocean Flower Island, China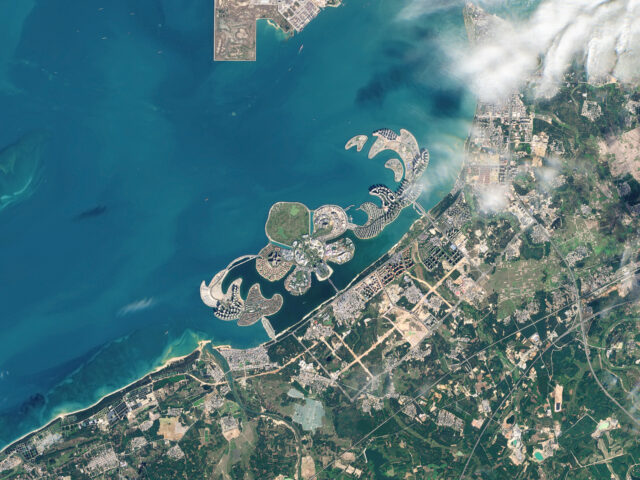 Ocean Flower Island is the world's largest artificial archipelago, although it's split into three separate islands. It was in development for 12 years. It finally opened in 2020, costing $25 billion to complete. It's located in the island province of Hainan and its peony shape can be distinctly seen with satellite imaging.
Saudi Arabian crop circles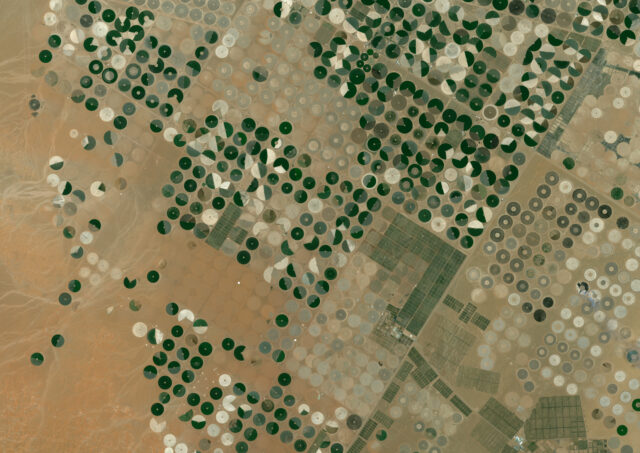 Nothing like the ones made by farmers or extraterrestrials, the crop circles in Saudi Arabia are quite a spectacle as seen from satellite images. The reason their crops are formed into circles is that the country practices the center pivot irrigation method. As sprinklers rotate from a single point in a circle, the vegetation that receives the most water also grows in a dark green circular shape.
Central Park, New York City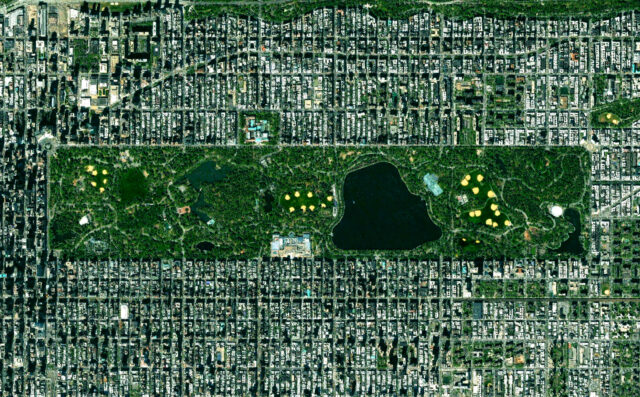 Nestled in the heart of the "concrete jungle" that is New York City sits Central Park. It takes up approximately 843 acres of land, which is larger than the entire country of Monaco. Surprisingly, it is not the largest park in NYC, but it is the most famous, having been included in hundreds of films and television shows. Inside the park, features such as a lake covering over 100 acres and a Victorian Gothic castle can be found.
Fort Bourtange, Netherlands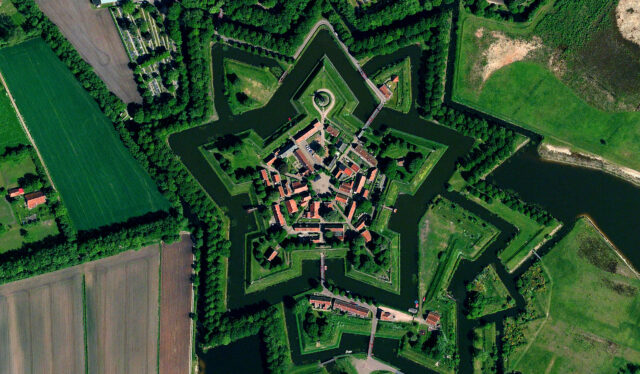 The Bourtange star fort was originally constructed in 1593 under the order of William the Silent. It was built as a means to help the Dutch during the Eighty Years' War but was eventually converted into a small village in 1851 and remains well preserved today. A moat surrounds the fort, providing additional protection and extra charm to the overall aerial view.
The Paraná River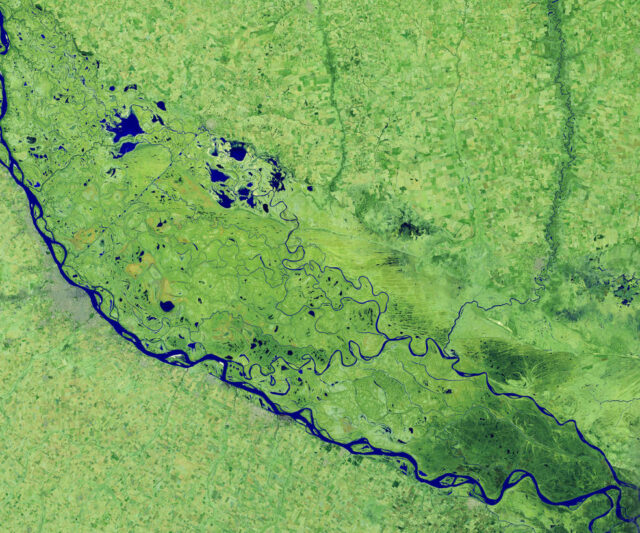 The Paraná River is located in South America. It's the second largest on the continent, following the Amazon River. Its length is approximately 4,880 kilometers, flowing through Argentina, Bolivia, Brazil, and Paraguay. This satellite photo showcases the river in 2020 when it had reached its lowest levels in decades following a drought that plagued the area.
309th Aerospace Maintenance and Regeneration Group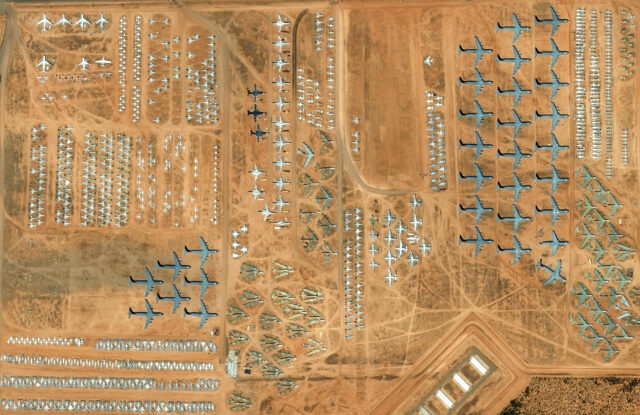 Often referred to as "The Boneyard," the 309th Aerospace Maintenance and Regeneration Group is an aircraft and missile storage facility for the United States Air Force. It is located in Tucson, Arizona, and on its land nearly 4,000 aircraft of all types can be found. It appears that aircraft are sorted by type, making the satellite view a rather satisfying one for those who like organization.
Our Lady of Almudena Cemetery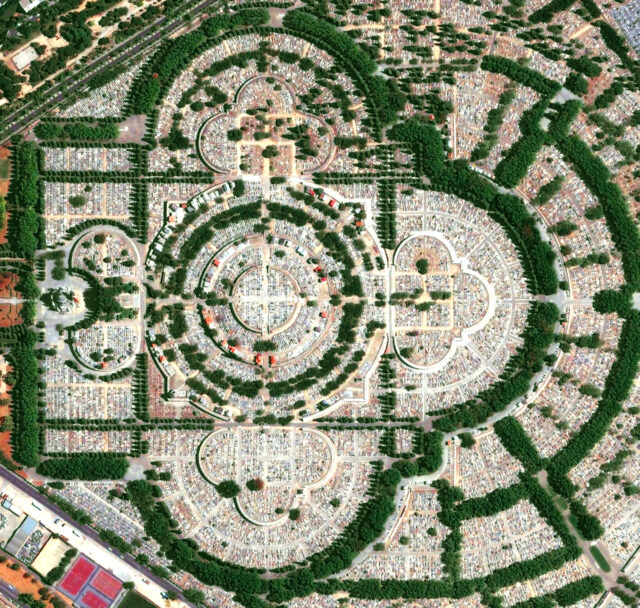 More from us: Why Have Garfield Phones Washed Up on a Beach in France for Over 30 Years?
Our Lady of Almudena Cemetery is a necropolis located in Madrid, Spain, and is one of the largest in the world. There are more people laid to rest in this cemetery than there are people living in Madrid. It was originally built in 1884 but has continued to expand into the massive and beautiful cemetery it is today.