Off the coast of Oregon, water from the Pacific Ocean constantly cascades over the edge of a massive hole into its depths in what appears to be a drain to the center of the earth. Thor's Well, as it is aptly named, looks as though it could only have been created by the gods. A natural wonder, Thor's Well is a must-see.
Why it's called Thor's Well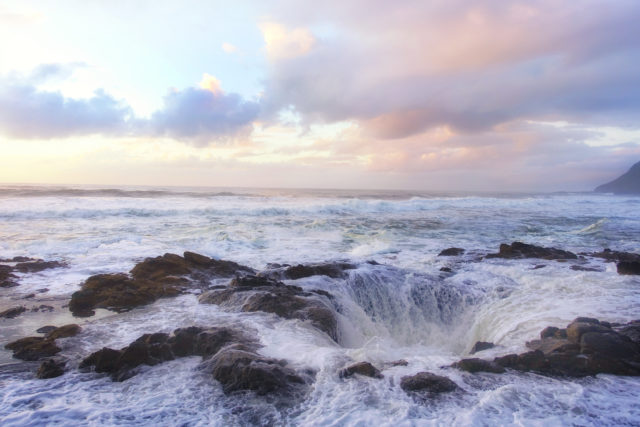 Thor is the Norse god of thunder and strength. He wielded a hammer forged by dwarves and never failed him in battle. Legend says that using his brute strength, Thor threw his hammer, striking the earth and creating the wonder called "Thor's Well." This is how the natural wonder earned its name.
Thor's Well is located on Oregon's coastline near Cape Perpetua, just three miles south of Yachats. It is a bowl-shaped sinkhole that seems to swallow water from the Pacific Ocean into its bottomless abyss. Because of its strange appearance, it has been nicknamed the "drainpipe of the Pacific" as well as a "gate to hell."
As incredible as it would be if the legend of Thor creating the landmark was its true origin, the more likely explanation is that it was once a sea cave. After years of water rushing over it and weighing down on it, its roof collapsed.
It creates quite a sight to see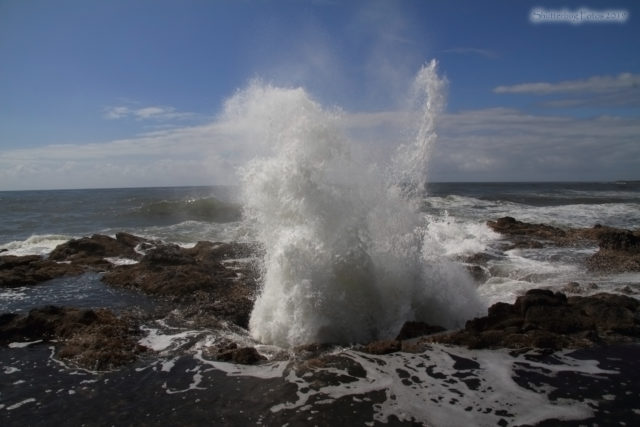 Though it may appear to be a bottomless pit, Thor's Well is actually only about 20 feet deep. However, the constant draining of ocean water into its depths gives the distinct appearance that it's bottomless.
A unique occurrence at Thor's Well has become a tourist attraction for many thrill-seeking naturalists. When the roof collapsed on the cave, the rocks that fell also broke a hole in the bottom of the cave as well. As a result, a channel was created that allows water to fill from the bottom and the top at high tide. The well bubbles up until eventually, it blasts water upward in a violent force.
The best time to see Thor's Well blow water into the sky is about an hour before high tide rolls in.
'Sneaker waves' are the real problem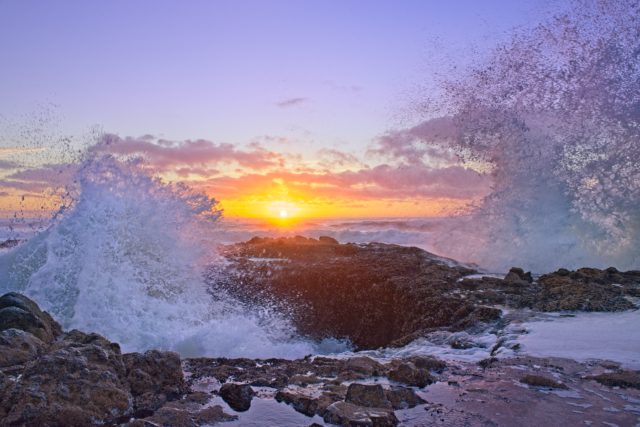 As it appears to be bottomless, Thor's Well is often given a reputation for being dangerous. Of course, with any kind of hole there's an element of danger. Someone could certainly fall in and hurt themselves. However, the well is not the danger that comes with visiting this location on the Oregon coastline.
Instead, the danger comes from the Pacific Ocean itself. The Oregon coast is known to be quite treacherous, and certain waves called "sneaker waves" are the true danger for visitors checking out Thor's Well. Sneaker waves are really big waves that appear suddenly and have "great force and speed."
More from us: Are Yetis Real? This Ancient 'Yeti Scalp' in Nepal Could Prove It
If someone were to get caught under a sneaker wave, they could be pulled out to sea. The well's proximity to the coastline makes it a higher-risk area for visitors. Therefore, caution is always recommended when visiting at any time of day and in any weather condition.