When most people think of Santa Claus, they picture a jolly old man living at the North Pole. However, for a time, he actually resided in the Mohave Desert, in a town named after himself. While once a place of jolly good cheer, Santa Claus, Arizona has been left abandoned to become the place where children's Christmas dreams go to die.
A Christmas town in the desert
In the late 1920s, real estate professional Nina Talbot and her husband relocated from Los Angeles, California to Kingman, Arizona to operate a local motel. In 1937, Talbot founded the town of Santa Claus, just 14 miles northwest of Kingman along US Route 93.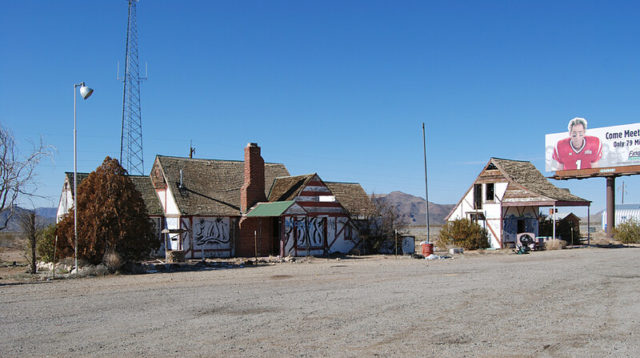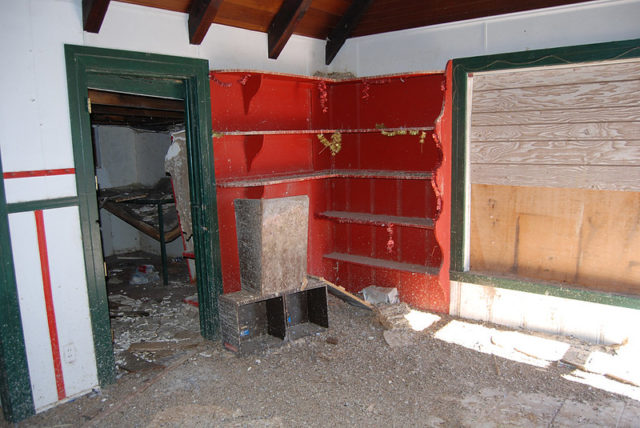 Her plan was to use the town's theme in the Arizona desert to attract potential buyers to the surrounding 80-acre land, which she had subdivided into lots. She felt it an ideal location, given that US Route 93 receives traffic from those driving between Phoenix, Arizona, and Las Vegas, Nevada.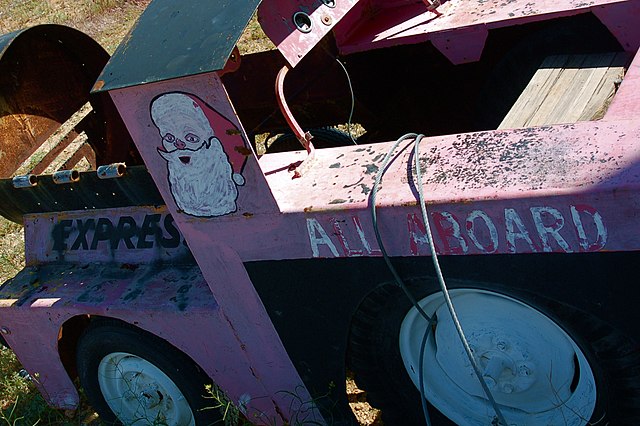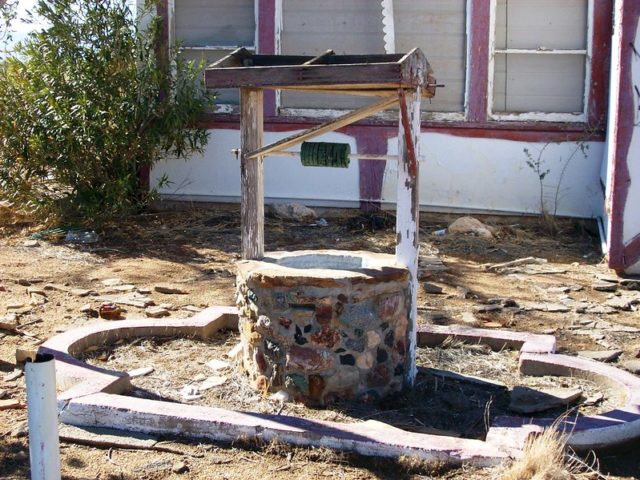 The town was made up of numerous attractions and buildings, including the Kit Carson Guest House, which was later renamed the Santa Claus Inn. It served "a big farm breakfast" in an air-conditioned restaurant (a luxury in the hot desert), and offered a menu featuring Rum Pie à la Kris Kringle and Chicken à la North Pole. The rum pie, in particular, was a hit among visitors.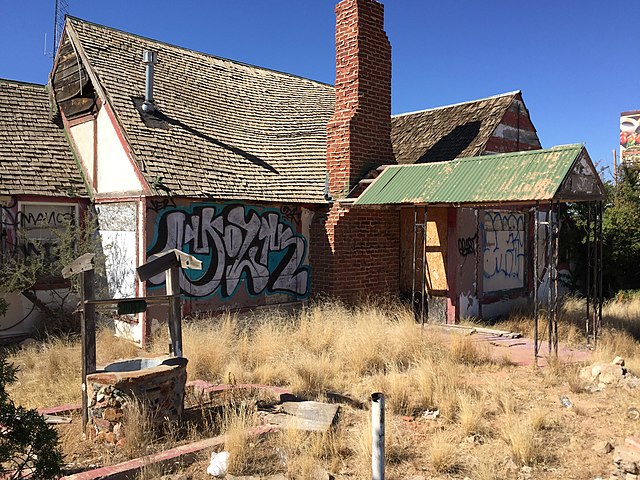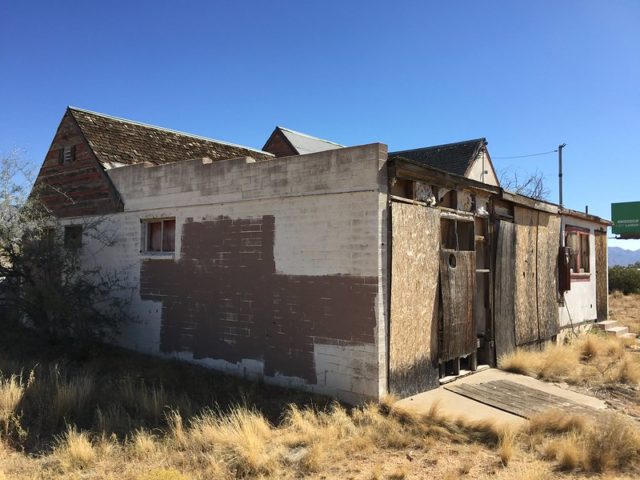 The "French Room" of the restaurant was highlighted in postcards, and a photo of Santa Claus himself was placed over the restaurant's fireplace. Other attractions included a gift shop, a post office, and the "Old 1225," a pink children's train with hand-painted renderings of Santa and his elves on it.
A booming tourist location
In its early years, Santa Claus was successful, and by 1942 it was a bustling tourist attraction. Guests were drawn to its fairytale-themed buildings, including Cinderella's Doll House and The House of The Third Little Pig. Children enjoyed the fact they could visit Santa year-round, and come December they sent letters to the town. Parents also visited the post office to obtain letters postmarked from "Santa Claus."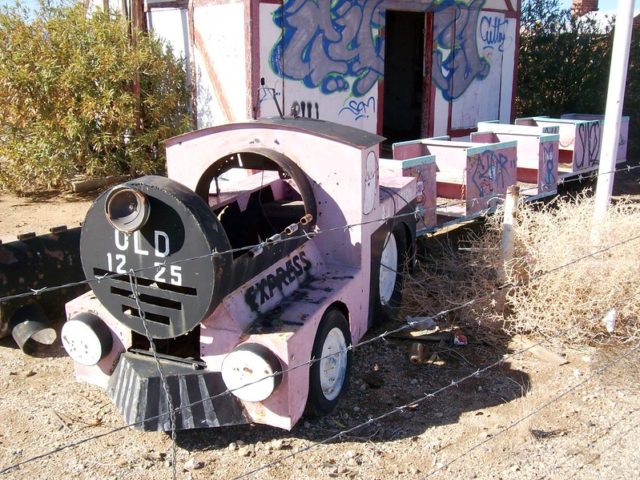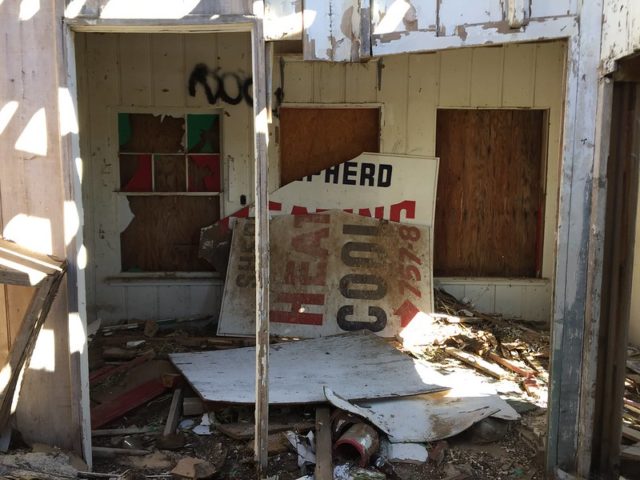 Unfortunately, Talbot's dream of turning Santa Claus into a bustling development never came to fruition, and after 12 years of operating the town, she sold her interest in it in 1949.
Santa Claus continued to experience relative success during the 1950s, thanks to a mention in Robert A. Heinlein's short story, Cliff and the Calories, and a review by restaurant rater Duncan Hines, who said it was among the best places to eat along US Route 66, despite it being several miles away from the highway.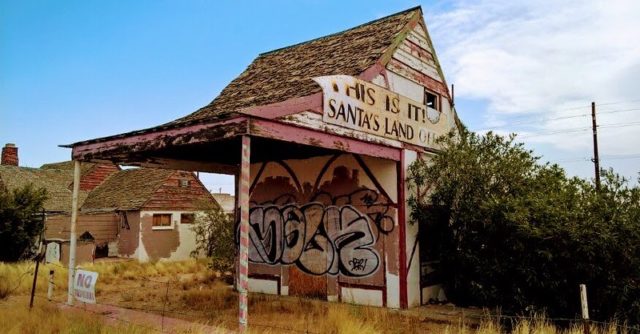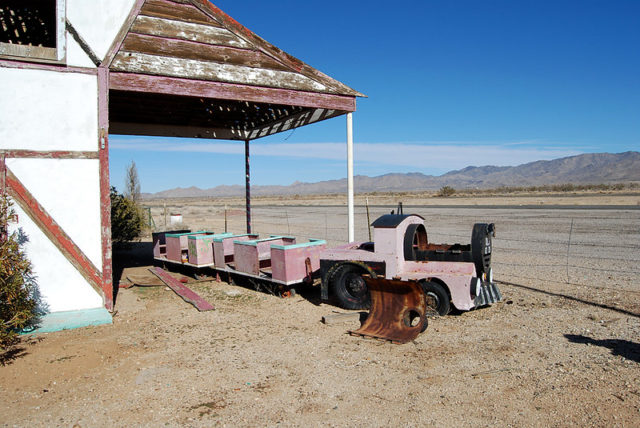 During this time, the Santa Claus Inn was renamed the Christmas Tree Inn, and it quickly became a celebrity draw. One of the most memorable individuals to host a dinner party there was actress Jane Russell, who visited the inn's restaurant in August 1954.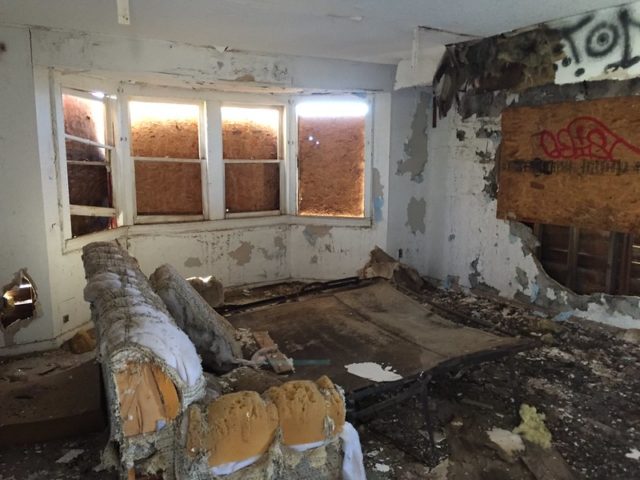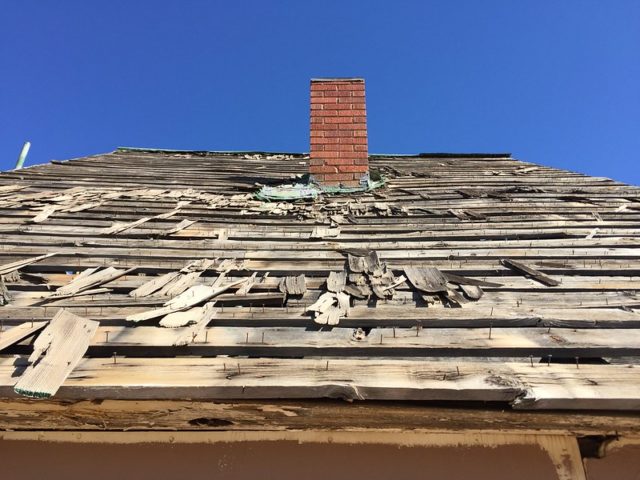 In 1961, Santa Claus received attention via an advertisement in an issue of Popular Mechanics. The ad offered re-mailing services, where Christmas cards and children's letters could be re-mailed from the town for a cost of $0.25 USD, plus the cost of postage. This resulted in a United States Postal Service postmark on the envelope, reading "Santa Claus."
Decline and closure of Santa Claus
Santa Claus began to experience a decline in popularity in the 1970s, and by the middle of the decade, the development was closed.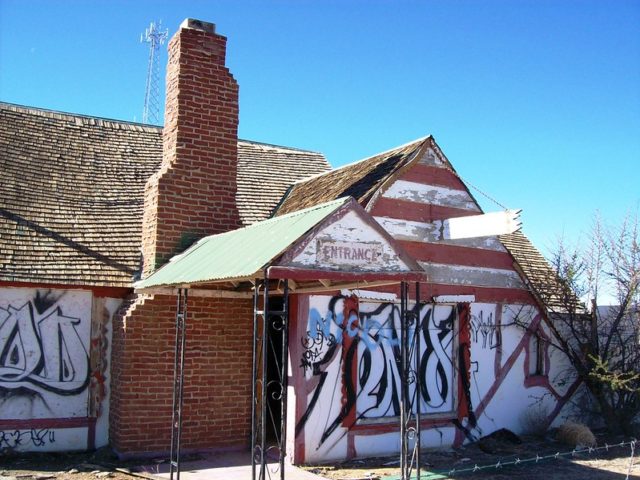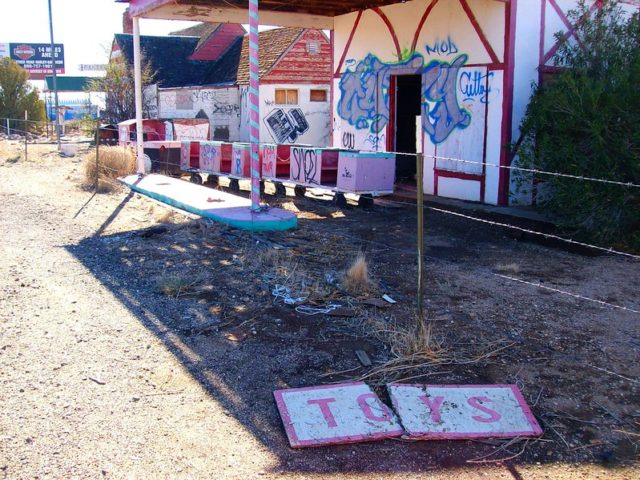 In July 1983, its owner, Tony Wilcox, put the 4-acre town on the market for $95,000. Someone offered him $50,000, but he declined, believing he could get more. Unfortunately, that turned out to not be the case, as in 1988 he had to reduce his asking price to just $22,500.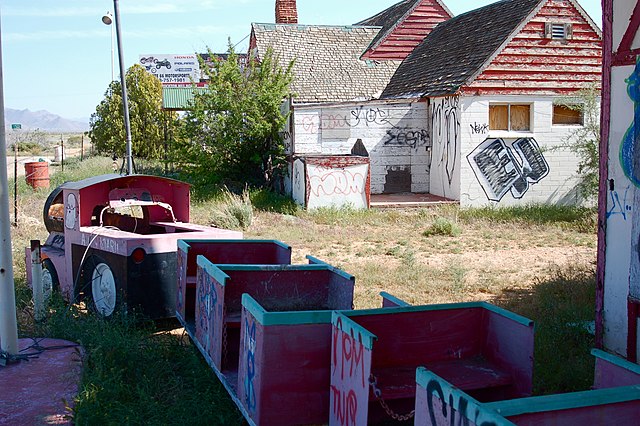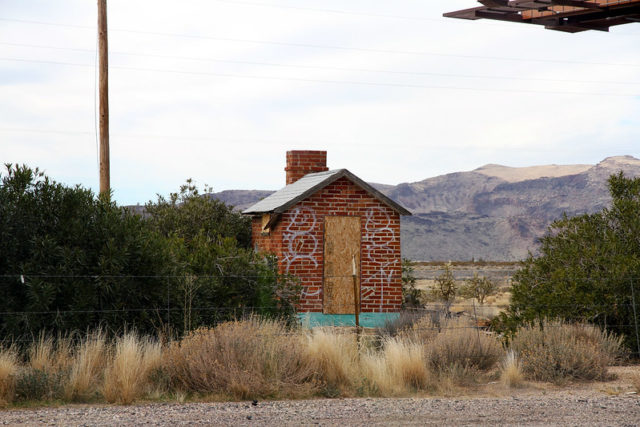 As of 1988, Santa Claus consisted of just three small, poorly-maintained A-frame buildings that had been painted in such a way as to represent peppermint candy. Seven years later, in 1995, all remaining businesses in the town were permanently closed.
Barbed wire and dilapidated buildings
As of the 2000s, Santa Claus had few remaining structures. Its attractions were weather-worn and vandalized. Due to the closure of US Route 66 in 1985 and its removal from the Arizona State Map, it's become difficult to locate, unless you've done your research ahead of time.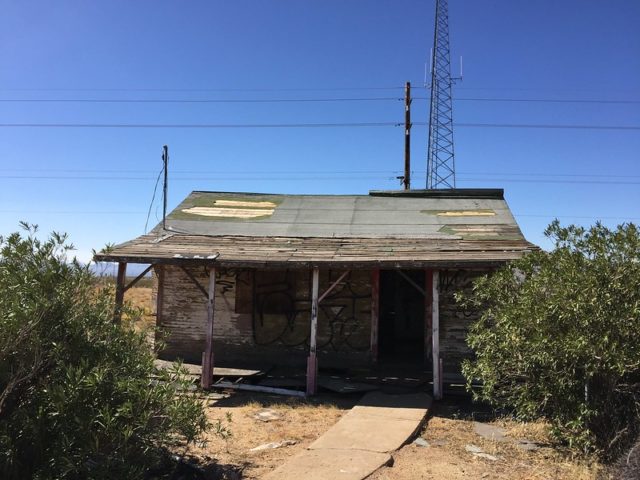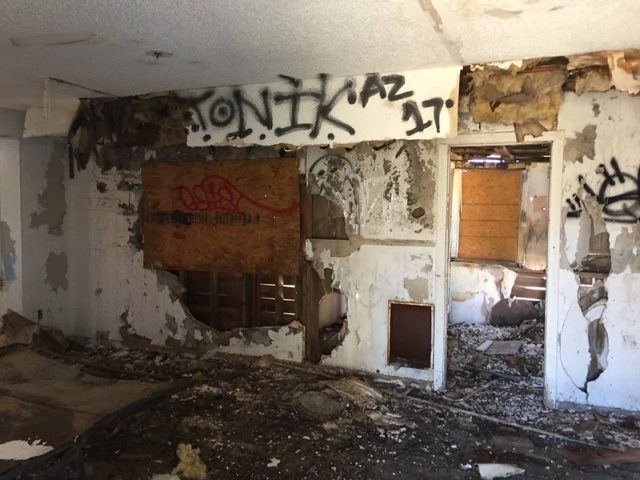 In 2003, the town had a population of just 10 people, divided among five houses. However, as of 2007, it was listed for sale.
Little remains of the once-festive town. Only two buildings are still standing, surrounded by barbed wire. They are missing shingles, and their floors have become corroded. The attractions, including a wishing well and the "Old 1225," have been tagged with graffiti, marring their festive images of Santa and his elves.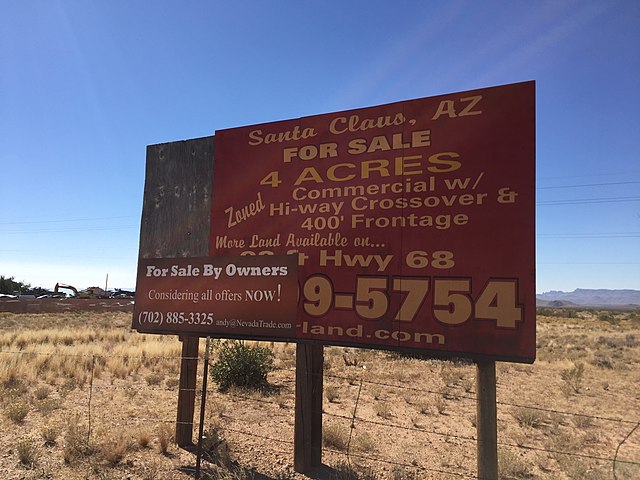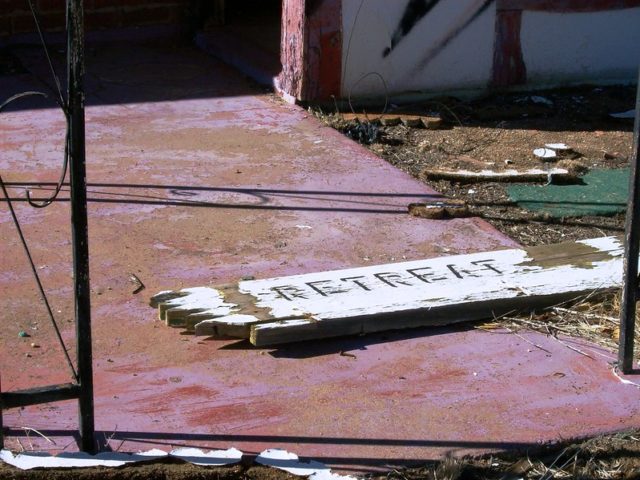 More from us: Two Guns – Ghost Town in Arizona
According to reports, as of 2015, the train has gone, and Santa's face has been stolen from the town's sign.