In this day and age, it should come as no surprise that replicas have been erected of some of the world's most popular landmarks. The interesting part is that many of them are located just a short journey from the real versions. Whether you're in Europe or North America, the following landmark replicas will allow you to experience the wonder of the originals – just without the cost of a plane ticket!
Taj Mahal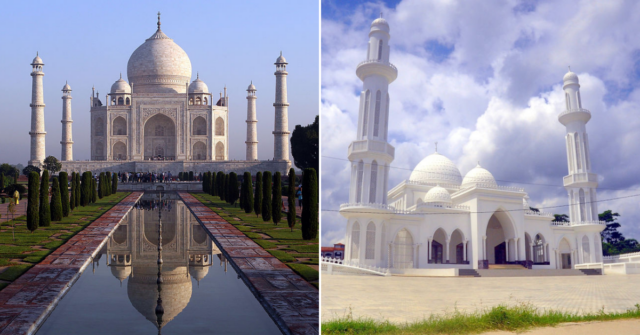 The Taj Mahal, in India, is among the most popular landmarks on this list. Located along the Yumana, the marble mausoleum is visited by an estimated seven to eight million tourists annually! It dates back to the mid-17th century and is among the New Seven Wonders of the World. It was commissioned by Mughal Emperor Shah Jahan for his favorite wife, Mumtaz Mahal.
Those living in Bangladesh don't have to travel to India to visit the Taj Mahal, however, as a replica was erected in Dhaka by a local filmmaker. Taking five years and $58 million dollars to construct, it officially opened to the public in 2009.
Trevi Fountain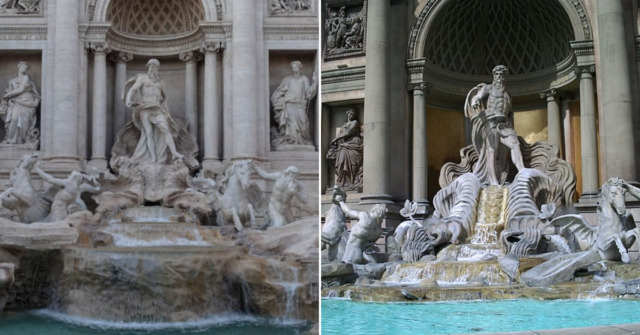 Located in the heart of Rome, the Trevi Fountain is among the most famous of its kind in the world. Dating back to the 1700s, it's the ideal location to snap that perfect Instagram selfie – that is, if you can make the trip. Given that Rome – and Italy in general – is one of the most popular tourist destinations in Europe, a trip can prove to be pretty expensive.
For those unable to afford a vacation, fear not! You can still see the Trevi Fountain in person… Sort of. Las Vegas, Nevada is home to a replica of the famed landmark, which means you can pretend to be in Italy between your trips to the casino and incredibly fancy (or tacky) restaurants.
Stonehenge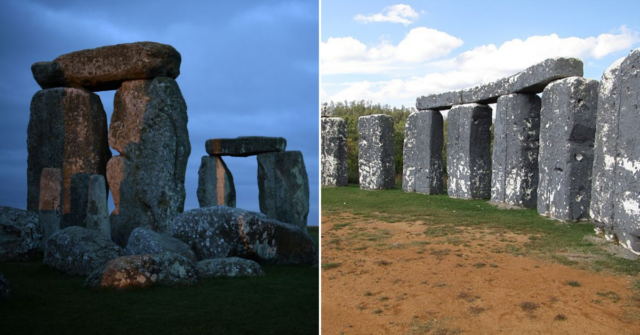 With over 800,000 tourists visiting Stonehenge each year, the prehistoric monument is among the most popular in the United Kingdom. Its exact purpose has never been concretely agreed upon, nor how Neolithic builders constructed it – and that's part of the allure.
Not everyone is able to travel to Wiltshire, which is why we're suggesting the next best thing: Foamhenge! Located in Centreville, Virginia, this Stonehenge replica was originally constructed as an April Fool's Day prank in 2004. It's since become a must-see roadside attraction, despite looking a little worse for wear these days.
Eiffel Tower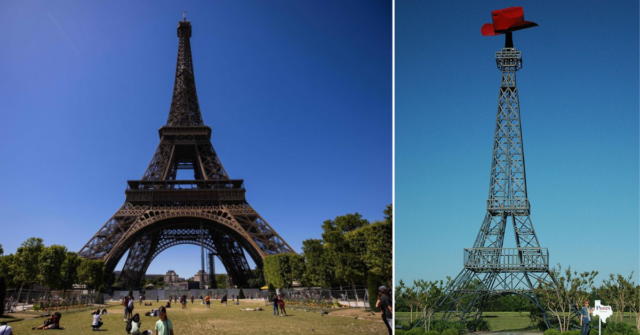 The Eiffel Tower is among the most-visited landmarks on this list, meaning it can be slightly overwhelming to see in person. Large crowds, long wait times… Who has time for that when you're on a schedule? Luckily, there are a ton of replicas located across the world, with our favorite situated in Paris, Texas.
This American landmark has a unique twist: a bright red cowboy hat! If you didn't know you were in Texas, you would after stopping at this unique structure!
Statue of Liberty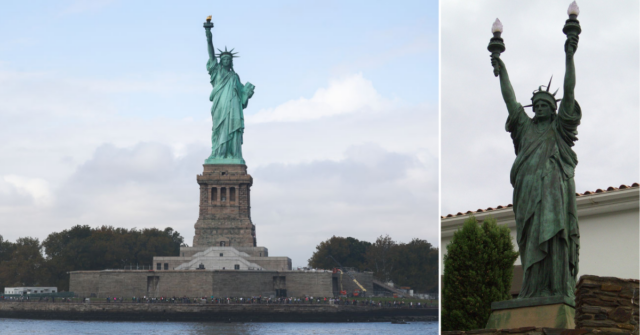 Arguably one of the most iconic symbols of the US, the Statue of Liberty in New York Harbor was the first thing immigrants saw after crossing the Atlantic and arriving on Ellis Island. Gifted by France, it's been a symbol of freedom and the nation's friendship with the French for well over a century.
Given its popularity, the landmark is often swarmed with people, meaning it's not always an enjoyable experience to visit. That's why we suggest a rather unique alternative: a replica in Cadaqués, Spain. Holding two flames, this statue is a twist on the classic landmark, and we think it's definitely worth a visit.
Sphinx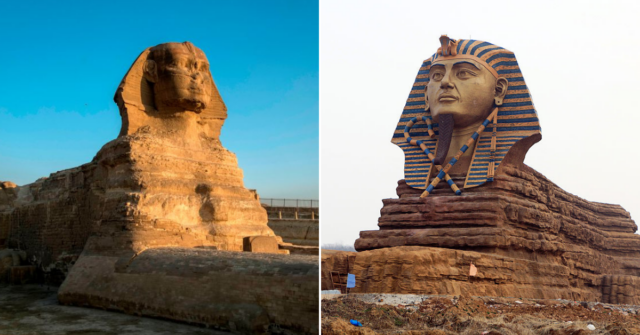 When you think of Egypt, two things probably come to mind: the Great Pyramids and Sphinx. The ancient structures are all that remain of a once-mighty empire, and they've long been the subject of interest and mystery. That's why so many people flock to the country each year.
If you live in China, however, you don't have to travel far to see your very own Sphinx! Located in Anhui province, this replica is a wee bit more flashy than its ancient Egyptian counterpart, but just as awe-inspiring. We highly suggest adding it to your bucket list!
Leaning Tower of Pisa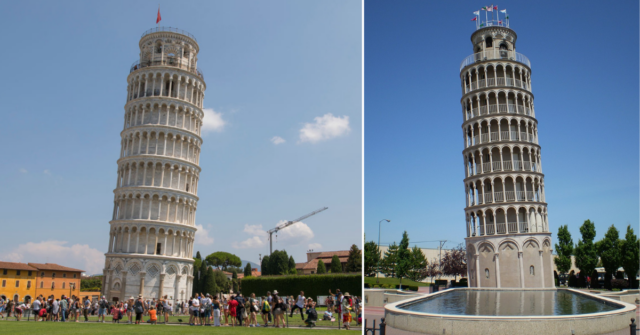 Many have wondered why the Leaning Tower of Pisa is tilted. Was it intentionally built that way or did something happen with its foundation? The answer is the latter, and it has proven to be particularly unstable. While its lean has increased over the centuries, stabilization work was done a few decades ago, meaning we don't have to worry about the structure collapsing any time soon.
If you live in Illinois, you'll be pleased to know that the state has its very own Leaning Tower… of Niles! A half-size replica of the Italian landmark, this tower is located in the heart of the city and was built as water storage for municipal swimming pools. It's since become a recognizable symbol of Niles.
Mount Rushmore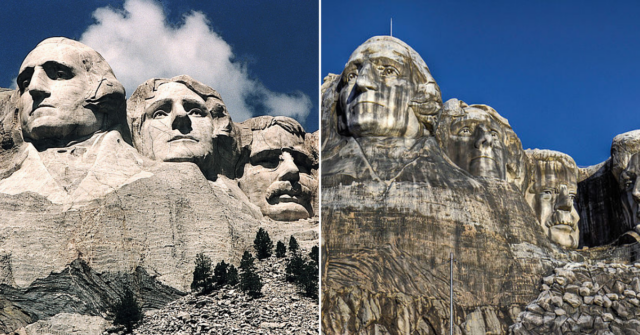 South Dakota's Mount Rushmore features carvings of four of the greatest US presidents: George Washington, Thomas Jefferson, Theodore Roosevelt and Abraham Lincoln. It's a symbol of the country's heritage, with the National Park Service (NPS) stating that the landmark tells the story of "the birth, growth, development and preservation" of America.
This is why it might come as a surprise to learn there's a replica in Japan. Located in the now-abandoned Western Village theme park, the sculpture served as the backdrop for the various Western-themed attractions the site housed. Since its closure in 2007, the park has become popular with urban explorers who wish to take in the decaying remains of what was once a fun-filled location.
Parthenon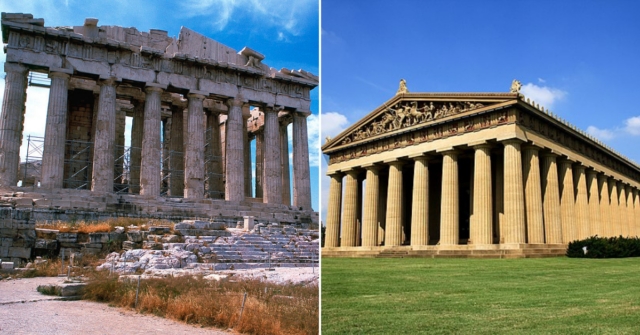 Dedicated to the ancient Greek goddess, Athena, the Parthenon is a symbol of the time period's architectural genius, with its tall pillars and decorative sculptures. Over the centuries, it's suffered quite a bit of wear and tear, meaning extensive revitalization work has been conducted to keep the structure standing.
If you want to visit the Parthenon, but are unable to travel to Greece, fear not! There's a replica right in the heart of Nashville, Tennessee. A museum located in Centennial Park, the structure's definitely not as weathered as the one after which it's modeled, but that doesn't take away from its charm.
Merlion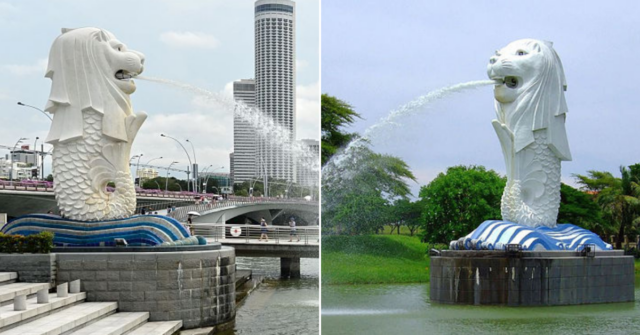 Closing out our list is Singapore's famed Merlion. Located in Marina Bay, it's one of the largest sculptures of the mythical creature, which has long served as a symbol of the country. However, you don't have to visit Singapore to see one!
More from us: Thousands of Ships Have Wrecked in the 'Graveyard of the Pacific'
There are a variety of replicas strewn across Asia, including Indonesia! A local developer has even taken to constructing replicas of other popular Singaporean landmarks, meaning you can take a trip to the country without ever having to set foot there!