Woodward Avenue Presbyterian Church in Michigan is a stunning structure, bringing the late Gothic Revival style to "Detroit's Main Street." Built in 1911 by architect Sidney Badgley, the house of worship has since fallen under the ownership of numerous individuals, who've made repeated attempts to restore the historic structure to its former glory. However, it still lies in disrepair.
Need for a Presbyterian church in 'north' Woodward Avenue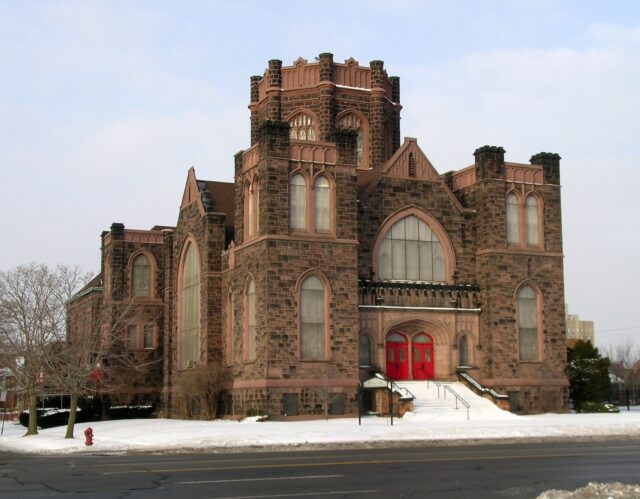 Woodward Avenue Presbyterian Church came from a need for a religious center in the northern area of Woodward Avenue, at the corner of West Philadelphia Street. The local Presbyterian congregation needed a place of worship, and following Rev. Sherman L. Divine being installed as their first official minister, the decision was made to erect a church, at a cost of around $100,000.
Sidney Rose Badgley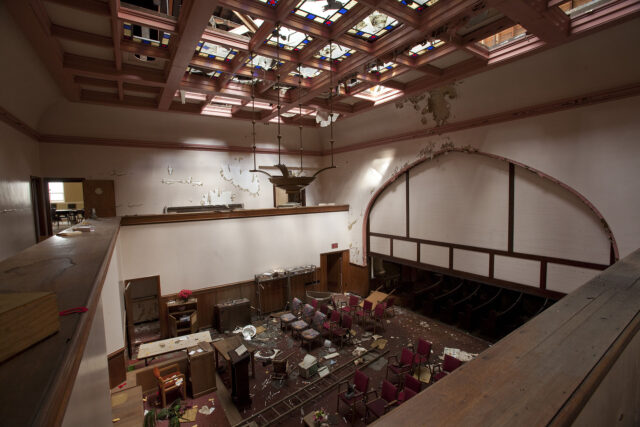 Upon the cornerstone being laid at 8501 Woodward Avenue in January 1910, Canadian architect Sidney Badgley was approached to design the Presbyterian church. Badgley was the mastermind behind some of the most iconic Gothic Revival structures across North America, including:
A beautiful brownstone church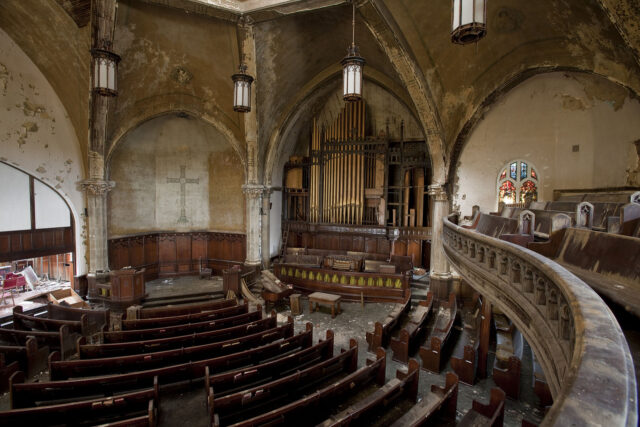 With a dark Pennsylvania brownstone exterior, smooth limestone trim and carved Gothic-framed windows, Woodward Avenue Presbyterian Church was a sight to behold upon its dedication in 1911 – but that's not what made it special. As Historic Detroit describes, "Its most distinguishing feature is a low tall octagonal lantern that rises from the center of the roof that is flanked by twin, low towers that frame the church's gabled entrance."
Inside, the house of worship was just as extravagant as the exterior hinted. Thick woodwork was installed all around, with the cream-colored walls featuring artwork that resembled Byzantine-era mosaics. Along with pews, the inside featured incredibly large windows and eight chandeliers, providing an abundance of light.
A growing congregation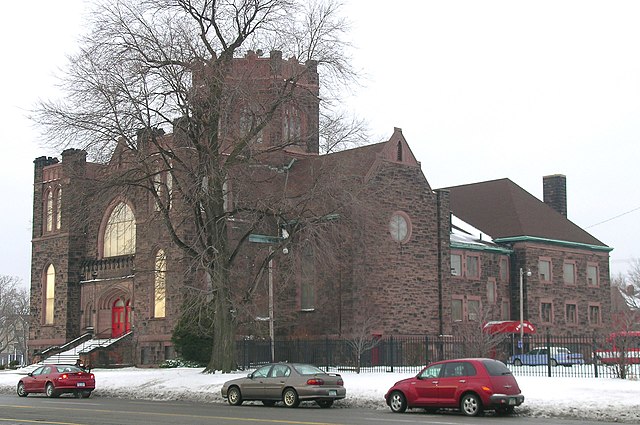 The congregation that eventually called Woodward Avenue Presbyterian Church home was already sizeable when the structure was conceived – 163 members in 1908 and 742 in '10. By the time of Sherman L. Divine's exit in 1913 for "indiscreet conduct," it had grown to an impressive 1,325, with this total increasing to 2,204 by '21.
Leaving Detroit for the suburbs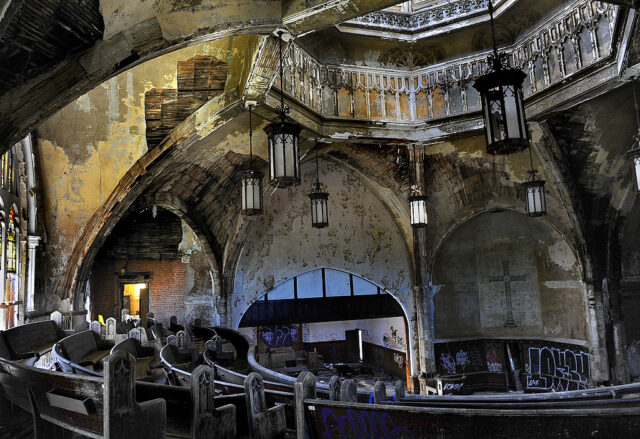 Woodward Avenue Presbyterian Church's congregation continued to grow over the years, prompting a redesign of its interior in 1929. However, by 1950, the families that made up a large portion of those who attended the house of worship had decided to try out suburban life, leaving the big city for the newly established northern suburbs. As Click On Detroit reports, this was partially caused by the 1967 Detroit riots.
Within a decade, the congregation had plummeted to just 1,000 members, with only 404 remaining by 1971. This eventually led the church to merge with nearby Covenant Church – but, even then, membership couldn't break 500.
Woodward Avenue Presbyterian Church struggled to stay afloat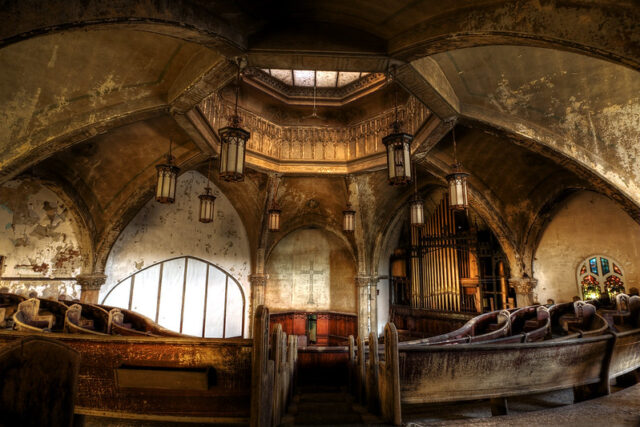 In the early 1980s, Rev. Gary M. Douglas, Jr. became Woodward Avenue Presbyterian Church's first African-American minister. His stint caused friction, as he "had ideas that weren't very Presbyterian" and wanted to take the church in a different direction. He was also hired at a salary that proved to be difficult to meet.
By 1993, the house of worship was drowning in debt, ultimately leading to the church being passed into Douglas' ownership. After making some much-needed repairs, he transformed it into Abyssinia Interdenominational Church, a Baptist church. This marked the end of one of Detroit's Presbyterian congregations.
Court battles arise following Rev. Gary M. Douglas, Jr.'s death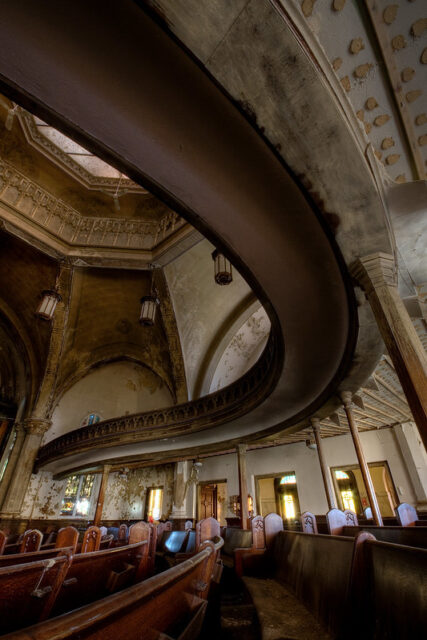 Following Rev. Gary M. Douglas, Jr.'s death in 2005, court battles arose over not only his estate, but also the church. They drew on for a long time, during which Woodward Avenue Presbyterian Church fell into disrepair. Holes started to appear on the roof, allowing rainwater and condensation to drip onto the floor below, rotting it away.
Falling into disrepair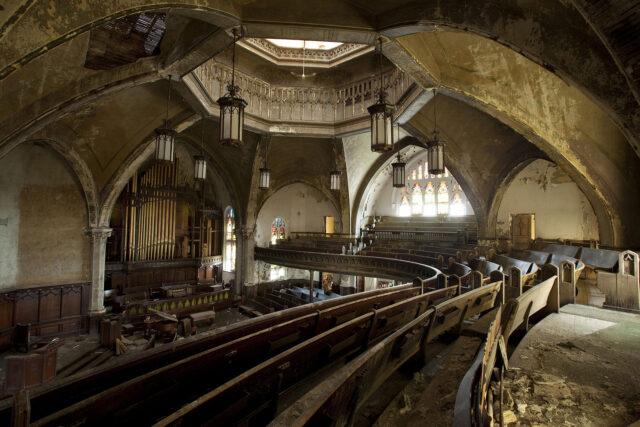 Essentially abandoned and falling under numerous owners, Woodward Avenue Presbyterian Church fell into more disrepair. Along with the aforementioned issues, trespassers entered the property and both stole items and vandalized it.
Before long, the house of worship was a shell of its former immaculate glory. The church's state was a sad sight for many, considering it had been added to the National Register of Historic Places (NRHP) in 1982.
Plans to renovate Woodward Avenue Presbyterian Church fall through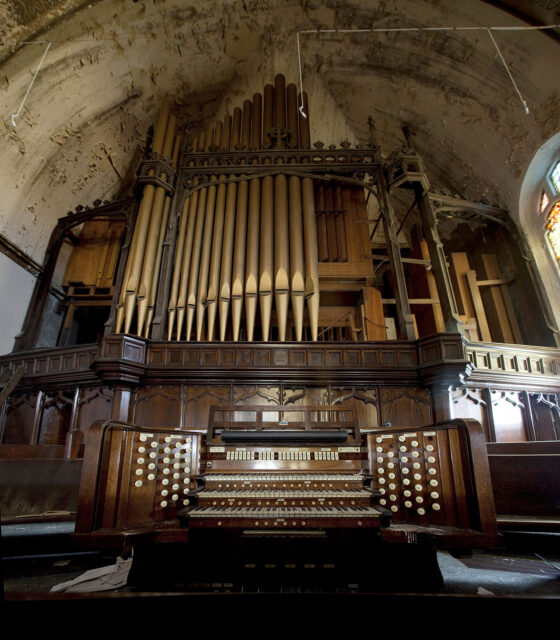 Over the years, there have been several attempts to restore Woodward Avenue Presbyterian Church, but all have fallen through, largely due to financial issues. In 2014, it was reported that work was underway to repair the holes in the roof and gut the inside, but the company responsible was later debarred from working with the city of Detroit until 2026 after bribing contractors.
More from us: The Medieval-Inspired and Derelict Dundas Castle In the Catskill Mountains
As of 2023, there's no word as to when or if restoration work will commence.