Looking to plan a road trip across the United States, but aren't sure where to stop? Well, look no further! We've compiled a list of must-see abandoned locations to visit as you make your way from coast to coast. From abandoned holiday locales to many a ghost town, America is home to some interesting destinations – you just need to know where to look.
Silver City – Owyhee County, Idaho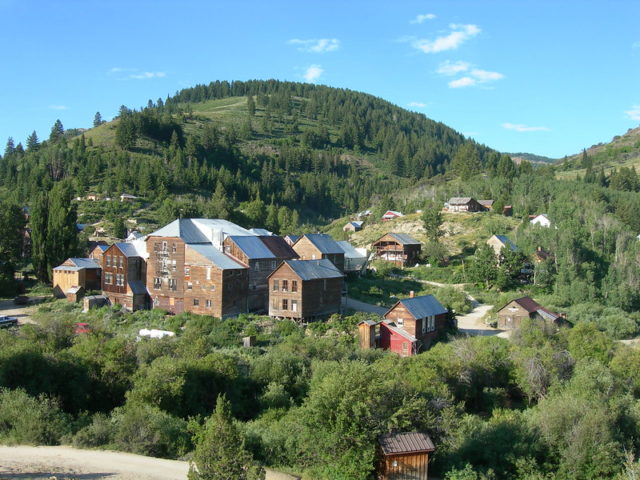 During the mining boom of the 1800s, many towns were erected to house those traveling west in search of riches. One of those was Silver City, Idaho. At its peak, the town was home to upwards of 75 businesses, including hotels, saloons, and a brothel, as well as 300 residences.
The mineral known as "ruby silver" was mined from the surrounding mountains, allowing for a thriving mining industry to flourish. However, by the early 1940s, it had dried up and Silver City's mining operations shuttered. This led to an exodus of the town's residents, and before long it was one of the country's many abandoned ghost towns.
Preserved by the mountains that surround it, Silver City is one of the most pristine and well-preserved abandoned locations in America.
Saltair – Great Salt Lake, Utah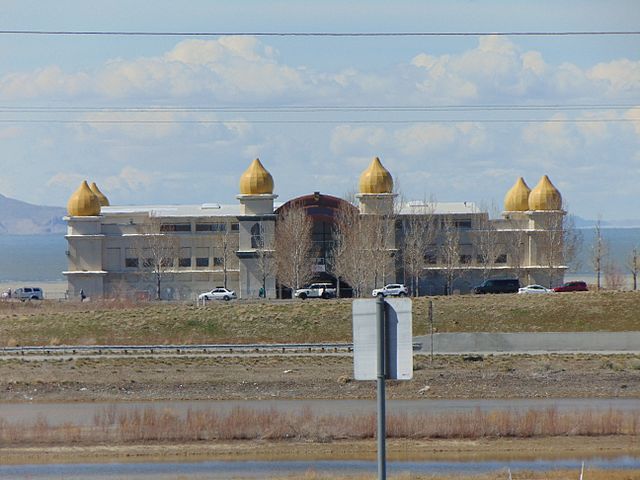 Great Salt Lake in Utah is known across the country as the "Dead Sea of America," as its salt levels are so high that you can float on top of the water! While that alone is worth a visit to the area – just ignore the dead seagulls and funky smell – what makes it all the more interesting is the Saltair.
There have been three iterations of the Saltair since 1893. The first two were destroyed by fire, while the third, built in 1981 from a salvaged US Air Force hangar, remains standing. Although it was a popular events venue at first, the building was all but forgotten by the 1990s, as it was unable to compete with larger structures. The occasional concert is still held there, thanks to efforts by music industry professionals to purchase the building in 2005.
Centralia, Pennsylvania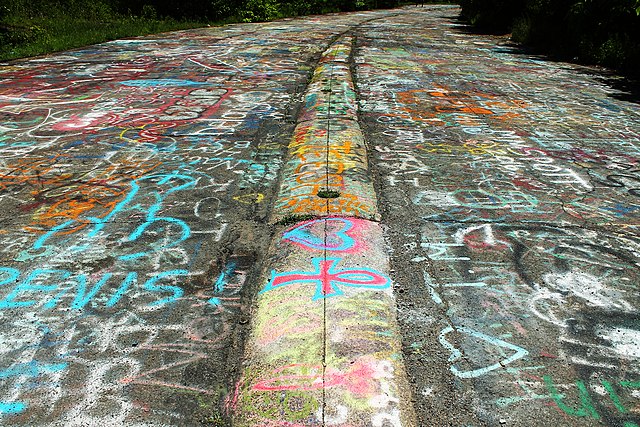 Centralia, Pennsylvania was one of America's many mining towns. The first two mines opened in 1856, and from there the town became one of the premier sites for anthracite coal. Mining operations continued until the 1960s, upon which time many of the companies shut down. It was around this time the mines caught fire.
The Centralia mine fire has been burning since May 1962, with some estimates stating it could remain lit for over 250 years. The blaze has resulted in much of the town being abandoned and the majority of buildings knocked down. As of 2017, only five residents remain.
Centralia has become a popular tourist attraction, with many drawn to the area for its empty streets. A portion of the road on which the town sits – Pennsylvania Route 61 – became a prime location for urban artists, earning it the nickname "Graffiti Highway." As of April 2020, that portion of the road has been covered with dirt and it's blocked from public access. That doesn't mean, however, that you can't visit!
Overlook Mountain House – Catskill Mountains, New York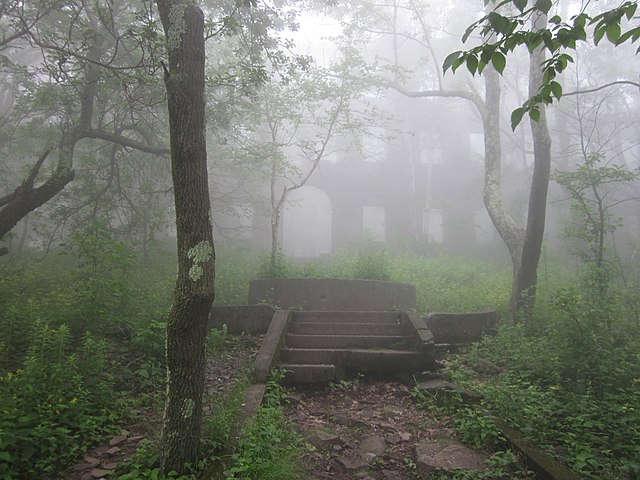 The Catskill Mountains in New York were once home to a number of grand hotels and resorts. As air travel became more accessible in the mid-to-late 20th century, their visitors became less and less, leading many hotels to permanently close their doors. One such hotel to shut down was Overlook Mountain House, which operated from 1871 until 1923. During this time, it suffered a number of fires.
Eventually, Overlook Mountain House was acquired by the state and boarded up for over 20 years, at which time yet another fire destroyed much of the structure. Those looking to visit the site can enter the premises via the main trail, and once inside will see the derelict remains of what was once a grand vacation destination.
It doesn't look that inviting today, especially as the loss of its roof has allowed nature to take over the building's interior. That, however, is why it's a must-visit – nothing says urban exploring more than a creepy hotel!
City Methodist Church – Gary, Indiana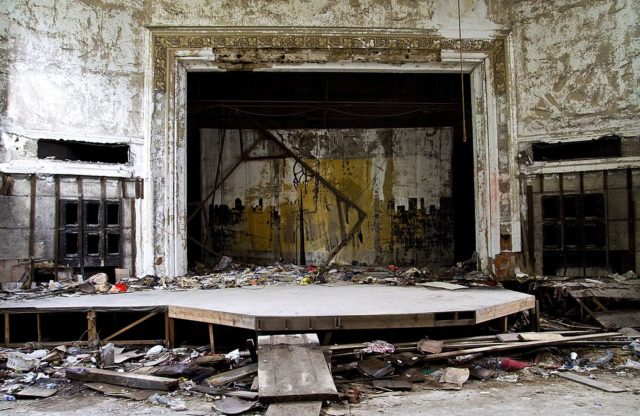 Gary, Indiana was once considered the "City of the Century" – that is, until it began to experience a decline that continues to this day. Borne out of the booming steel industry of the early 1900s, the city was one of the country's largest steel producers during the Second World War.
Unfortunately, Gary began to suffer a decline toward the middle of the 20th century, partially due to racial segregation. By 1950, it was one of the most segregated cities in America. As well, the increase in overseas steel production led to less demand for US-made steel. This caused a steep decline in the number of workers the city's steel plant, Gary Works, employed.
Many of Gary's buildings have been abandoned over the years, making the city look like a ghost town, despite being home to some 76,000 residents. Some of these locations are still accessible to the public, including City Methodist Church, which closed down in 1975, after 50 years of worship. It was severely damaged by a fire in 1997.
St. Elmo – Chaffee County, Colorado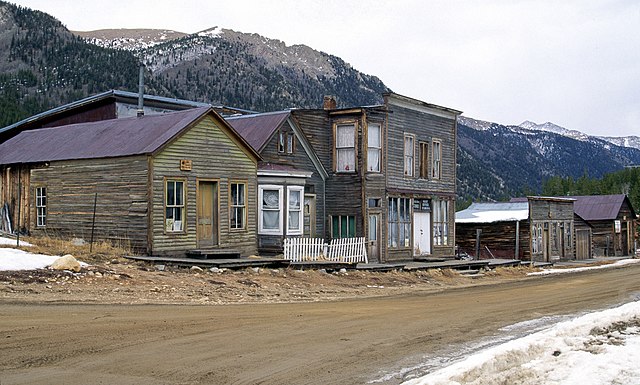 Nicknamed "Colorado's Most Original Ghost Town," St. Elmo was once home to nearly 2,000 residents who were attracted to the area for its mining industry. Founded in 1880, the town was considered a hub for supplies arriving by train – that is, until 1922, when the tracks traveling through it were abandoned by the Denver, South Park and Pacific Railroad (DSP&P).
According to legend, the remaining residents of St. Elmo left by train and never looked back. Today, it's a popular ghost town, complete with an abandoned saloon, a courthouse and jail, and several private homes. There's even a general store, which patrons can visit seasonally each summer.
Six Flags – New Orleans, Louisiana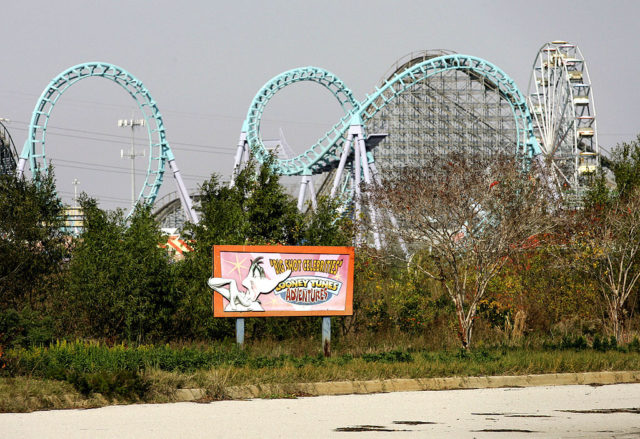 Six Flags is one of the largest and most popular amusement park chains in America, and while the majority of its locations are still up and running, there's one that's been shuttered for nearly two decades: Six Flags New Orleans. This former family fun spot suffered severe flooding when Hurricane Katrina made landfall in August 2005, leading to its indefinite closure.
While Six Flags was able to salvage some of the park's rides and move them to other locations throughout the country, much of Six Flags New Orleans has been left to rot. Redevelopment plans have continually fallen through, and since being abandoned the park has become popular with urban explorers.
Be warned: Security is pretty tight and tourists are banned from entering the premises. There are ways of getting in, however, if you know where to look.
Peter Iredale shipwreck – Fort Stevens State Park, Oregon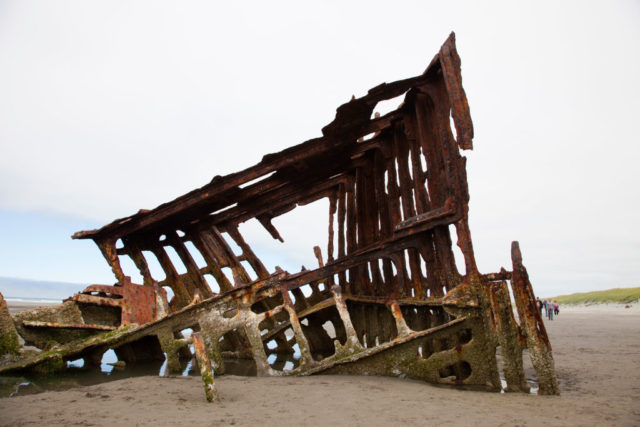 The Peter Iredale was a four-masted steel barque ship built in June 1890. Sadly, the vessel was only in service for less than two decades, as she ran ashore while sailing from Salina Cruz, Mexico to Portland, Oregon. Strong winds forced the ship to sail into Clatsop Spit – then known as Clatsop Sands – and, eventually, everyone on board was rescued.
More from us: Enter the Ancient Mayan Underworld in Mexico's Hauntingly Beautiful 'Cenotes'
Over the years, the Peter Iredale has suffered greatly from exposure to the elements, resulting in the ship being a shell of her former glory. Despite this, the vessel has become an incredibly popular tourist attraction. One of the most accessible shipwrecks in the US, the Peter Iredale is definitely something to put on your itinerary if you're planning a road trip across the country.